Disclosure: Some posts may contain affiliate links, meaning, at no cost to you, I will earn a commission if you click through and make a purchase.
I love a good hair scrunchie! It is a great way to express yourself in a very simple and easy way. Wear a scrunchie in your favorite color or favorite print. Or, just crochet yourself one!
This was my first year selling crochet hair scrunchies at a craft show and they were a big hit. I had 4 colors available in the velvet and I also created several team spirit scrunchies which were very popular! I had Ohio State, Michigan, Green Bay, Browns, Steelers and several local school options available.
I have tried several different hair tie options from different stores and found some that I really like for these hair scrunchies. I found these hair ties at my local Five Below store. They come in a pack of 36 for $2 and they are slightly thinner than the regular hair ties.
TIP: I always test the hair tie before starting to crochet around it. I stretch it several times all the way and then pull several times directly at the seam. If it breaks or anything feels off with it I will not use it.
Now, are you READY to make some Spirit Scrunchies!?
↓ Pin this pattern for later! ↓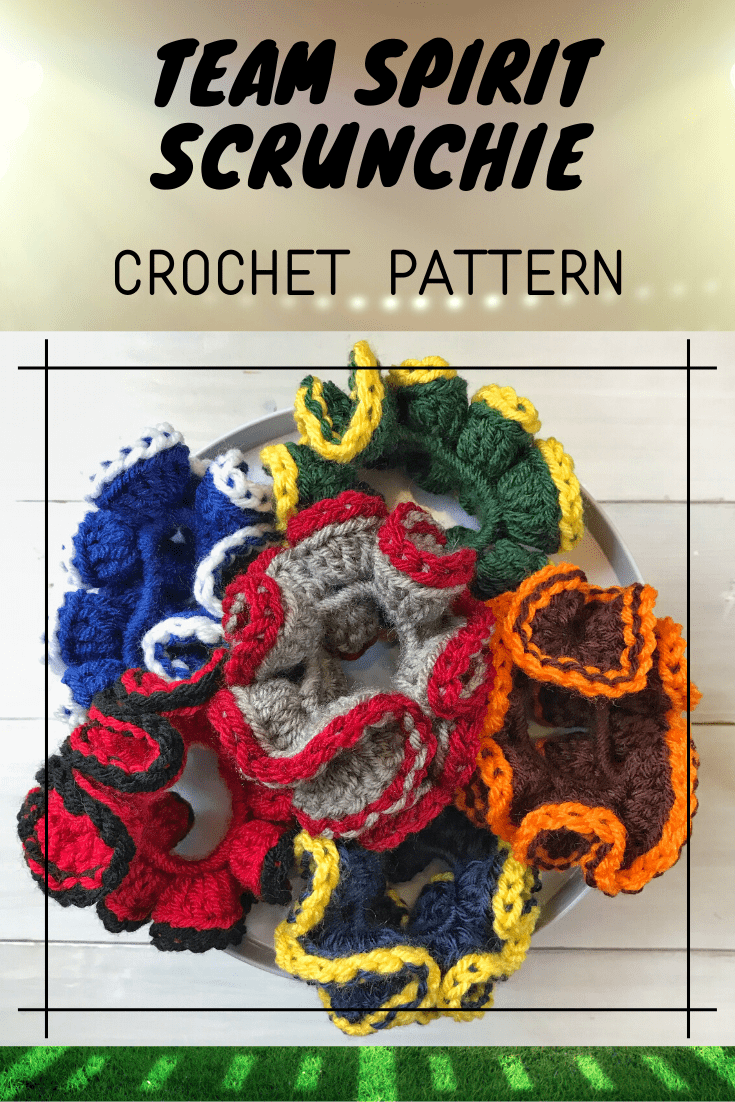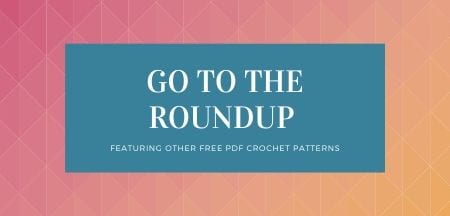 Materials:
Yarn: #4 Worsted Weight – I Love This Yarn in 2 colors
Hook: US Size (I/9) 5.5mm
Other Tools: Yarn Needle, Scissors, Elastic Hair Ties
Difficulty: Easy
Stitches/Abbreviations: US Terms
ch – chain
st(s) – stitch(es)
dc – double crochet
sl st – slip stitch
blo – back loop only
Notes:
When you join you will join with a sl st to the first st in that round
Instructions:
Attach color A to hair tie. Need help with this? See this post about How to Crochet Around A Ring.
Round 1: Ch 1, create 40-45 sc around the hair tie, join.
Round 2: Ch 2, 4 dc in same st as ch 2, *3 dc in next 2 sts, 4 dc in next st; repeat from * around. Join. Fasten off A. (Depending on your starting sc round count you may end on a 3 dc in a st or 4 dc in a st, it doesn't really matter which).
Round 3: Attach B in same st as join, ch 1, in blo sl st in next st and in each st around, join to first st where you attached B. Fasten off. Weave in ends.
TIP: Quick tip for weaving in ends. For color A I weave in the ends up and down several of the dc sts not across (see image 1 below). For color B I weave the ends in by weaving up and down the back side under the color A and B ribbed bumps that were created when doing the slip stitch round (see image 2 below).