Disclosure: Some posts may contain affiliate links, meaning, at no cost to you, I will earn a commission if you click through and make a purchase.
You can find this crochet keepsake angel ornament pattern along with several others in a roundup post for Pregnancy & Infant Loss Awareness Month featuring crochet keepsake patterns.
Make one of these keepsake patterns to gift to someone who has experienced such a loss as a miscarriage or the death of a baby after birth.
This Keepsake Angel Ornament was created with the words 'Angel Baby' in mind. The term Angel Baby is used for when a baby is lost to miscarriage, stillbirth, or shortly after birth. This can be very devastating for families.
I am very grateful that I have not experienced such a loss but I know of friends and family who certainly have gone through this loss and my heart goes out to them.
I encourage you to make this keepsake Angel and gift it to someone who has an Angel Baby. It is a great way to acknowledge the parents in that time and honor and remember their gift that was gone too soon.
Pattern Details:
Unlike other Angel ornament patterns out there this design uses a Bulky weight #5 yarn. Used in example is Lion Brand Color Made Easy. This Angel is also crocheted in one piece. The body is worked in the round and then the head is added after the last round of the body is worked.
For this pattern you will also need twine or string to create a hanging loop and some ribbon to create the wings. You can find all of the other tools needed for this pattern in the Materials section below.
↓ Pin this pattern for later! ↓
Crochet Keepsake Angel Ornament:
Materials:
Difficulty:
Size:
Stitches/Abbreviations: US Terms
ch – chain
st(s) – stitch(es)
sl st – slip stitch
sc – single crochet
hdc – half double crochet
dc – double crochet
tr – treble crochet
Notes:
When you join to finish a round you will sl st in the first st of that round.
The beginning ch 1 does not count as a stitch.
The body of the Angel is worked first and then the head.
( ) parentheses indicates a group of stitches all worked in one stitch/space.
If you need clarification on how to form the Angel, a photo tutorial is included below.
When sharing on social media use the hashtag: #simplyhookedbyjanet
---
You can get an ad-free PDF copy of this pattern here:
When you purchase this pattern, $1 will be donated to the Star Legacy Foundation.
"The Star Legacy Foundation is a 501(c)(3) non-profit organization dedicated to reducing pregnancy loss and neonatal death and improving care for families who experience such tragedies. We are a community of families, health professionals, researchers, policy makers, and individuals dedicated to helping every pregnancy have a happy ending."
The Star Legacy Foundation's mission is "To increase awareness, support research, promote education, and encourage advocacy and family support regarding stillbirth, pregnancy loss, and neonatal death."
---
Instructions:
Create Magic Ring.
Round 1: Ch 1, all in magic ring (2 hdc, 2 dc, 4 tr, 2 dc, 2 hdc), join – 12 sts.
Round 2: Ch 1, (2 hdc) in first, (hdc, dc) in next, (2 dc), (dc, tr), (2 tr), (3 tr) 2 times, (2 tr), (tr, dc), (2 dc), (dc, hdc), (3 hdc), join, sl st in next – 27 sts (the join and sl st are not counted in the stitch count).
Round 3: Turn, skip the sl st and join st, do not ch 1, working in the first hdc st which is the last hdc st worked from Round 2, (sc, hdc, 2 dc, tr, 2 dc, hdc, sc), sl st in next – 9 sts.
Fasten off leaving an 8 inch tail.
Finishing:
Fold the right and left side of the large circle to meet in the center, with your 8 inch tail and yarn needle, sew the sides together that met in the center from top down about 4 stitches. Weave in ends.
Use twine or yarn to create a hanging loop to attach at the back of the head, then create a bow with some ribbon, position it on the back of the angel and hot glue it there.
Photo Tutorial:
You can find some other resources listed on my Keepsakes Roundup post HERE. You can also find a link to download some printable tags that you can attach to any keepsakes you make in remembrance of an Angel Baby.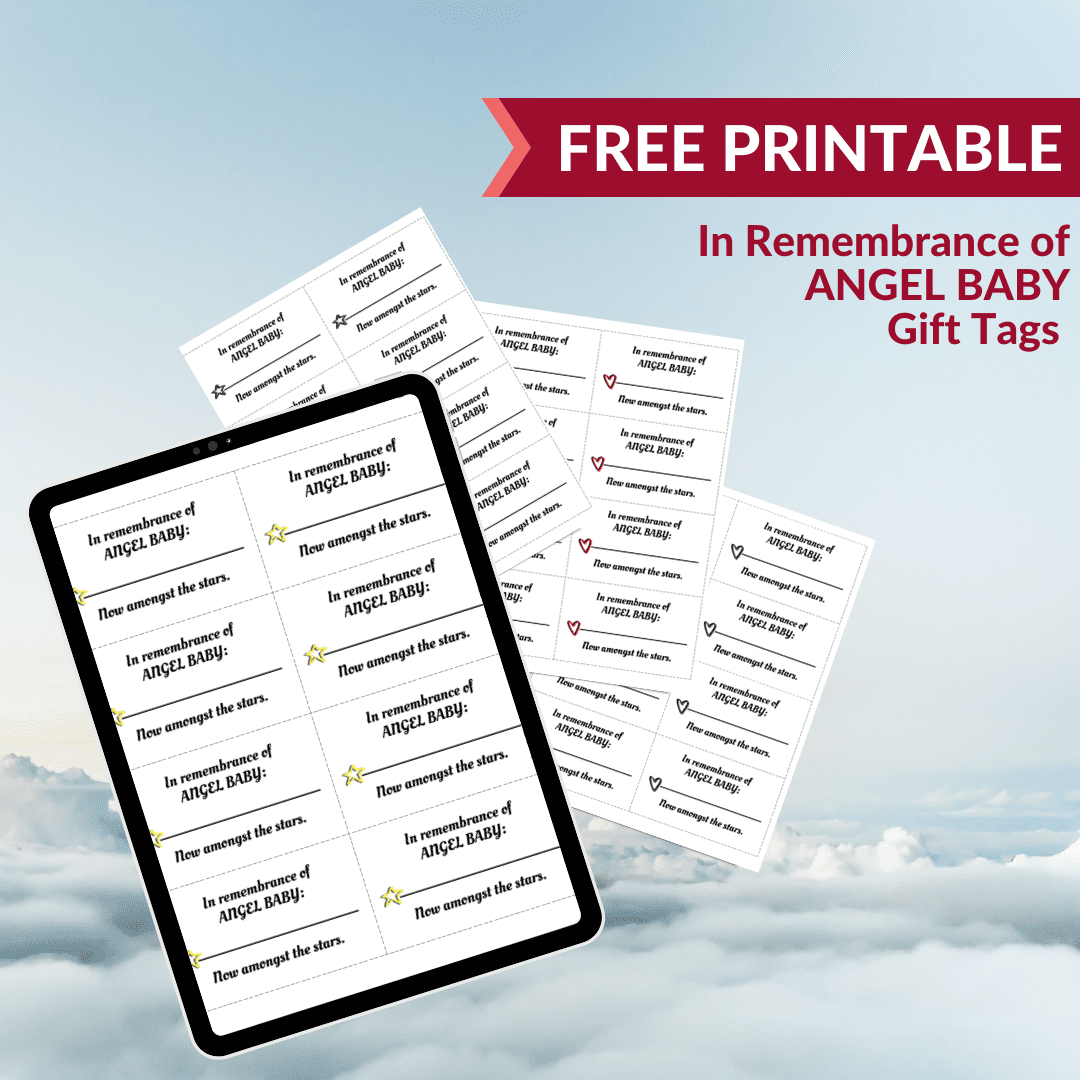 I hope this crochet keepsake angel ornament can bring just a fraction of some comfort to someone experiencing a loss.
Copyright protected. You may not redistribute pattern after purchase or publish any part as your own including photos. If sharing online you must link back to this original post. You may sell finished products and if possible, reference back to this pattern and/or give credit to Simply Hooked by Janet as the original designer.