Disclosure: Some posts may contain affiliate links, meaning, at no cost to you, I will earn a commission if you click through and make a purchase.
You'll love how easy and quick this Christmas Crochet Angel Ornament is to make.
Do you just love making your own crochet Christmas ornaments every year!? Handmade items certainly add a nice touch to holiday decorations. Here are a couple other easy and quick ornament patterns you my like.
Whether you need a super easy quick gift or you want a nice little stocking stuffer or co-worker gift idea, I know you'll love making and gifting this cute crochet Angel Ornament.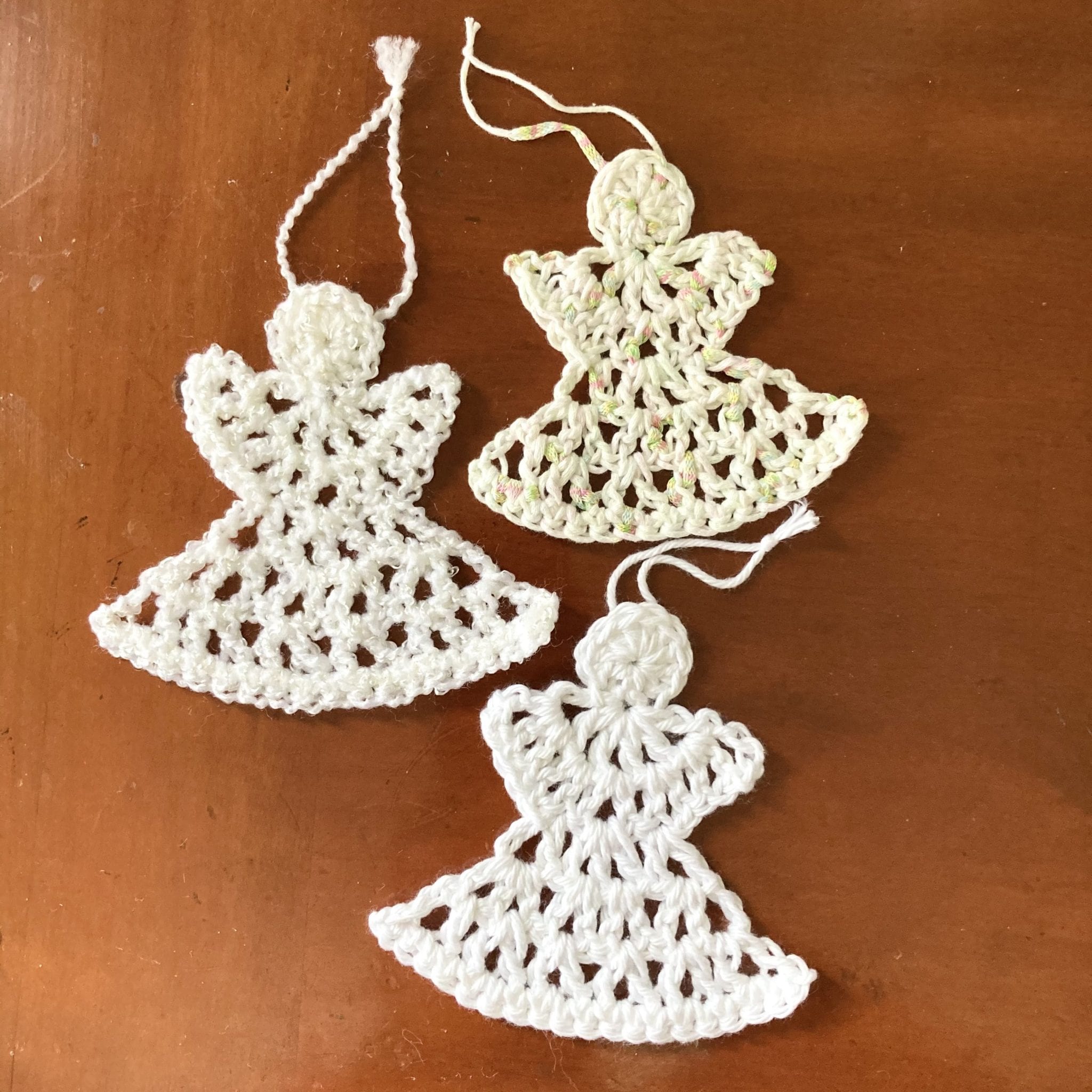 Pattern Details: Crochet Angel Ornament
If you have any scrap amount of a weight 3 or weight 4 yarn you'll be all set for making this ornament. You can always adjust the size slightly by using a different size hook or a different size yarn as well.
A cotton or acrylic or even a wool blend yarn should work well with this. Whatever you have on hand you can try with this angel ornament.
This ornament took me less than 10 minutes to make. That even included weaving in the ends! The part that may take the longest to do is the stiffening. Depending on the yarn used you may want and need to stiffen your crochet ornament after you weave in the ends.
↓ Pin this pattern for later! ↓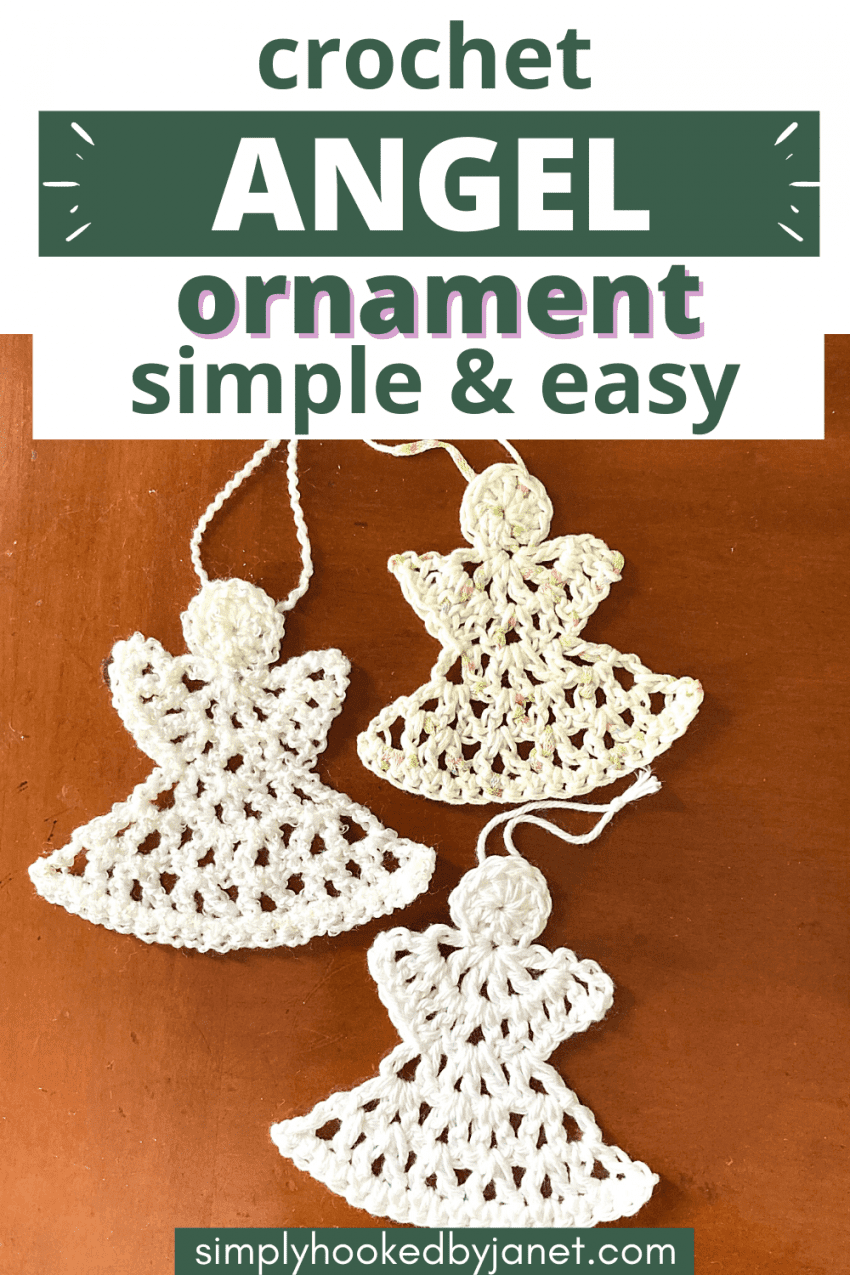 Materials:
Yarn: Scrap amount of any #3 DK, Light Worsted or #4 Worsted Weight Yarn
Hook: US Size (E/4) 3.5 mm crochet hook
Other Tools: Yarn Needle, Scissors, Stiffening Solution (water & school glue)
Difficulty:
Size:
Can vary depending on yarn and hook size – around 4 inches tall
Stitches/Abbreviations: US Terms
ch – chain
sl st – slip stitch
st (s) – stitch(es)
sc – single crochet
sk – skip
sp – space
dc – double crochet
V-Stitch (V-st) = (dc, ch 1, dc) in indicated st/sp
Notes:
This is worked from the head down.
Ch 2 does not count as a stitch.
Ch 4 counts as a dc st and ch 1.
You will most likely need to stiffen your ornament after making it.
When sharing on social media use the hashtag: #simplyhookedbyjanet
---
You can get an ad-free PDF copy of this pattern here:
---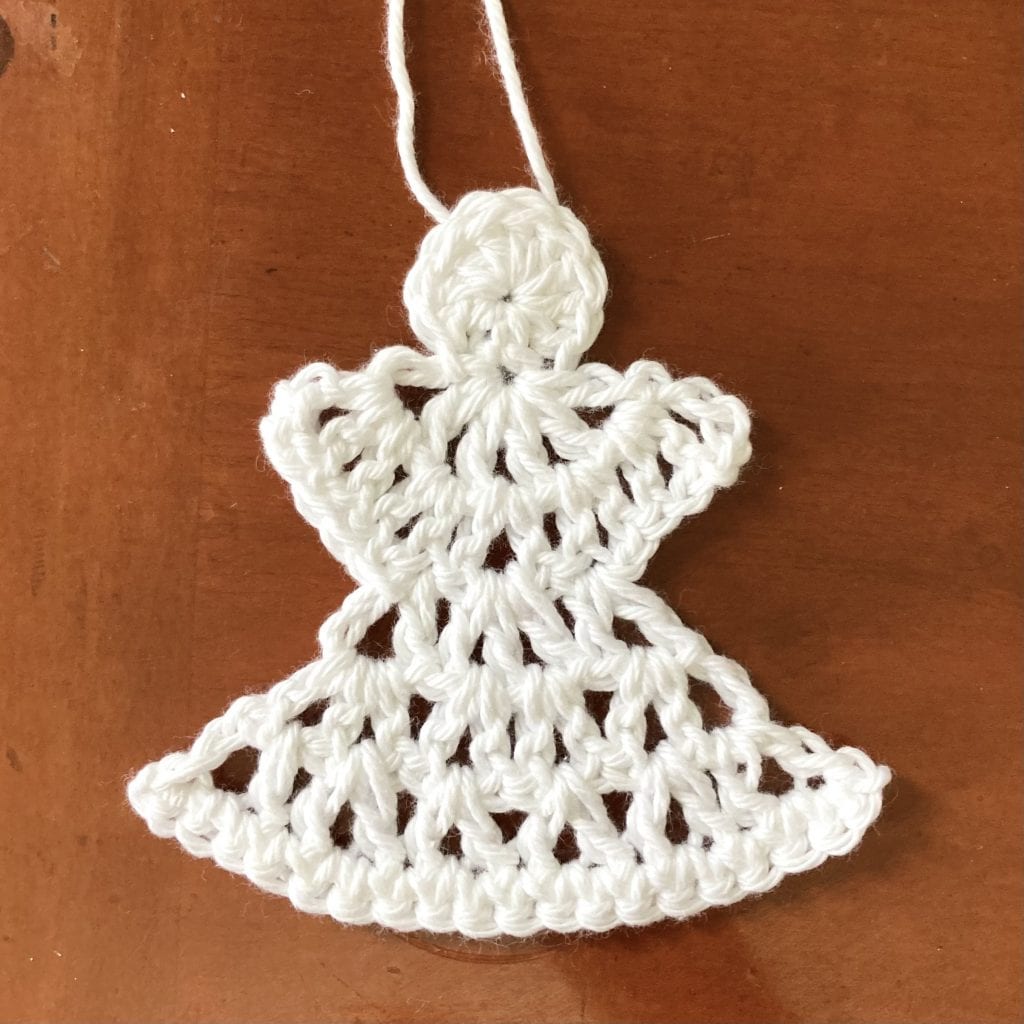 Instructions:
Create magic ring.
Row 1: Ch 2, 10 dc in ring, join – 10 dc.
Row 2: Ch 4, dc in same st as join, (ch 1, dc) 4 times in same st as join, turn – 6 dc, 5 ch sps.
Row 3: Ch 4, V st in each ch sp across, ch 1, dc in same sp as last V-st, turn – 12 dc, 7 ch sps.
Row 4: Ch 1, sl st in next 5 dc, ch 4, dc in same st, (dc, ch 1) 2 times in next ch sp, dc in same sp, sk 1 dc st, V-st in next dc st, turn – 7 dc, 4 ch sps.
Row 5: Ch 4, V-st in each ch sp across, ch 1, dc in same sp as last V-st, turn – 10 dc, 6 ch sps.
Row 6: Ch 4, dc in first ch sp, V-st in each ch sp across, turn – 12 dc, 6 ch sps.
Row 7: Ch 1, 2 sc in first, sc in each st and ch sp across until ch 4 remains, sc in 4th ch of ch 4, 2 sc in 3rd ch of ch 4 – 20 sc.
Fasten off and weave in ends.
Finishing:
Hanging Loop – Cut an 8 inch strand of yarn, use yarn needle to attach to back of angel head, tie the 2 ends together and create a knot, cut any excess.
Stiffening – Use your own method or follow these instructions.
Mix equal amounts of warm water with Mod Podge or School Glue. Place ornament into solution. Gently squeeze the solution into the ornament. Lay flat on towel and press out excess water. Leave to dry. You could also use a paintbrush and dip into the solution and only stiffen one side of the ornament.
Copyright protected. You may not redistribute pattern after purchase or publish any part as your own including photos. If sharing online you must link back to this original post. You may sell finished products and if possible, reference back to this pattern and/or give credit to Simply Hooked by Janet as the original designer.