Disclosure: Some posts may contain affiliate links, meaning, at no cost to you, I will earn a commission if you click through and make a purchase.
Are you looking for a simple and quick crochet bandana scarf pattern?
This free bandana scarf crochet pattern has a lovely texture as well as some cute button details.
1 main stitch is used throughout in a special way to create the amazing ribbed texture.
This bandana scarf is worked from a small point and gets wider by adding increases on 1 edge.
This specific pattern is a reworked version of a pattern I released in December 2017. I have been wanting to make a new sample of the original Bandana Scarf for some time. Finally, I decided to do that and reworked it slightly using a different yarn but same yarn weight.
About this ribbed bandana crochet pattern:
Crochet Stitches Used
As mentioned earlier this bandana scarf pattern uses just 1 main stitch throughout. That main stitch is the half double crochet stitch.
What makes it unique in this pattern is that each row is worked into the third loop of the stitch.
The third loop is located on the back or wrong side of the half double crochet stitch.
When working in the third loop of a stitch in rows, the third loop will be facing you. If you were to work the third loop in the round then the third loop will not be facing you.
When working into the third you you completely skip working into the 2 top loops like normal. Those 2 loops not being worked into is what creates the ribbed texture.
What yarn is used for this neck warmer?
This crochet bandana scarf pattern uses a bulky weight yarn.
The original older version used Loops & Threads Charisma. The new version uses Big Twist Gentle.
The Big Twist Gentle yarn may be slightly thinner than the Loops & Threads Charisma. It is really soft for being an Acrylic yarn and it has really great drape to it.
Another yarn you can try that has similar construction would be Premier Basix Chunky yarn.
↓ Pin this pattern for later! ↓
View these other crochet patterns that work in the third loop of a stitch:
---
This pattern is featured in the 2023 New Year's Resolution Blog Hop hosted by Cosy Rosie UK.
---
Materials:
YARN:

130 yards of #5 bulky weight yarn, Big Twist Gentle or suitable substitutes

TOOLS:

US Size (L/11) 8.0mm crochet hook or size needed to obtain gauge

Yarn needle, Scissors, 7 buttons that will fit through the spaces between the stitches
Difficulty:
Stitches/Abbreviations: US Terms
ch – chain
st(s) – stitch(es)
sl st – slip stitch
sc – single crochet
sc2tog – single crochet 2 stitches together
hdc – half double crochet
Special Stitches: 3rd loop of hdc = a horizontal bar behind the top loops in which to work
reverse sc = (aka – crab stitch) sc across the row working from left to right rather than from right to left. It'll be like you are working backwards across the row.
Size:
Gauge:
10 hdc x 7 rows worked in the 3rd loop = 3"
Notes:
This is worked from a narrow point and widens with increases on one side.
Beginning chains do not count as a stitch.
The 3rd loop of a hdc will be facing you that you work into.
When sharing on social media use the hashtag: #simplyhookedbyjanet
---
Considering purchasing the pdf of this pattern?
Purchase the ad-free, print friendly PDF here:

---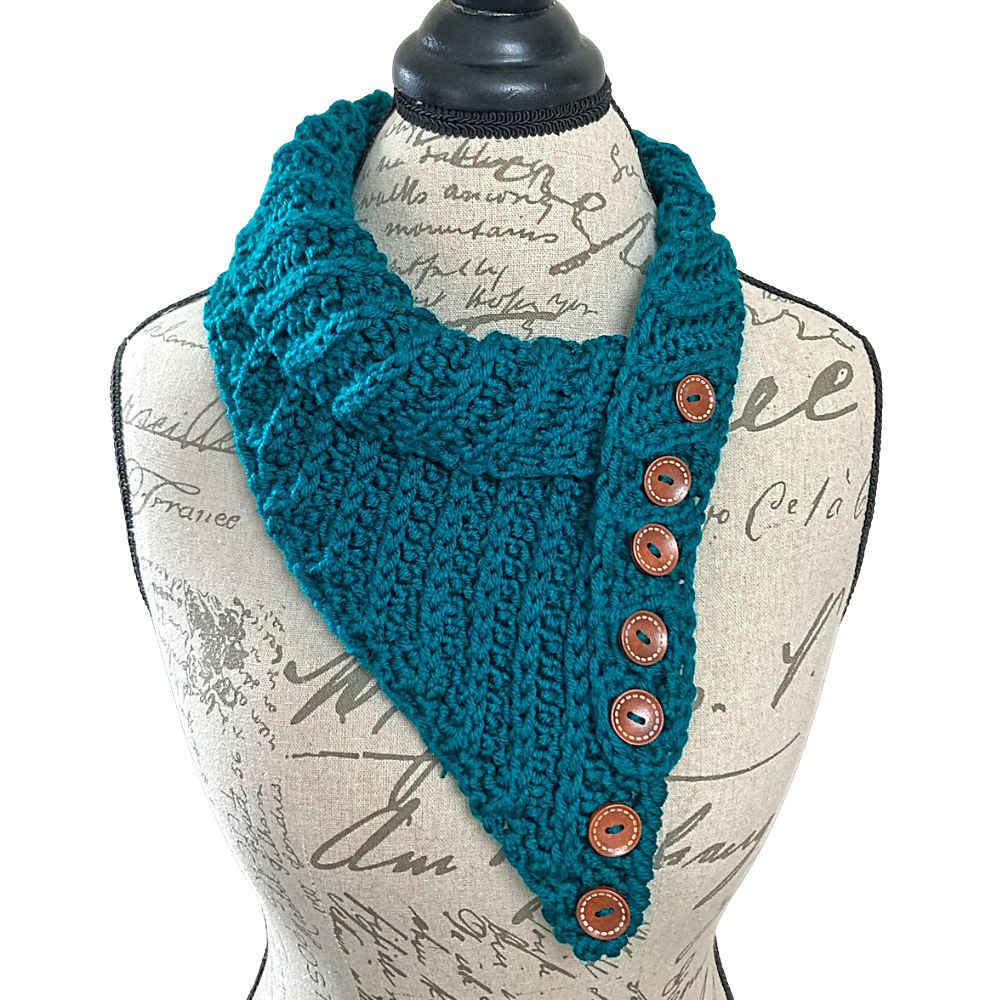 Instructions Crochet Ribbed Bandana Scarf
Instructions:
Ch 2.
Row 1: 3 hdc in second ch from hook, turn – 3 sts.
Row 2: Ch 1, 2 hdc in first, hdc in next 2, turn – 4 sts.
Row 3: Ch 1, sc2tog, hdc in next, 2 hdc in last, turn – 4 sts
Row 4: Ch 1, 2 hdc in first, 3rd loop hdc across to last, hdc in last, turn – 5 sts.
Row 5: Ch 1, sc2tog, 3rd loop hdc across to last, 2 hdc in last, turn – 5 sts.
Row 6: Ch 1, 2 hdc in first, 3rd loop hdc across to last, hdc in last, turn – 6 sts.
Rows 7-58: Repeat Rows 5-6. Rows 58 stitch count – 32 sts. Do not turn after last row.
Row 59: Ch 1, reverse sc across to last, turn, sl st in last.
Fasten off and weave in ends.
Finishing
Lay scarf flat with long straight edge at the top and the narrow point to the left. Line up buttons evenly spaced between rows 57 and 58. Fold the top edge of the scarf down about 1.5 inches and sew one of the buttons over the fold as pictured below.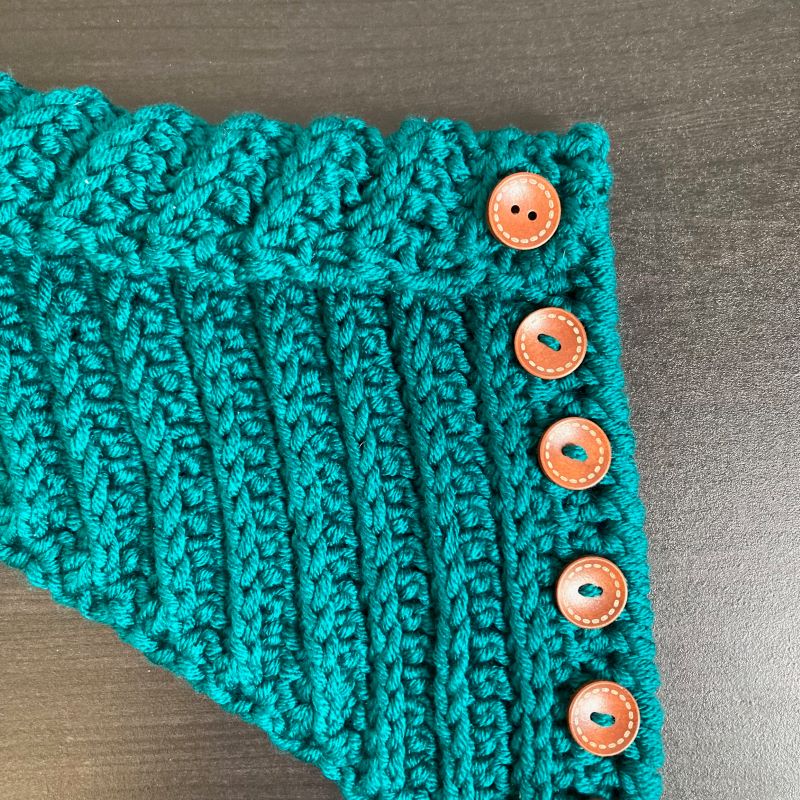 To Wear
Bring the narrow end of the scarf over the buttons and fit the buttons through the spaces of the stitches and enjoy wearing.
Copyright protected. You may not redistribute pattern after purchase or after viewing on my website. You may not publish any part as your own including photos. If sharing online you must link back to this original post. You may sell finished products and if possible, reference back to this pattern and/or give credit to Simply Hooked by Janet as the original designer.