Disclosure: Some posts may contain affiliate links, meaning, at no cost to you, I will earn a commission if you click through and make a purchase.
My absolute favorite crochet stitch is the Spider Stitch! The final result of this stitch is so beautiful. The texture of this stitch pattern slightly resembles the Star stitch but it is a lot simpler to make than the Star Stitch.
[Scroll to the bottom of the post if you are interested in the Roundup of patterns that use the Spider Stitch.]
The work up of the spider stitch is just like a V stitch. Instead of double crochet stitches which the V stitch uses, the double crochet stitches become single crochet stitches to create the Spider Stitch. V Stitch = (dc, ch 1, dc) and Spider Stitch = (sc, ch 1, sc).
I currently have a handful of designs that use this stitch pattern. Within my designs I do not call it the Spider Stitch. It is just written out as a set of stitches within my designs.
The more designs I have with this stitch the more I am hearing the same questions or complaints concerning this stitch either from testers or from those that have purchased my patterns.
In this post I will first give you some tips to help you when working the Spider Stitch. Then I will show you a tutorial of how to work the Spider Stitch.
Check out my latest pattern that uses the Spider Stitch – A Holiday Tree Hot Pad Crochet Pattern
↓ Pin this for future reference! ↓
Tips & Tricks – Spider Stitch:
1. Patience.
You may not like this tip but having patience when it comes to the Spider Stitch is important. The more you work this stitch the easier it is to work. Who would've thought that just a couple simple stitches together could be so complicated.
When I first tried this stitch over 3 years ago I completely gave up on it! I got so frustrated with not being able to find the ch 1 space to work into that I just gave up. It felt impossible at the time. But I am so glad I decided to come back to this stitch because it is a beauty to look at.
It may feel like guess work at first with this stitch but the more you work it the more confidence you'll gain in working this stitch. So, if you need to, take a break from it either for a few hours or days and then come back to it.
2. Going up a hook size.
The designs I have that use this stitch have been worked in various yarn weights from #1 sock to #5 bulky weight yarn.
It'll be helpful to you to go up a hook size or 2 from the recommended hook size of the specific yarn you are using. A bulky weight yarn will of course be the easiest with this stitch at first try.
3. Look to the back.
Quite often I do find myself glancing to the back of my work to make sure my hook is in the correct stitch. For some reason it can sometimes be easier to see that ch 1 space from the back than the front when I am working this stitch.
4. Use your sense of touch.
Along with looking to the back of your work you can use your guiding hand or non hook hand to feel the back of the stitches and whether your hook has come through the ch 1 space or another stitch. Eventually you can tell the difference in feel by whether or not your hook is in the chain space or in a single crochet stitch.
5. Look at the stitch structure.
You can always look to the top of the stitches. The top loops that you typically work into when crocheting. With the Spider Stitch there will be the three stitches that are grouped together (sc, ch 1, sc). The chain 1 space will be slightly raised between the two single crochet stitches.
You can also look straight on at the stitch structure. A single crochet stitch will have 2 vertical parallel lines. When you see a group of 4 vertical parallel lines, the chain 1 space will be between those 4 vertical lines. Two on each side of the chain 1 space that you will work into.
6. Use stitch markers.
You can always place a stitch marker in each chain 1 space when working the Spider Stitch.
You can do this until you get use to the stitch pattern but doing this it may take a lot longer to complete a project and you may need even more patience with this stitch if using stitch markers.
7. Change the chain 1 to a chain 2.
Changing the chain 1 to a chain 2 will help a lot when it comes to distinguishing the chain space between the 2 stitches.
Doing a chain 2 instead of a chain 1 does not affect the look of the Spider stitch as much as you would think. It just creates a slightly less dense fabric but keeps the nice look of the stitch.
---
Spider Stitch Tutorial:
Work up a swatch of the Spider Stitch to get use to its work up and stitch placement. I suggest using a weight #4 or #5 yarn for the swatch and go up a hook size from the recommended size.
Below you'll find step by step instructions and then Row instructions showing how this stitch would look when written in a pattern.
Step 1: Chain a length of chains in a multiple of 2.
Step 2: In the second chain from the hook (sc, ch 1, sc) all in the same chain space, skip 1 chain space, repeat working (sc, ch 1, sc) in a chain space skipping 1 chain space between each set.
Step 3: Turn and chain 1, in each chain 1 space across you will work (sc, ch 1, sc).
Step 4: Repeat step 3.
---
Row Instructions:
Ch 14
Row 1: In 2nd ch from hook (sc, ch 1, sc), *sk 1, (sc, ch 1, sc) in next; repeat from * across, turn – 7 (sc, ch 1, sc) or 14 sc, 7 ch 1 sps.
Row 2: Ch 1, (sc, ch 1, sc) in each ch sp across, turn – 7 (sc, ch 1, sc) or 14 sc, 7 ch 1 sps.
Rows 3-20: Repeat Row 2.
---
Row 1 complete in photo 1.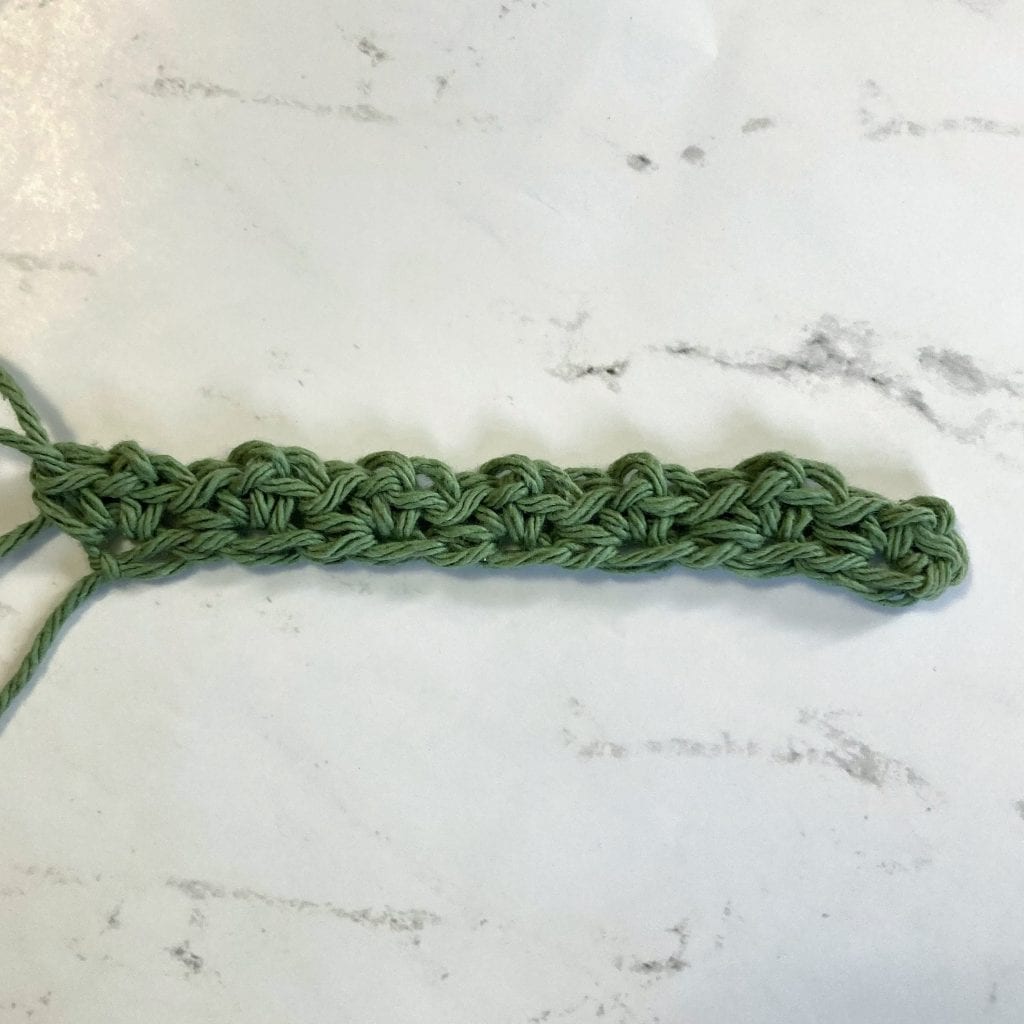 1 single crochet being worked in a chain 1 space in photo 2.
4 rows complete of the Spider Stitch in photo 3.
Spider Stitch Pattern Roundup:
Below you'll find some awesome free and paid patterns that use the spider stitch. These patterns use yarns ranging from #1 sock weight up to #6 super bulky weight. You'll find some patterns rated as Easy and some rated as Intermediate. Browse through them and find a favorite!
Spider Stitch Crochet Patterns