Disclosure: Some posts may contain affiliate links, meaning, at no cost to you, I will earn a commission if you click through and make a purchase.
Keep Me Cozy Chunky Crochet Blanket
Don't you just love a good chunky crochet blanket!?
One of the great things about a crochet blanket that uses a chunky yarn is that it works up faster. Faster than a typical blanket that might use a worsted weight yarn and a smaller hook size.
One other thing that can make for a faster project when crocheting a blanket is the type of stitches that are used as well.
If a taller crochet stitch is used then the length of the blanket starts to build faster. What is great about this chunky crochet blanket is that it uses a bulky weight yarn and double crochet stitches.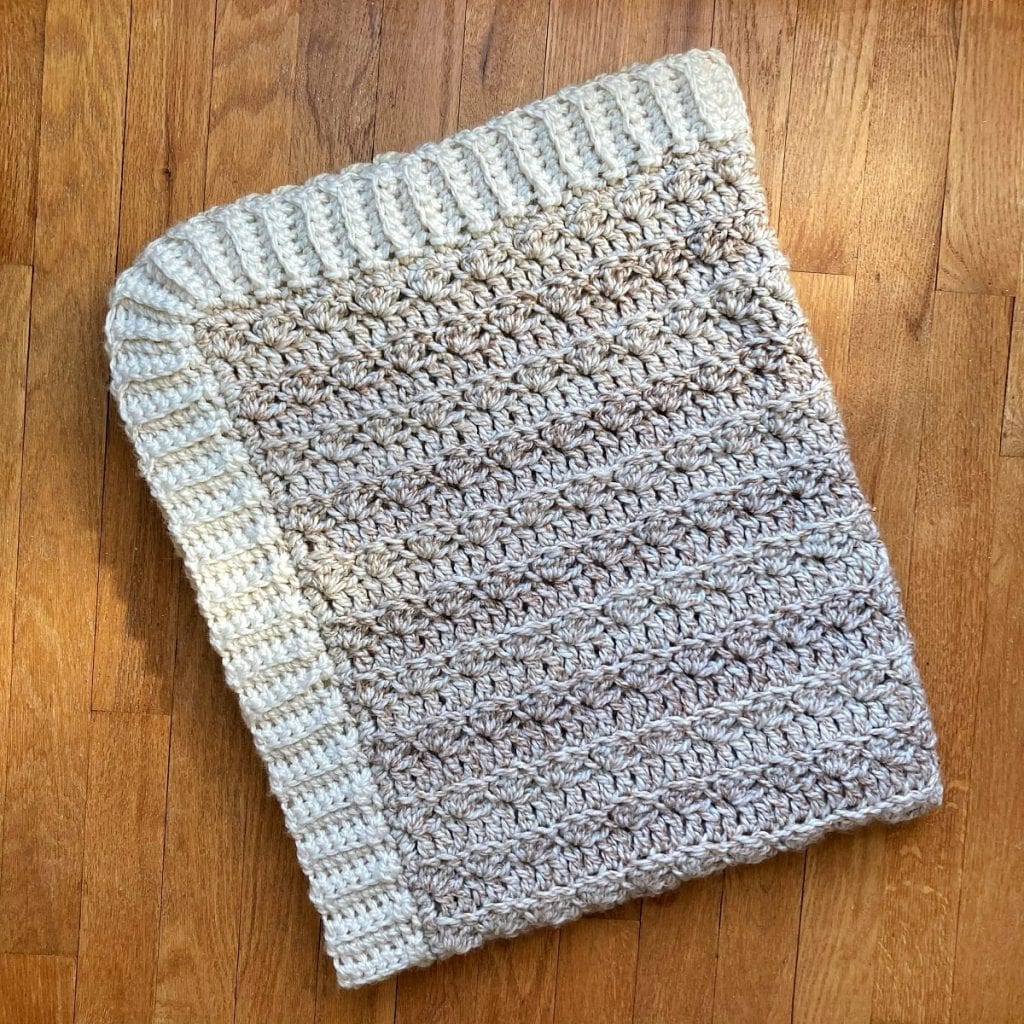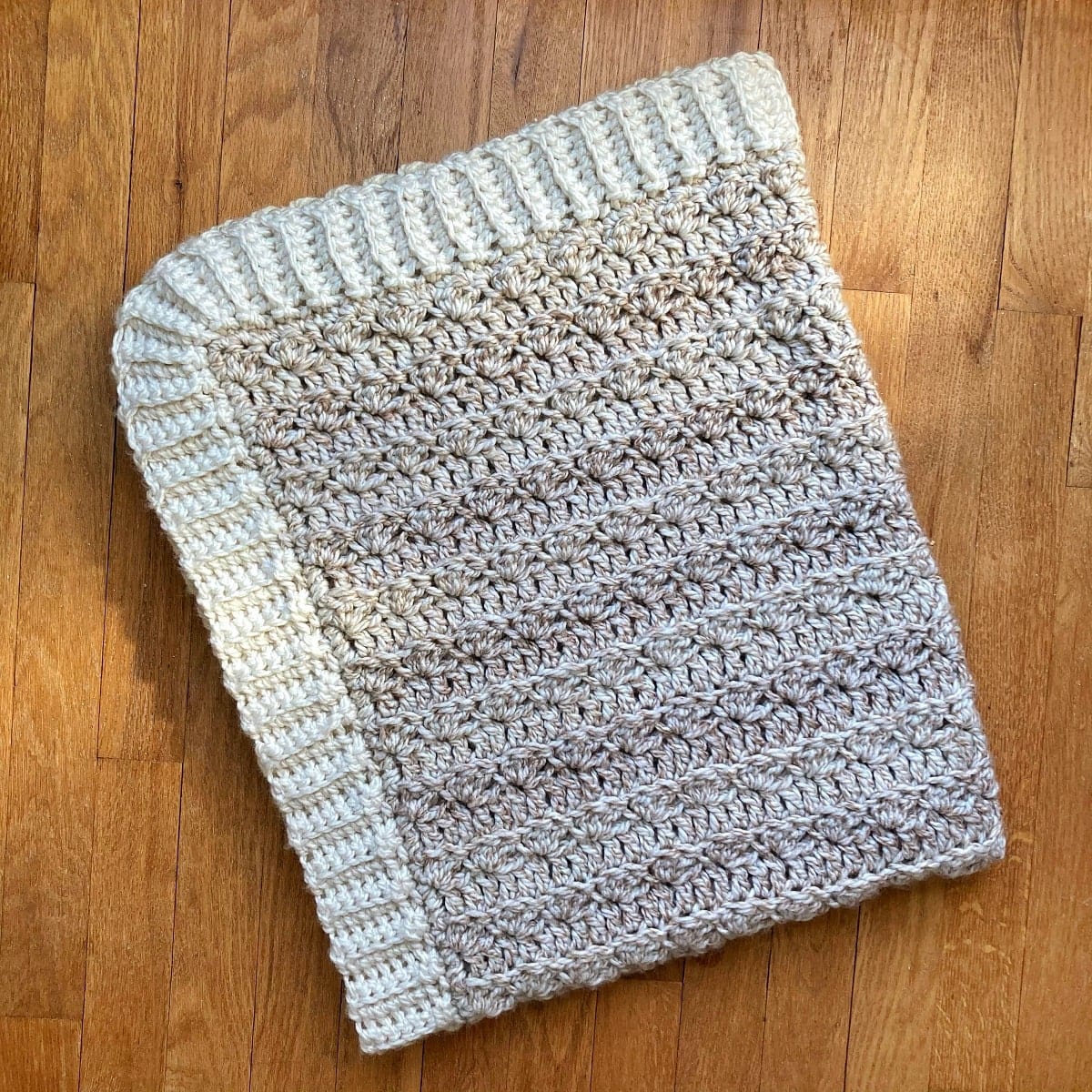 Any crocheted blanket is truly a labor of love. A crocheted blanket can really be personalized for whomever it is made for.
Personalize it with someone's favorite colors. A handmade crocheted blanket can also become a family heirloom that gets passed down several generations.
Now, some details about this chunky crochet blanket pattern.
PATTERN DETAILS:
This is an easy crochet chunky blanket. The more difficult part may be the border. But you can always add your own favorite border to this blanket.
This specific pattern was definitely a labor of love and even a labor of patience for me to make. I had an issue with the yarn for this blanket having different dye lots.
The yarn was already in my stash that I wanted to use for this blanket but I also knew that I didn't have enough of it.
I of course did an online pickup order to save 20% but even the skeins that were chosen didn't even have the same dye lots.
So I began making the blanket but when I joined a new skein with a different dye lot it was way too noticeable. So I decided to give this project a break as I refused to buy more yarn that would all be the same dye lot.
↓ Pin this pattern for later! ↓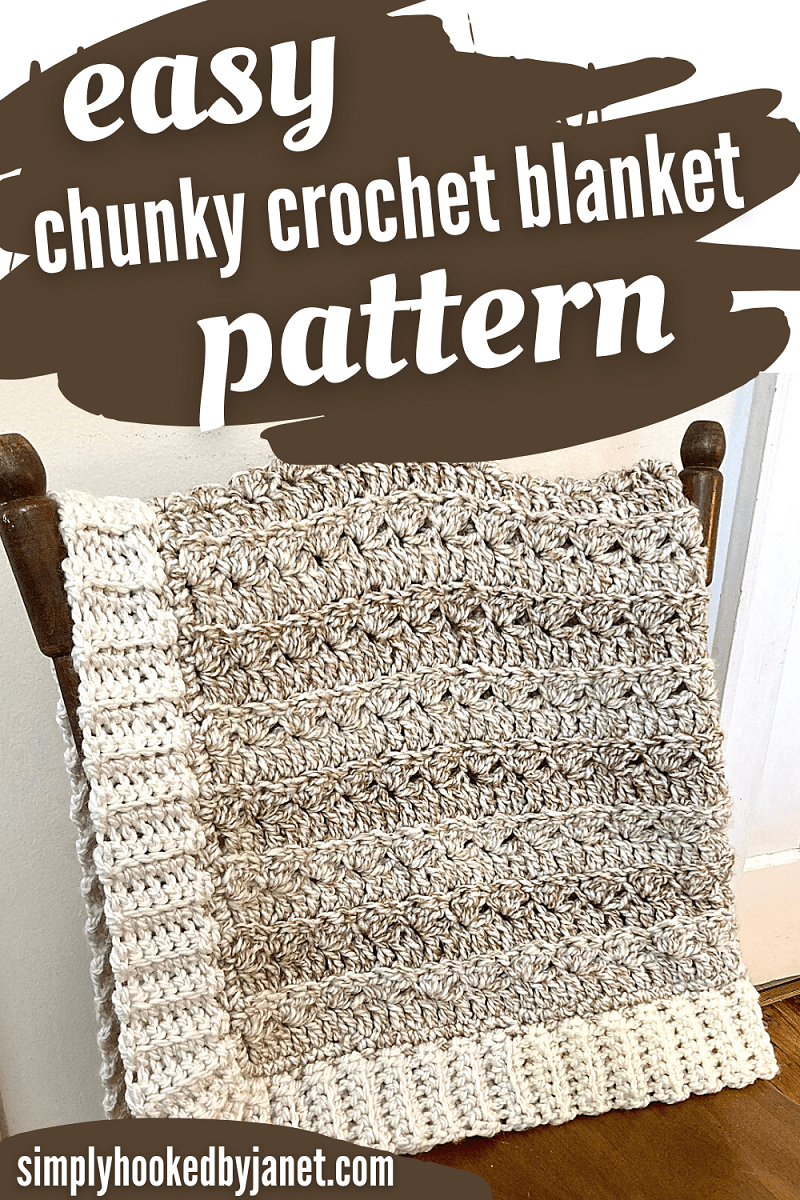 After a couple months in time out, I came across a statement that saved my project! The statement mentioned alternating rows between dye lots when the dye lots are different. And that's exactly what I did for the final outcome of this blanket.
Now, the blanket almost has a striped look to it because of the different dye lots. But, I think that in the end the different dye lots made the blanket more unique. I hope you like this one and put your own personal touch on it when you make it!
So, lets get starting making this easy chunky crochet blanket!
You can find more FREE crochet patterns HERE.
---
Materials:
Yarn: #5 Bulky – Premier Yarns Serenity Chunky, Color (A) Oatmeal Heather 752 yards for body of blanket, Color (B) Pristine 241 yards for border.
Hook: US Size (L/11) 8.0mm & (K/10.5) 6.5mm crochet hook
Other Tools: Yarn needle, Scissors
Difficulty:
Size:
Lap – 36 x 48″ – free to view here in this post
6 more sizes with yardage needed, starting chain number, number of rows is included in a chart in the paid PDF version
Gauge:
8 dc sts x 4 rows = 4" with L/8.0mm hook
Stitches/Abbreviations: US Terms
ch – chain
st(s) – stitch(es)
sk – skip
blo – back loop only
sl st – slip stitch
sc – single crochet
dc – double crochet
fdc – foundation double crochet
RS – Right Side
WS – Wrong Side
Notes:
Ch 1 counts as a st throughout.
If you do have different dye lots, you can alternate every 2 rows with a different dye lot and carry the yarn up the side.
The paid version includes a chart with how to make 6 more sizes.
---
You can get a print friendly, ad-free PDF copy of this pattern here:
---
INSTRUCTIONS:
LAP Size only
Row 1: (RS) Fdc 64, turn. (Any beginning chs of the foundation row do not count as a st)
or
Ch 66, dc in 3rd ch from hook and in each across, turn.
Row 2: (WS) Ch 1 (counts as a st throughout the body of the blanket), 2 dc in same st as ch 1, sk 2, *(sc, 2 dc) in next, sk 2; repeat from * across until 3 sts remain, sk 2, sc in last, turn – 64 sts.
Row 3: Ch 2 (does not count as a st), in blo dc in each st across, don't forget to dc in the ch 1 turning ch, turn – 64 sts.
Rows 4-44: Repeat Rows 2-3. End on a Row 2 repeat. Do not fasten off A.
Continue to Round 1 of Border section.
Border:
Round 1: Continuing with A, ch 1, turn, sc evenly around placing 3 sc in each corner, join with a sl st. Fasten off A.
Using K hook, attach B to any side, not a corner.
Row 1: Ch 7, in back bar/bump of ch sts, sc in 2nd ch from hook and each across, sl st in next 2 sts on blanket, turn – 6 sts.
Row 2: Ch 1, sk the 2 sl sts, in blo sc in each st across, turn – 6 sts.
Row 3: Ch 1, in blo sc in each st across, sl st in next 2 sts on blanket, turn – 6 sts.
Repeat Rows 2-3 around. When you come to the 3 sc in the corners, on the Row 3 repeats sl st in 1 st on the blanket rather than 2 sts.
End on a Row 2 border repeat. Bring last row and first row together and sl st together. Fasten off and weave in ends
Copyright protected. You may not redistribute pattern after purchase or publish any part as your own including photos. If sharing online you must link back to this original post. You may sell finished products and if possible, reference back to this pattern and/or give credit to Simply Hooked by Janet as the original designer.