Disclosure: Some posts may contain affiliate links, meaning, at no cost to you, I will earn a commission if you click through and make a purchase.
Have fun making this simple crochet hidden pocket scarf.
If you're a fan of crochet scarves and looking for a new project, why not try making a hidden pocket scarf?
This practical and stylish accessory is perfect for keeping your hands warm and storing small items like keys or a phone. With this pattern, you'll be able to create your very own unique scarf in no time.
About the Hidden Pocket Scarf Design
The hidden pocket scarf is a versatile and practical accessory that combines style and function.
This crochet scarf features a hidden pocket that can be used to store small items like keys, a phone, or cash.
The design is also perfect for chilly days when you need to keep your hands warm if you don't have gloves with you.
With a few basic crochet skills, you can easily create your own hidden pocket scarf and have fun doing it.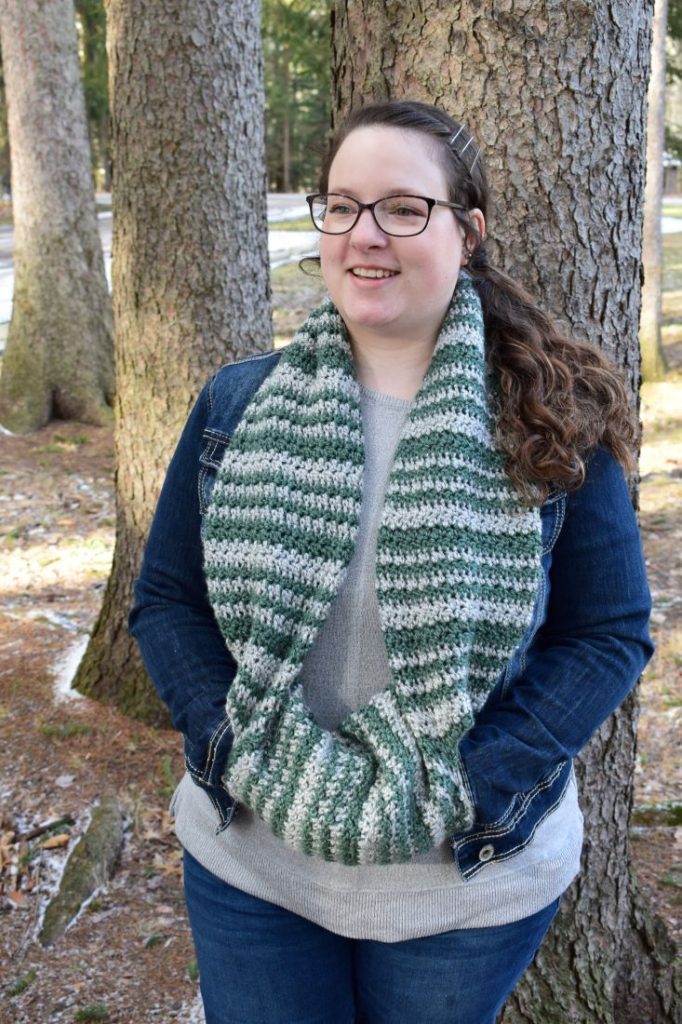 Yarn used for This Scarf
It is recommended to use a medium weight yarn (also known as worsted weight or 4 weight) for the best results with this scarf.
Acrylic yarn is a great option for beginners as it is affordable, easy to work with, and comes in a wide range of colors. You can also choose a wool or wool blend yarn for added warmth and durability.
This specific pattern calls for Lion Brand Heartland which is a 100% acrylic worsted weight 4 yarn. You will need 2 colors. A couple testers for this pattern actually used 3 colors and the results turned out really great!
Construction of the Scarf
There is nothing difficult at all when it comes to creating the pocket for this scarf. For that reason this can be a nice crochet pattern for a beginner to work on. The only difficulty may be managing the 2 different colors.
This hidden pocket scarf is worked as a long tube. One slit to form the hidden pocket is worked into the pattern itself and the second slit is formed when each end of the tube is sewn together.
So lets get started on your very own hidden pocket scarf!
↓ Pin this pattern for later! ↓
View other practical and simple crochet accessory patterns:
The Morning Mist Cowl also uses the same stitches as this hidden pocket scarf so it will be a nice next project to crochet.
The Snowbank Cowl is also worked as a tube just as the hidden pocket scarf is worked.
---
Materials:
YARN:
TOOLS:

US Size (I/9) 5.5mm crochet hook
Difficulty:
Stitches/Abbreviations: US Terms
ch – chain
st(s) – stitch(es)
sk – skip
sl st – slip stitch
sc – single crochet
dc – double crochet
RS/WS – Right/Wrong Side
Size:
48.5″ loop circumference, 7.5″ wide (flat)
Gauge:
13 sts x 11 rows = 4" (10 cm) of pattern repeat
Notes:
This cowl is worked in TURNED ROUNDS. Make sure you do not work into the join sl st when turning to work a new round.
When a color is not used, carry it up the seam until needed next.
Always change colors on the WS of the work.
When joining each round, join with a sl st to the first st in that round.
Brackets [ ] indicate to work instructions within brackets as many times as directed.
When sharing on social media use the hashtag: #simplyhookedbyjanet
---
Considering purchasing the pdf of this pattern?
Purchase the low cost, ad-free, print friendly PDF:


---
Instructions Crochet Hidden Pocket Scarf Pattern:
With A, leave a 16-inch tail for seaming, ch 48, join to first ch.
Round 1 (RS): Ch 1, sc in first, dc in next, *sc in next, dc in next; repeat from * around, join, TURN – 24 (sc, dc).
Round 2: With A, repeat Round 1.
Rounds 3-4: With B, repeat Round 1.
Round 5: With A, repeat Round 1.
Round 6: With B, repeat Round 1.
Round 7: With A, repeat Round 1.
Round 8: With B, repeat Round 1.
Rounds 9-32: Repeat Rounds 1-8.
The 8 round color scheme repeat is 2 rounds A, 2 rounds B, [1 round A, 1 round B] 2 times with all rounds repeating round 1.
Round 33: With A, ch 1, sc in first, dc in next, [sc in next, dc in next] 8 times, ch 12, sk 12, [sc in next, dc in next] around, join, turn.
Round 34: With A, ch 1, sc in first, dc in next, *sc in next, dc in next; repeat from * around in stitches and chain spaces, join, turn.
Rounds 35-40: Repeat Rounds 3-8.
Rounds 41-120: Repeat Rounds 1-8. Fasten off B with a 16-inch tail.
Weave in any remaining ends besides the 16-inch tails.
Seaming
The second hand hole will be created during the seaming of the last round and first round together.
Align beginning round with last round. With a yarn needle and 1 of the 16-inch tails, seam last round to beginning round for 18 sts, secure and weave in end.
With second tail, seam in the opposite direction the last round to the beginning round for 18 sts, secure and weave in ends.
Copyright protected. You may not redistribute pattern after purchase or after viewing on my website. You may not publish any part as your own including photos. If sharing online you must link back to this original post. You may sell finished products and if possible, reference back to this pattern and/or give credit to Simply Hooked by Janet as the original designer.