Disclosure: Some posts may contain affiliate links, meaning, at no cost to you, I will earn a commission if you click through and make a purchase.
Have you ever needed a quick and easy item to make as a gift or to sell at craft shows?? This Fun Towel Ring is the perfect quick crochet gift.
This pattern is part of 30 Days of Cozy (2020) hosted by Pam Grice of Made With A Twist. Find all of the 30 Days of Cozy patterns HERE.
This Towel Ring pattern is an easy quick crochet gift to work up. It'll be a perfect addition to your craft table this holiday season at craft fairs.
People will love to pick this up as a quick last minute gift especially if you sell it with a nice hand towel all ready to go with it.
Whatever season or theme your craft show is you can make these to go along with that season or theme. Christmas – make some in the colors of Christmas or Winter. A spring or Easter craft show make some in nice pastel colors.
If you don't sell at craft shows then this is also the perfect project for you to make for yourself or as unique gift for someone in your life or as a quick crochet gift for a housewarming party.
This Towel Ring pattern is my second Towel Ring design this year (2020). You can find the other pattern HERE and decide which you like the best. I love that both add a second accent color but you can of course make it all in 1 color if you prefer.
Pattern Details:
Again, this design was created so that there is no need for a button. There's something about sewing on buttons and finding the right color button for a project that just stresses me out.
This design features a keyhole where the bobble/pom pom row fits through it to be hung on a stove or cabinet handle. I can't wait to see the color combinations you use when making your own Fun Towel Holder.
I always like to use cotton yarn when it comes to any kitchen items. This pattern uses I Love This Cotton from Hobby Lobby. The ring is worked around a hair elastic.
↓ Pin this pattern for later! ↓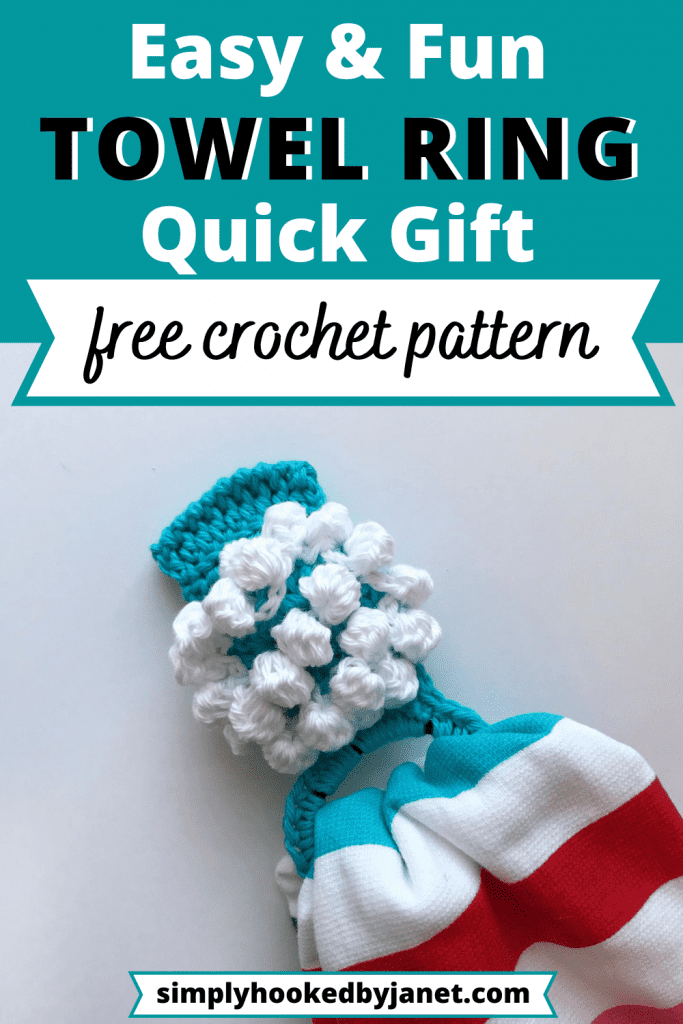 ---
Fun

Kitchen Towel Ring:
Materials:
Yarn: #4 Worsted Weight – I Love This Cotton in any 2 colors – Main Color (A) & Contrasting Color (B) or Lion Brand 24/7 Cotton
Hook: US Size (G/6) 4.0 mm crochet hook
Other Tools: Hair Elastic, Yarn Needle, Scissors
Difficulty:
Stitches/Abbreviations: US Terms
ch – chain
st(s) – stitch(es)
blo – back loop only
sl st – slip stitch
sc – single crochet
hdc – half double crochet
yo – yarn over
Special Stitch – bobble [(yo, insert hook in st, yo, pull through, yo, pull through 2 loops) repeat for a total of 4 times, yo pull through 5 loops on hook]
Notes:
This is worked from the bottom up starting at the ring.
The ring is formed using a hair elastic that you crochet around. See tutorial HERE if you need help on how to crochet around a ring.
Ch 1 & ch 2 do not count as a stitch.
When sharing on social media use the hashtag: #simplyhookedbyjanet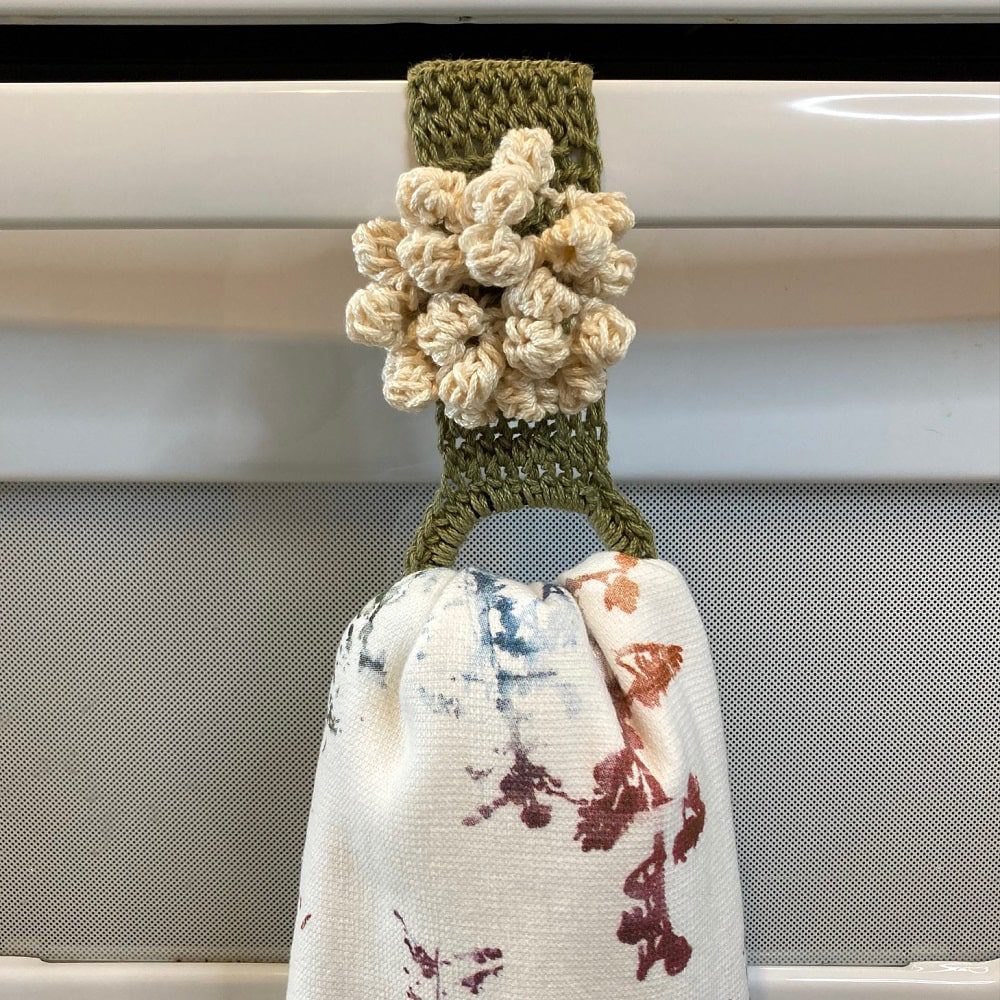 ---
You can get an ad-free PDF copy of this pattern here:
---
Instructions:
With A, attach yarn to hair elastic. – (To do this create your slip knot, put the slip knot on the inside of the hair elastic, insert hook in slip knot, while holding the elastic and working yarn in the same hand grab the working yarn with your hook by yarning over, pull the working yarn through the slip knot. This attaches your yarn around the hair elastic to begin working Row 1. For picture tutorial click HERE.)
Row 1: Ch 1, 38 hdc around ring, join with a sl st to first st – 38 hdc.
Row 2: Ch 2, hdc in next 9, turn – 9 hdc.
Row 3: Ch 2, in blo hdc in each st across, turn – 9 hdc.
Row 4: Ch 1, sc in next3, ch 3, skip 3, sc in next 3, turn – 6 sc, 3 chs.
Row 5: Ch 2, in blo hdc in each st and ch space across, turn – 9 hdc.
Rows 6-13: Ch 2, in blo hdc in each st across, turn – 9 hdc.
Row 14: Ch 1, (hdc, ch 1, hdc, ch 1, hdc) in each st across, turn – 27 hdc, 18 ch 1 sps. Attach B. Fasten off A.
Row 15: Ch 1 sl st in first st, ch 3, bobble in third ch from hook (see special stitches in notes on how to work a bobble), *sl st in next 2, ch 3, bobble in third ch from hook; repeat from * across, sl st in same st as last bobble – 23 bobble sts.
Fasten off and weave in ends.
How to use:
Attach to stove or cabinet handle by weaving the top bobble row through the keyhole and add a towel to the ring.
*This pattern has been fully tested to ensure accuracy*
Copyright protected. You may not redistribute pattern after purchase or publish any part as your own including photos. If sharing online you must link back to this original post. You may sell finished products and if possible, reference back to this pattern and/or give credit to Simply Hooked by Janet as the original designer.