Disclosure: Some posts may contain affiliate links, meaning, at no cost to you, I will earn a commission if you click through and make a purchase.
This lovely and easy ruffle scarf is the perfect one skein project.
If you have been crocheting for a few years then I am sure you have come across several ruffle scarf designs. It is an easy go to kind of crochet scarf.
But, let's give this style of scarf a little update. That update is just using a nice high quality hand dyed yarn. Have you ever come across a yarn shop with some very pretty hand dyed yarns?
I'm sure it is very hard to resist not grabbing just 1 skein of those fancy yarns. And that is how I have ended up with a few hand dyed single skeins of yarn without projects in mind for them.
This crochet pattern I hope will help relieve that thought about what to make with that one fancy skein of fingering weight yarn that may be lying around.
Need another nice and simple crochet project for summer? Try out this easy summer crochet wrap.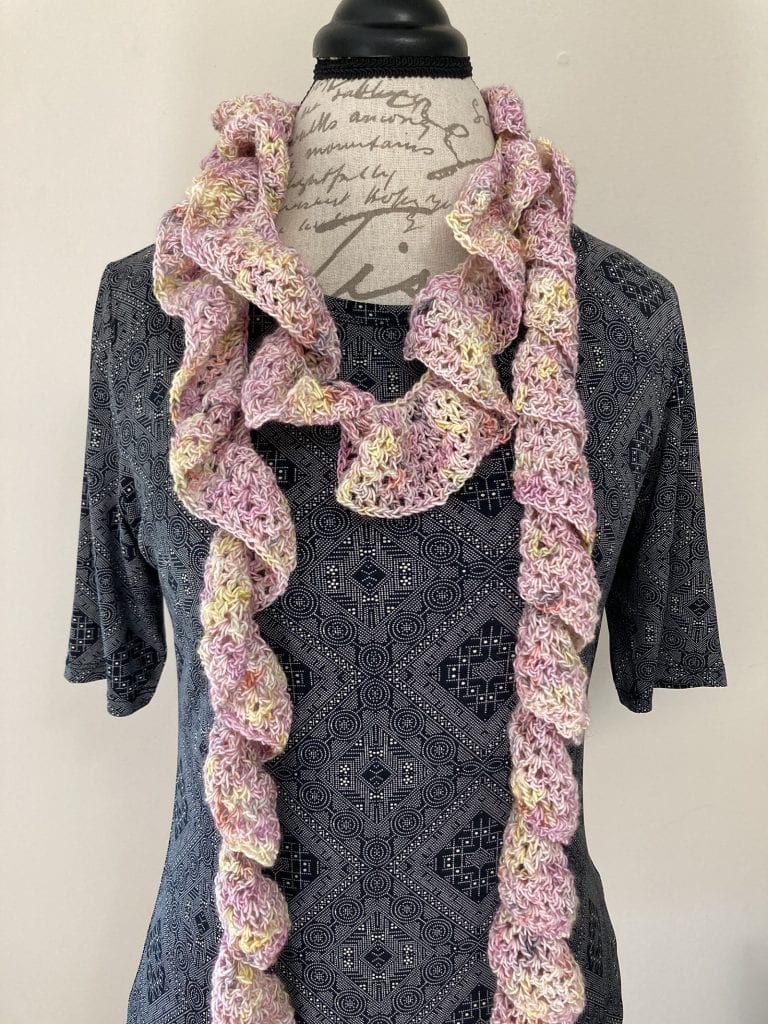 Pattern Details:
This style scarf is called a ruffle scarf or spiral scarf. It's shape is created by adding multiple stitches or increases in each stitch of the foundation row. Basically, the first row will be about double the stitches contained in the foundation row.
Adding these extra stitches is what begins to shape the spiral or ruffle of the scarf. The second row of this scarf also contains some increases. So, the last 3 rows are the same repeat.
The main stitch used throughout is the V stitch. The V stitch consists of 2 double crochets that are separated by a chain. The V stitch is explained more in the special stitch section of the pattern.
Now, are you ready to make your own easy ruffle scarf?
↓ Pin this for later! ↓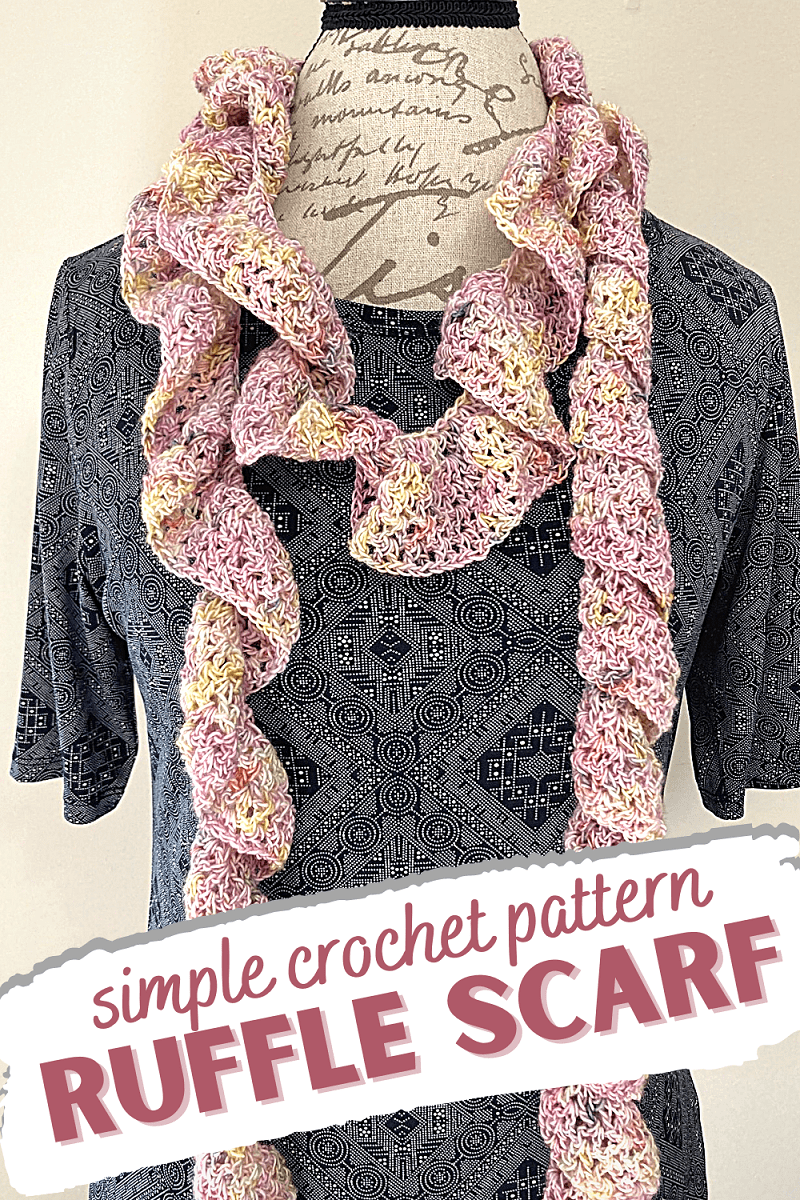 Materials:
Yarn: #1 Fingering Weight, 1 skein (400-415 yards) Tippy Tree Yarns Single Ply Sock or try a more affordable fingering weight yarn from We Crochet.
Hook: US Size (E/4) 3.5 mm
Other: yarn needle, scissors
Difficulty:
Stitches/Abbreviations: US Terms
ch – chain
st(s) – stitch(es)
sp – space
sc – single crochet
fsc – foundation single crochet
dc – double crochet
Special Stitch: V-Stitch = (dc, ch 1, dc) all in indicated st/space
Special Stitch: Increase (inc) = (dc, ch 1, dc, ch 1, dc) all in indicated st/sp
Notes:
Ch 3 counts as a stitch throughout.
If substituting a larger weight yarn and hook size you may need to do less foundation single crochet stitches to start – work in a multiple of 3 plus 2.
When sharing on social media use the hashtags: #simplyhookedbyjanet & #lovelyrufflescarf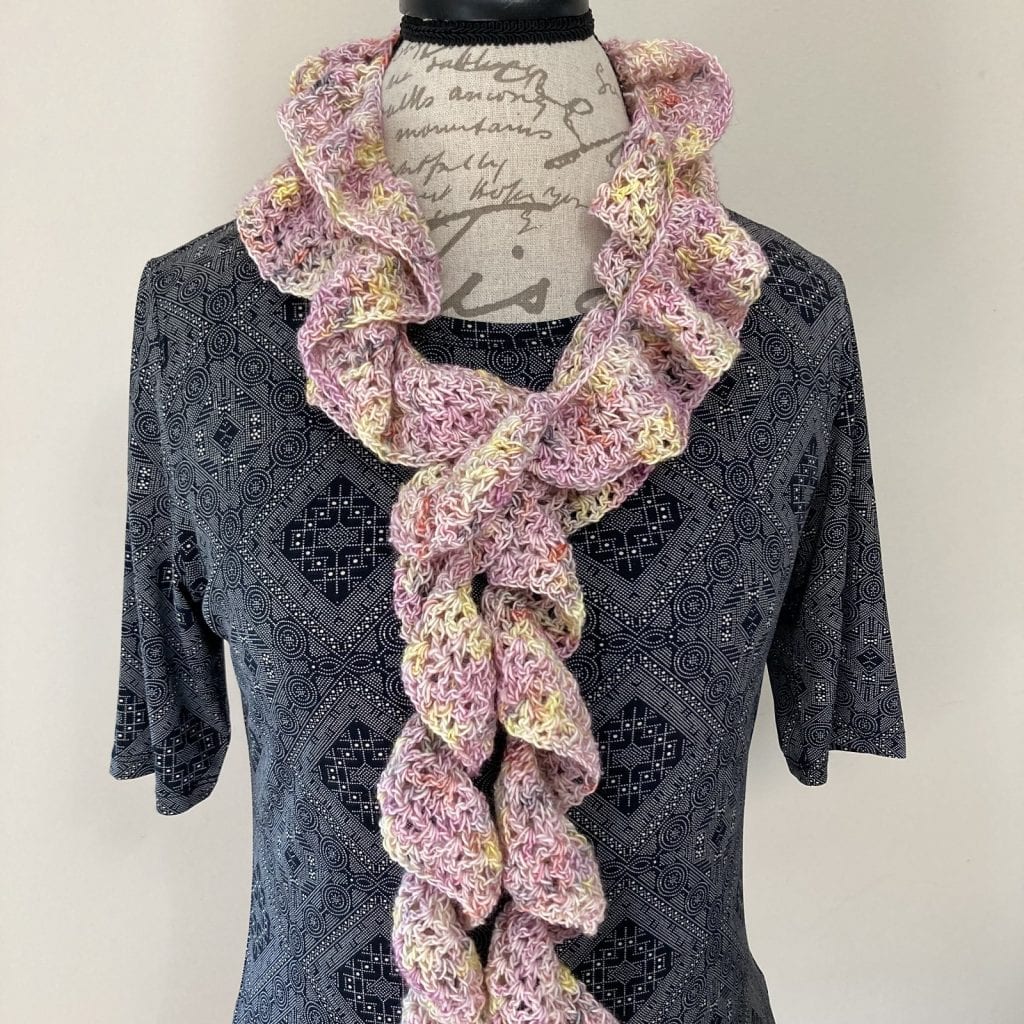 This Ruffle Scarf Crochet Pattern is featured on the Hello Spring Blog Hop (March 2023) hosted by Itchin' for some Stitchin'.
---
You can get a low cost, print friendly, ad-free PDF copy of this pattern here:
---
INSTRUCTIONS:

Lovely Ruffle Crochet Scarf
Adult: Fsc 251 or in a multiple of 3 plus 2.
Child: Fsc 203 or in a multiple of 3 plus 2.
Both sizes from here on:
Row 1: Ch 3 (counts as a st throughout), V-st in next, V-st in each across until 1 remains, dc in last, turn.
Row 2: Ch 3, *V-st in next 2 ch-1 sps, inc in next ch-1 sp; repeat from * across, dc in last, turn.
Row 3: Ch 3, V-st in each ch-1 sp across, dc in last, turn.
Rows 4-5: Repeat Row 3.
Fasten off and weave in ends.
When sharing on social media use the hashtags: #simplyhookedbyjanet & #lovelyrufflescarf
Copyright protected. You may not redistribute pattern after purchase or publish any part as your own including photos. If sharing online you must link back to this original post. You may sell finished products and if possible, reference back to this pattern and/or give credit to Simply Hooked by Janet as the original designer.