Disclosure: Some posts may contain affiliate links, meaning, at no cost to you, I will earn a commission if you click through and make a purchase.
Are you ready to learn how to make this easy crochet ruana? If so, continue reading all about it.
This crochet ruana pattern was originally published in the I Like Crochet Magazine February 2022 issue as the Toffee Tassel Shawl.
This may just be one of the coziest items I have ever made. The combination of the yarn and construction of this ruana make it super easy to wear.
Need just an extra layer while running errands? This crochet ruana would be perfect for that.
Whether you call it a shawl, ruana or cardigan, this will be a staple in your handmade crochet wardrobe.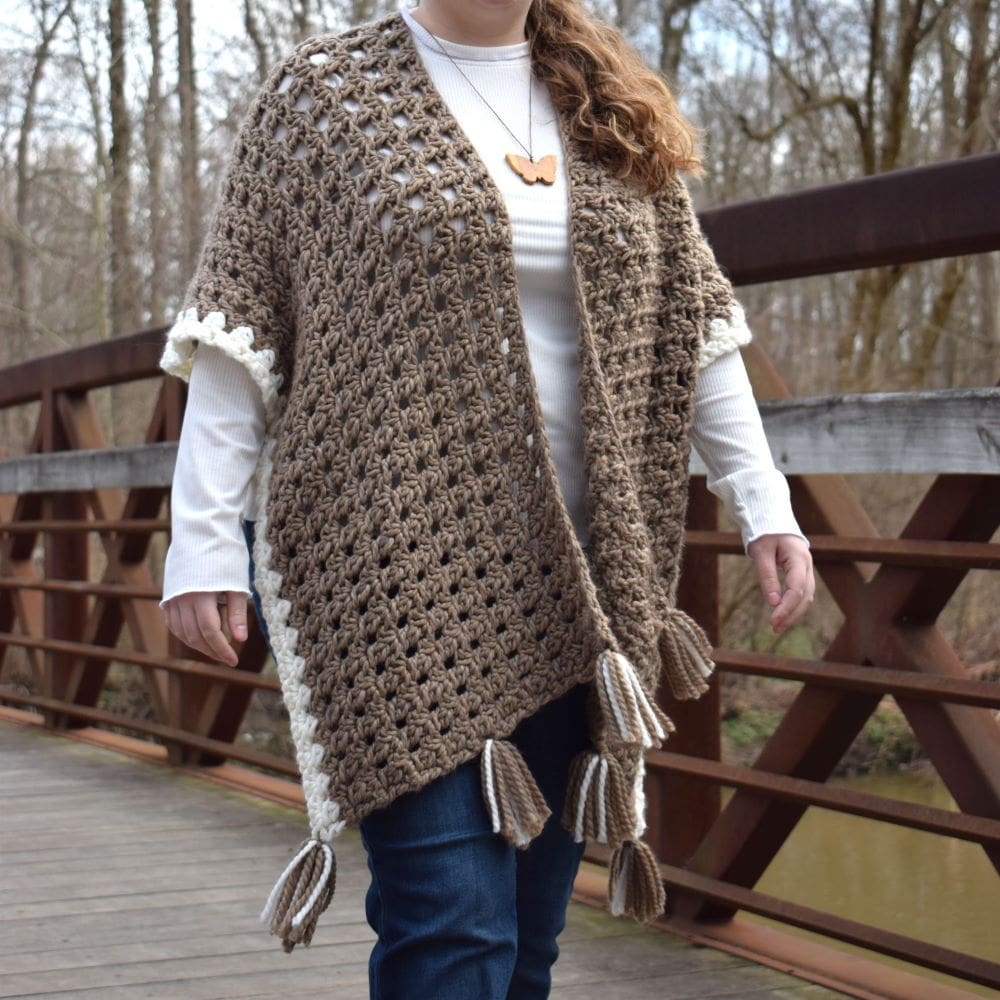 About this chunky crochet ruana
This easy crochet ruana pattern uses 2 colors. The accent color adds just a little more character and depth to this design.
Some stitches and techniques used in this ruana pattern include – single and double crochet stitches and a special stitch called a double crochet cluster. You will also need some knowledge of how to create tassels.
The yarn that was used was such a nice yarn to work with. I am sad to say though that it is being discontinued. The yarn used was WeCrochet/Knit Picks Biggo. WeCrochet kindly provided the yarn for this design.
This yarn is extremely soft and the drape is amazing for a bulky weight #5 yarn. The fiber content is 50% Superwash Merino Wool, 50% Nylon.
The 2 colors used for this specific ruana were Rabbit Heather as the main color and Bare as the accent color. 660 yards are needed for the main color and 110 yards are need for an accent color.
↓ Pin this pattern for later! ↓
I think you will love making this crochet ruana for 2 reasons.
Reason one is that it uses a bulky weight yarn so it works up faster compared to other designs this size using a smaller weight of yarn.
The second reason you will love making this ruana is because it is a 2-row repeat. The repeat can easily be memorized so that you can enjoy making this while relaxing on the couch.
If you like this pattern then check out the Snickerdoodle Cowl Crochet Pattern or the Easy Pocket Scarf Crochet Pattern. Both are free to view here on my website.
---
Materials:
YARN:

#5 Bulky Weight, WeCrochet Biggo, 50% Superwash Merino Wool, 50% Nylon, Rabbit Heather (MC, 660 yards), Bare Biggo (CC, 110 yards) or suitable substitutes

TOOLS:

US Size (L/11) 8.0 mm crochet hook
US Size (J/10) 6.0 mm crochet hook for side ties
Yarn needle, Scissors
Difficulty:
Dimensions:
58" from center point along one bottom edge x 16" wide
Stitches/Abbreviations: US Terms
ch – chain
st(s) – stitch(es)
sp(s) – space(s)
sk – skip
blo – back loop only
sc – single crochet
dc – double crochet
yo – yarn over
Special Stitches:

double crochet cluster (dc-cl) = (yo, insert hook in st, yo, pull through, yo pull through 2) 2 times, yo pull through 3 loops on hook
increase (inc) = [(sc, ch 1, sc), ch 2, (sc, ch 1, sc)] in same st/sp
Notes:
This pattern is worked in rows from the top down.
Beginning chain stitches do not count as a stitch.
( ) Parenthesis indicates a group of stitches worked in the same stitch or space.
When sharing on social media use the hashtag: #simplyhookedbyjanet
---
You can get a print friendly, ad-free PDF copy of this pattern here:
Use the code GET1OFF at checkout for $1 off a pattern purchase.
---
Instructions – Snowbound Tassel Ruana:
With MC and larger hook, ch 106.
Row 1: Sc in second ch from hook, sk 1, [(sc, ch 1, sc) in next, sk 1] 25 times, inc in next, sk 1, repeat [ ] across to last, sc in last, turn – 106 sc, 52 ch-1 sps, 1 ch-2 sp
Row 2: Ch 2, dc in first, (dc-CL, ch 1) in each ch-1 sp to ch-2 sp, (dc-CL, ch 2, dc-CL) in ch-2 sp, (ch 1, dc-CL,) in each ch -1 sp across, dc in last, turn – 54 dc-CL, 52 ch-1 sps, 1 ch-2 sp, 2 dc.
Row 3: Ch 1, sc in first, (sc, ch 1, sc) in each dc-CL across to ch-2 sp, inc in ch-2 sp, (sc, ch 1, sc) in each dc-CL across, sc in last, turn – 114 sc, 56 ch-1 sps, 1 ch-2 sp
Rows 4-21: Repeat Rows 2-3.
Fasten off MC after Row 21 or after number of desired rows worked to create a custom size.
Rows 22-23: Join CC, repeat Rows 2-3 once more.
Fasten off.
Finishing:
TIES
Use the smaller hook to make 4 ties.
Beginning at the bottom center point, measure 17" along each edge, join CC at the 17"-mark, ch 35 for each tie. Fasten off.
On the last row completed, starting at the first and last st, measure 17" along the last row towards the center point, join CC at the 17" mark, ch 35 for each tie. Fasten off.
TASSELS
Make six 4" tassels that contain ten 8" strands of MC and two 8" strands of CC. Cut a 14" strand of MC to tie the 12 strands together in the center. Use that same strand to fasten tassels to the piece. Along short edges, place a tassel on each corner and one at the center.
Weave in any ends.
Copyright protected. You may not redistribute pattern after purchase or after viewing on my website. You may not publish any part as your own including photos. If sharing online you must link back to this original post. You may sell finished products and if possible, reference back to this pattern and/or give credit to Simply Hooked by Janet as the original designer.