Disclosure: Some posts may contain affiliate links, meaning, at no cost to you, I will earn a commission if you click through and make a purchase.
Summer is here, and that means it's time for outdoor fun and staying hydrated under the hot sun. But who wants to carry around a boring old water bottle when you can add a touch of style to your summer essentials?
This crochet water bottle holder is the perfect accessory to beat the heat and keep your hydration game strong. Whether you are hiking, biking or just walking on the beach, this water bottle holder will keep your water secure at your side while adding some fun color to your summer gear. The strap on this crochet water bottle holder keeps your hands free.
With just a few simple materials and easy-to-follow instructions, you'll have a trendy and functional water bottle holder in no time.
This crochet pattern is included in a Summer Vibes pattern bundle for July 2023. This bundle contains 33 crochet projects perfect for Summer!
Benefits of using a water bottle holder for any adventure
Having a water bottle hold on hand for summer adventures can offer a range of benefits to enhance your outdoor experience.
Firstly, a water bottle holder keeps your hands free. This allows you to engage in various activities without the hassle of carrying a water bottle in your hand. Additionally, a water bottle holder prevents your bottle from getting lost or misplaced, ensuring that you always have easy access to hydration when you need it the most.
↓ Pin this pattern for later! ↓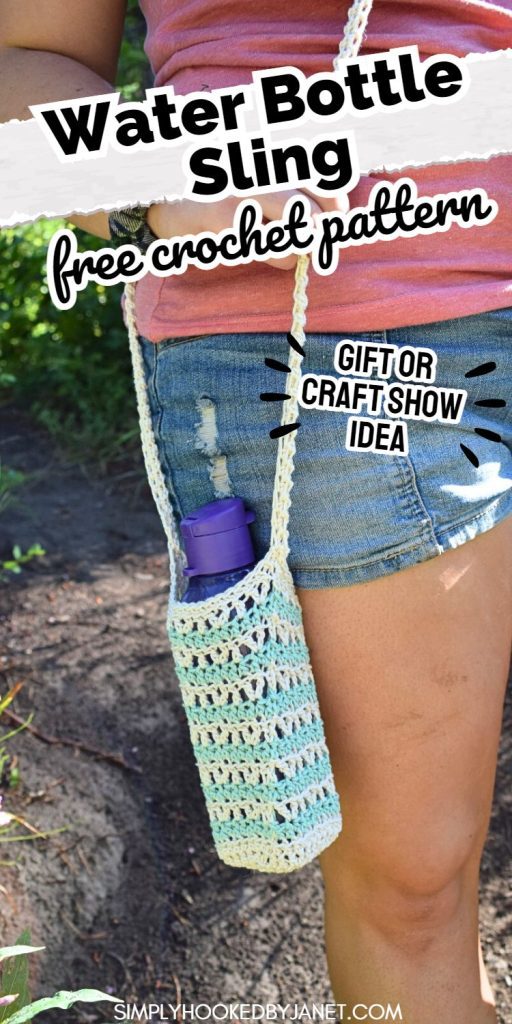 How to use and care for your water bottle holder
When it comes to this water bottle holder, the strap can be made in any length. I like my strap to be crossbody length. If I ever want to just carry it on my shoulder like a purse I will just knot the strap to create the length I want.
Over time with use the yarn can become stretched some. Washing the holder may help bring it back to original shape.
If your yarn starts pilling from use you can gently shave off those pieces.
Materials needed for this Crochet Water Bottle Holder
Let's review the materials you will need to crochet your very own water bottle holder. This list is short and simple and can be a good project for an adventurous or advanced beginner.
Crochet Hook: try the stated size first within the pattern below. You will want a hook size that will create somewhat tight stitches with the yarn you decide to use
Yarn: again try the recommended yarn for the pattern, you will need 2 colors. If you don't have it then use one that will be durable and washable
Scissors: essential for cutting the yarn and finishing off your crochet project
Tapestry needle: used for weaving in loose ends
---
Materials:
YARN:
TOOLS:

US Size (7) 4.5 mm crochet hook
Yarn needle, Scissors
Difficulty:
Easy – or Intermediate if a beginner is trying this pattern
Stitches/Abbreviations: US Terms
ch – chain
st(s) – stitch(es)
sk – skip
sl st – slip stitch
sp(s) – space(s)
hdc – half double crochet
dc – double crochet
blo – back loop only
Special Stitches: V-stitch (V-st) = (dc, ch 1 dc) all in same st/sp

beginning double crochet (beg dc) = do not ch to start, sc in first st, sc in left vertical bar of sc just made
Size (flat length):
Strap = 22.5"; Holder – 6.5"
Notes:
This is worked from the bottom up in the round.
When joining in the round, join with a sl st to the first st in that round.
Ch 3 counts as a dc st or substitute a beg dc (see special stitch) which also counts as a dc st.
When color changing for the next round just carry the unused color up when joining.
When sharing on social media use the hashtag: #simplyhookedbyjanet
Considering purchasing the pdf of this pattern?
This pattern is part of the Summer Vibes Blog Hop hosted by Fosbas Designs. Each day in July 2023 a new pattern is featured and on the featured day the pdf is available as a free download. See the main event page on how to get the downloads/coupon codes.
Purchase the low cost, ad-free, print friendly PDF:

Instructions 24/7 Water Bottle Sling:
With A, create magic ring.
Round 1: Ch 1, 8 hdc in ring, join – 8 hdc.
Round 2: Ch 1, 2 hdc in each st around, join – 16 hdc.
Round 3: Ch 1, 2 hdc in first, hdc in next, *2 hdc in next, hdc in next; repeat from * around, join – 24 hdc.
Round 4: Ch 1, 2 hdc in first, hdc in next 2, *2 hdc in next, hdc in next 2; repeat from * around, join – 32 hdc.
Round 5: Ch 1, 2 hdc in first, hdc in next 3, *2 hdc in next, hdc in next 3; repeat from * around, join – 40 hdc.
Circle should measure about 3.25" across at this point.
Round 6: With B, ch 1, blo hdc in each st around, join – 40 hdc.
Round 7: With A, ch 3 or beg dc (counts as a dc st throughout), sk 1, V-st in next, sk 1, *dc in next, sk 1, V-st in next, sk 1; repeat from * around, join – 10 dc, 10 V-sts.
Round 8: With B, ch 1, blo hdc in same st as join, blo hdc in each st and ch sp around, join – 40 hdc.
Rounds 9-17: Repeat Rounds 7-8. End on a Round 7 repeat.
Round 18: With A, ch 1, blo sc in same st as join, blo sc in each st around, join – 40 sc. Do not fasten off A, fasten off B. Continue to strap.
Strap
View a more detailed photo tutorial of the strap here if you need more help.
Row 1: With A, ch 1, sc in first, ch 155 or any number of chs to create desired strap length, from first sc worked sk 19 sts, sc in next st, turn.
Row 2: Ch 2, in the back bump of the ch sts dc in each ch across, sc in next st on top of holder, turn.
Row 3: Ch 1, sc in each dc st of the strap as follows – insert hook in top of dc st, fold the dc st in half, also insert hook through both bottom ch loops at the base of the same dc st (view photo below for placement help), finish the sc st, sc in next st on top of holder, sl st in next.
Fasten off and weave in ends.