Disclosure: Some posts may contain affiliate links, meaning, at no cost to you, I will earn a commission if you click through and make a purchase.
Crocheting is more than just a hobby; it is a way to create unique and stylish accessories that can liven up any outfit. If you're looking for a fun and easy crochet project that will add a touch of uniqueness to your hair, look no further than this simple hair scarf pattern.
This trendy accessory is perfect for any occasion, from a casual day out to a formal event. With just a few basic crochet stitches and some yarn, you can create a chic hair scarf that will make you feel confident and stylish.
Whether you're a seasoned crocheter or just starting out, this pattern is perfect for anyone looking to add a touch of personality to their hair accessories. So grab your crochet hook and let's get started on this exciting and fashionable project!
Why Crochet a Hair Scarf
Hair scarves are a trendy and stylish accessory that can be worn in a variety of ways. They can be used to dress up a casual outfit. Crochet hair scarves are particularly popular because they are unique and customizable. You can choose any color of yarn to match your personal style and crochet a hair scarf that's perfect for you.
What yarn to use for your hair scarf
Choosing the right yarn is essential to ensure that your hair scarf looks it's best. When selecting yarn, consider the weight and texture of the yarn. A lightweight, soft yarn is perfect for a delicate hair scarf, while a heavier yarn will create a thicker scarf. You can also choose different colors to add a unique touch to your hair scarf.
This specific pattern uses a cotton blend fingering weight yarn. This yarn has a decent drape to it and is not too stiff.
Styling Your Hair Scarf – Different Ways to Wear It
There are several different ways to wear a hair scarf, and the style you choose will depend on your personal preference and the occasion. Here are a few ways to wear your hair scarf: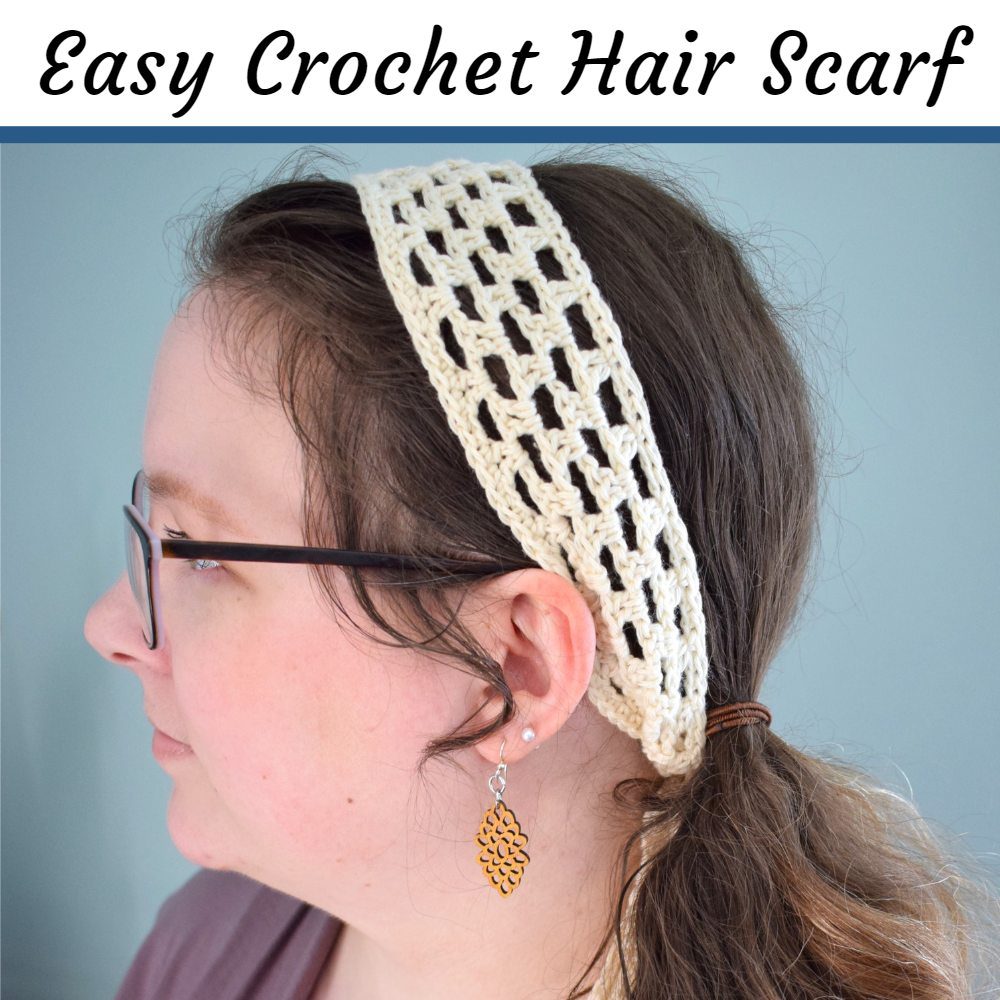 1. Classic Headband Style – Tie the hair scarf around your head like a headband, with the knot at the back or side of your head close to your neck.
2. Top Knot Style – Tie the hair scarf around your head and place the knot at the top of your head.
3. Ponytail Style – Tie the hair scarf around your ponytail holder, then wrap the scarf around the base of your ponytail.
These are just a few of the many ways to wear a hair scarf. Experiment with different styles to find the one that works best for you. Adjusting the length of this hair scarf will also work better for some ways to wear it than others.
↓ Pin this pattern for later! ↓
Care instructions for your crocheted hair scarf
To ensure that your crocheted hair scarf lasts for many wears, it is important to take care of it properly. Here are a few care instructions to keep in mind:
– Hand wash your hair scarf in cool water with a mild detergent.
– Gently squeeze out excess water between 2 towels and lay flat to dry.
– Do not wring or twist as this can damage the fibers.
– Store your hair scarf in a cool, dry place to prevent it from getting damaged by moisture or heat.
---
This pattern is featured in the Dollar Days Summer Blog Hop hosted by Simply Melanie Jane.

---
Materials:
YARN:
TOOLS:

US Size (D/3) 3.25mm crochet hook
Yarn needle, Scissors, Blocking Materials
Difficulty:
Stitches/Abbreviations: US Terms
ch – chain
st(s) – stitch(es)
sk – skip
sl st – slip stitch
sp(s) – space(s)
sc – single crochet
dc – double crochet
Size:
(blocked) 2" (5 cm) x 46" (117 cm)
Gauge:
Notes:
This hair scarf is worked lengthwise.
Parenthesis ( ) indicates a set of stitches all worked into the same st/sp.
Beginning ch 4 counts as a st and ch-1 sp throughout.
Wet blocking is recommended to open the stitches.
When sharing on social media use the hashtag: #simplyhookedbyjanet
---
Considering purchasing the pdf of this pattern?
Purchase the low cost, ad-free, print friendly PDF:

---
Instructions Crochet Happy Hair Scarf Pattern:
Ch 157 – if you want to adjust the length of the hair scarf then add or subtract in a multiple of 3 from the 157 chains.
Row 1: 2 dc in fifth chain from hook, *ch 2, sk 2, 2 dc in next, repeat from * across, ch 1, dc in same st as last 2 dc worked, turn – 104 dc, 50 ch-2 sps, 2 ch-1 sps.
Row 2: Ch 4, 2 dc in ch-1 sp, ch 2 sk 2, *2 dc in next ch-2 sp, ch 2, sk 2; repeat from * across to the turning ch-4 sp, (2 dc, ch 1, dc) in the actual turning ch-4 sp rather than an actual ch st (see image), turn – 106 dc, 51 ch-1 sps, 2 ch-1 sps.
Rows 3-5 or until desired width: Repeat Row 2 – 112 dc, 54 ch-2 sps, 2 ch-1 sps. Do not fasten off after last row, continue to border.
Border
Sc evenly around entire piece, sl st to join to the first st of the border.
Fasten off and weave in ends. Wet block piece to open the stitches.
---
Love this pattern then check out these other free crochet patterns on my blog:
– Simple Skinny Scarf Crochet Pattern
– Granny Square V Scarf Crochet Pattern
Copyright protected. You may not redistribute pattern after purchase or after viewing on my website. You may not publish any part as your own including photos. If sharing online you must link back to this original post. You may sell finished products and if possible, reference back to this pattern and/or give credit to Simply Hooked by Janet as the original designer.