Disclosure: Some posts may contain affiliate links, meaning, at no cost to you, I will earn a commission if you click through and make a purchase.
A lot of crochet patterns are made using worsted weight yarn. One of the easiest weights of yarn to work with is a worsted weight #4 yarn. Beginner crocheters typically start out their crochet journey using this specific weight of yarn.
It definitely works up faster than a lace weight yarn but works up slower compared to a bulky or super bulky weight yarn.
What is worsted weight #4 yarn?
Worsted weight #4 yarn is a category of yarn that describes the thickness of a yarn. It is basically right in the middle of all of the different weights from lace to jumbo.


Other words that are also used to describe this yarn weight category are Aran and Afghan. Worsted weight yarn will lean towards creating a thicker fabric when worked up.
Hooks sizes that are typically used for crochet patterns that call for worsted weight yarn are H, I, J (5mm – 6mm). A larger hook used with this weight of yarn can typically help give projects some more drape and flexibility.
What projects can be made using worsted weight yarn?
So many crochet items can be made with worsted weight yarn. The most common items will most likely be scarves, blankets and hats.
Other things such as home decor, shawls and garments can also be made using worsted weight #4 yarn.
↓ Pin this for future reference! ↓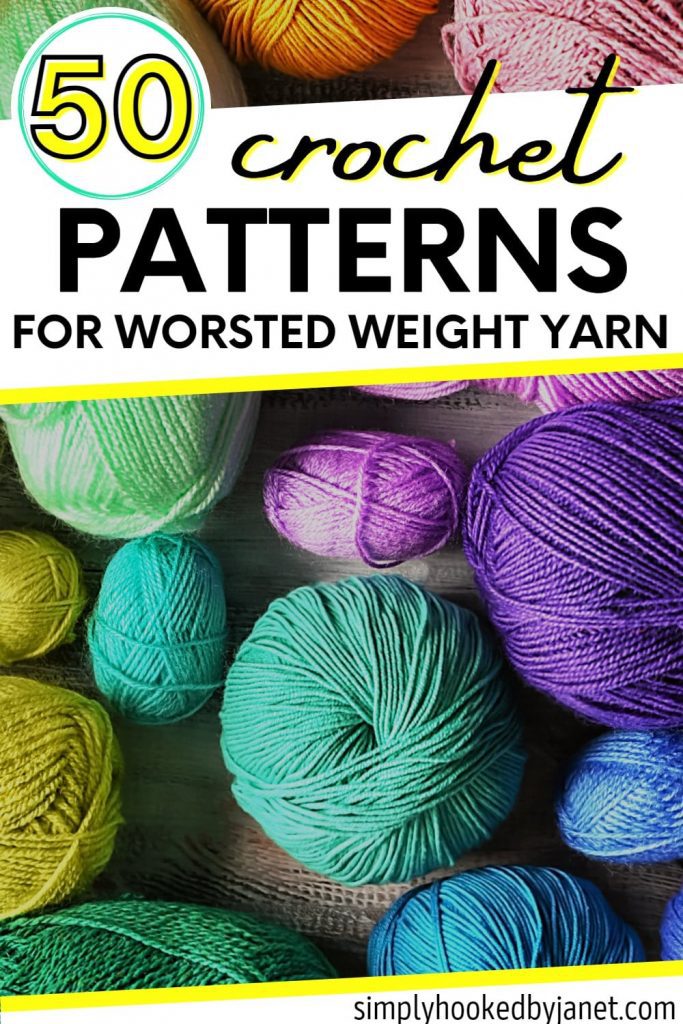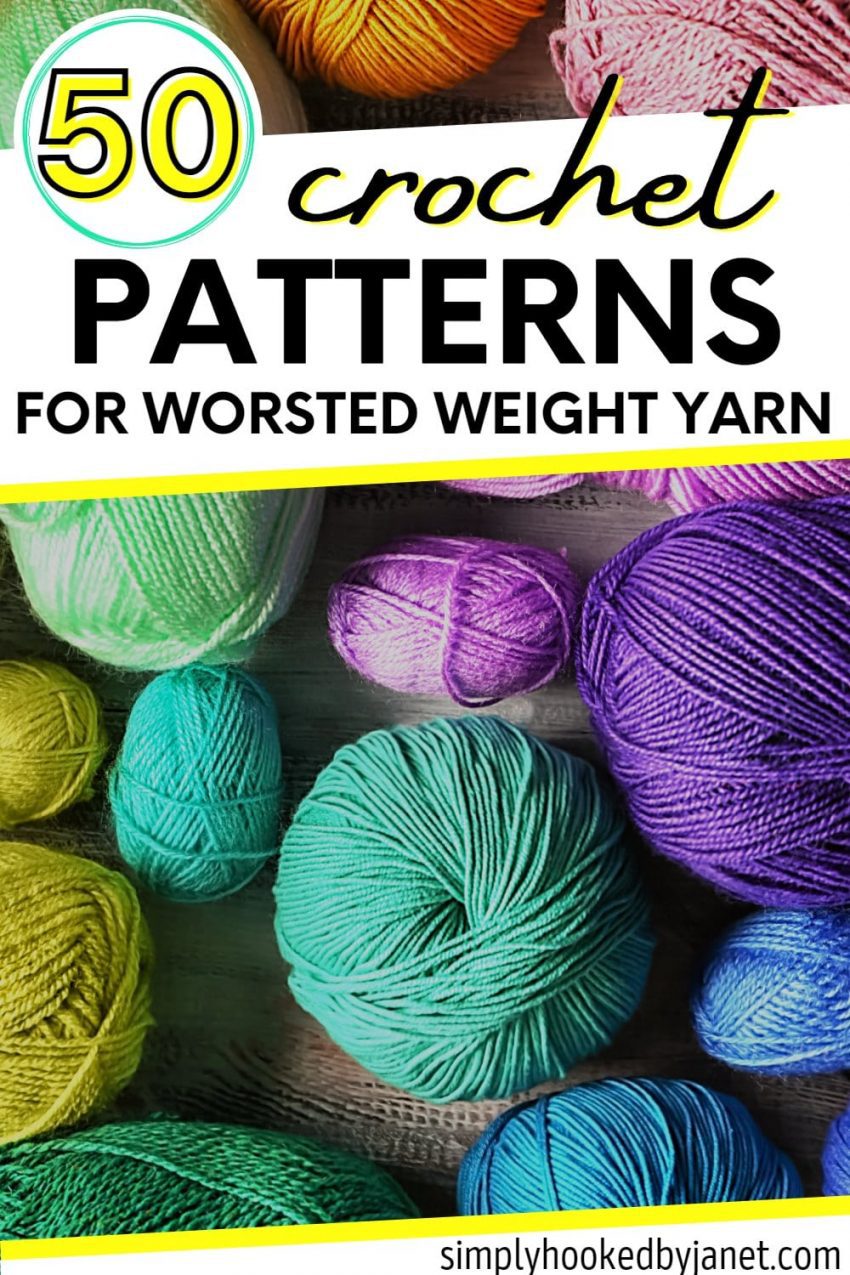 Roundup of worsted weight yarn crochet patterns:
In this large collection of crochet patterns that use worsted weight yarn, you will find many different categories and types of patterns.
A lot of these free crochet patterns are difficulty levels that range from Easy to Intermediate. Scroll through to find a few that you like and let me know in a comment below what ones are your favorite!.
1. Wavecrest Wall Hanging – A fun pattern that is made horizontally but hung vertically. It uses 142 yards of worsted weight yarn.
2. Rows of Happy Scarf – This scarf pattern uses some fun colors and 2 special stitches that are easier than you think.
3. Puppy Dog – Look at this super cute crochet dog. This pattern can be a little advanced for some and uses Red Heart Super Saver Yarn.
4. Pine Tree Pocket Purse – This mini crochet bag uses 75 yards of yarn so it works up quickly.
5. Lobelia Nesting Basket – A fun basket to add to your home décor. Use a worsted weight cotton yarn for this.
6. Eternal Dawn Fingerless Gloves – This is a nice textured crochet pattern that can be made in a solid color or have an accent color added to it.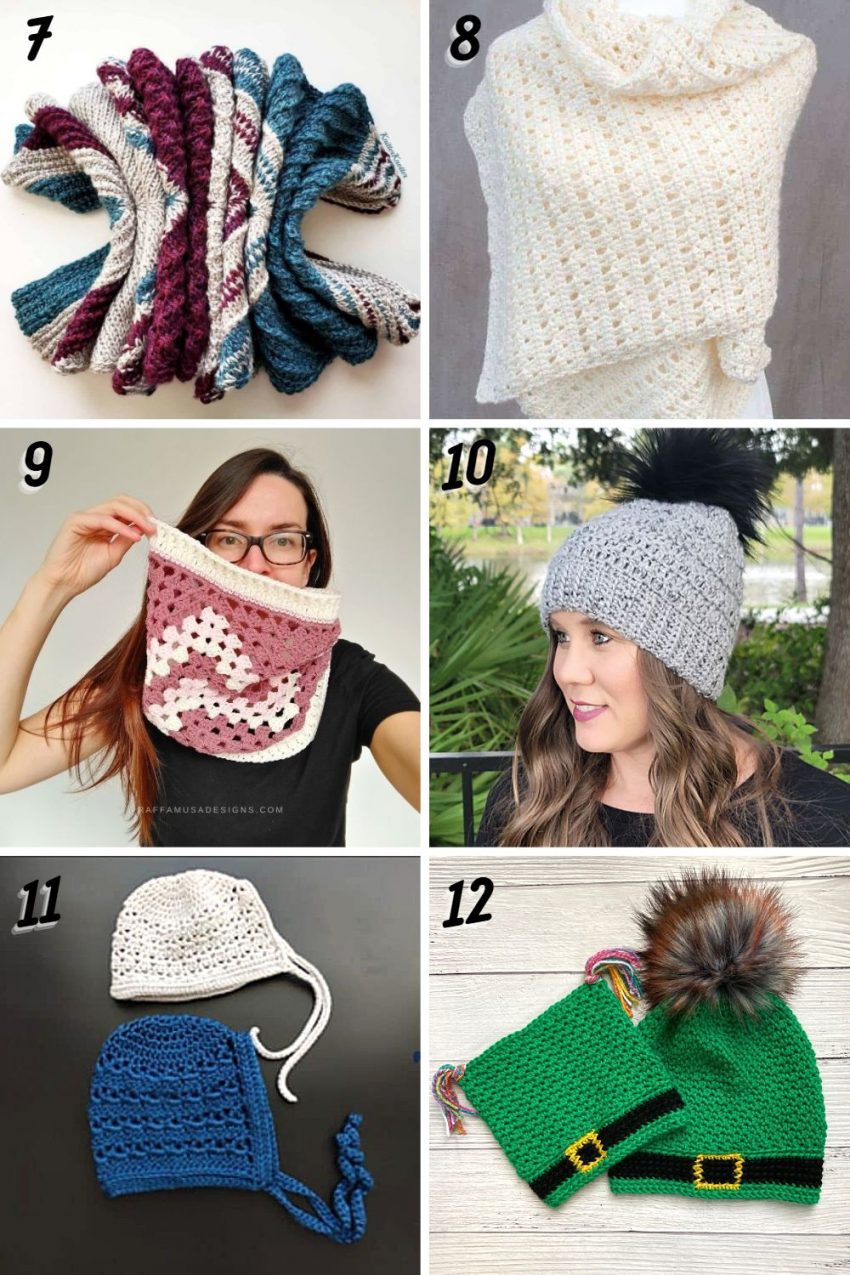 7. Prerna Tunisian Scarf – Lion Brand Heartland yarn is so fun to use for this scarf pattern. Tunisian stitches range from beginner to intermediate.
8. Easy Rectangular Shawl – A nice open stitchwork shawl. Crossed double crochet stitches are used in the pattern. 950 yards of Mighty Stitch from We Crochet are used.
9. Granny Chevron Cowl – This crochet cowl pattern can be a great stash busting pattern as well. The pattern is one size for adults but can be customized.
10. Edgewater Hat – For this hat you will need about 135-165 yards of yarn. It can be made in 4 different sizes. Try this hat using Swish Worsted from We Crochet.
11. Baby Bonnet – A baby bonnet can be a fast project to make. You will need 80-110 yards of yarn. It can be made in sizes from 0 months to 24 months.
12. Lucky Leprechaun Beanie – A fun crochet beanie with a little bit of colorwork. This can be made in 3 different sizes.
13. Amigurumi Bird – This crochet bird has mall pieces that are quick to sew on. The bird stands 3.25″ tall and uses a total of 72 yards of worsted yarn.
14. Crochet Bookmark – 25 Yards of yarn are needed for this bookmark and it has a nice stitch pattern.
15. Brushstrokes Keyhole Scarf – This pattern can be made in Worsted as well as Bulky yarn. Written for adult size and uses 218 yards of yarn.
16. Braided Beanie – This particular beanie is worked flat in a long rectangle. It uses a special stitch to create a braid like feature.
17. Coffee Cozy – This crochet coffee cozy pattern makes for a great gift. The beautiful star stitch is used for this cozy.
18. Artfully Simply Infinity Scarf – Need a beautiful one skein crochet project? Then try out this infinity scarf pattern. Try it with Lion Brand Heartland Yarn.
19. Café Des Arts Wrap – An easy crochet boho triangle shawl perfect for any season.
20. Better Together Slouchy – A two tone, textured unisex crochet beanie is perfect for family photos. Look through your worsted weight yarn stash for the perfect color combo.
21. Hooded Cowl – Need a handmade piece that will see you through the different seasons? This great crochet pattern can be worn multiple ways and made in 4 different sizes.
22. Rainbow Snake – Red Heart Super Saver yarn is used for this fun snake. Great for any child to play with.
23. Desert Sands Scarf – This crochet scarf has a fun shape to it. It uses just 1 cake of Caron Cakes.
24. Kitchen Towel Holder – Use up some of your worsted weight scrap yarn for this cute project. Perfect gift idea as well.
25. Even Moss Hat – This crochet hat pattern can be made in adult size and has some great texture.
26. Ferguson Lap Blanket – This crochet blanket has an easy and repetitive stitch pattern. The pattern uses Lion Brand Yarn Pound of Love.
27. Heart Shape Coasters – Just 6 rounds make up this cute coaster. A full tutorial will help guide you in making these coasters.
28. Shifting Posts Hat – Use several different colors to create an ombre effect with this crochet hat pattern. The pattern uses WeCrochet Brava and is worked bottom up in adult size.
29. Christmas Waves Cowl – A fun cowl that uses 3 different colors to create a wave pattern. Wool of the Andes Tweed yarn is used.
30. Irelyn Wrap – The crochet rectangle shawl is a nice transitional piece to add to your handmade wardrobe. It is a quick make with a 1 row repeat.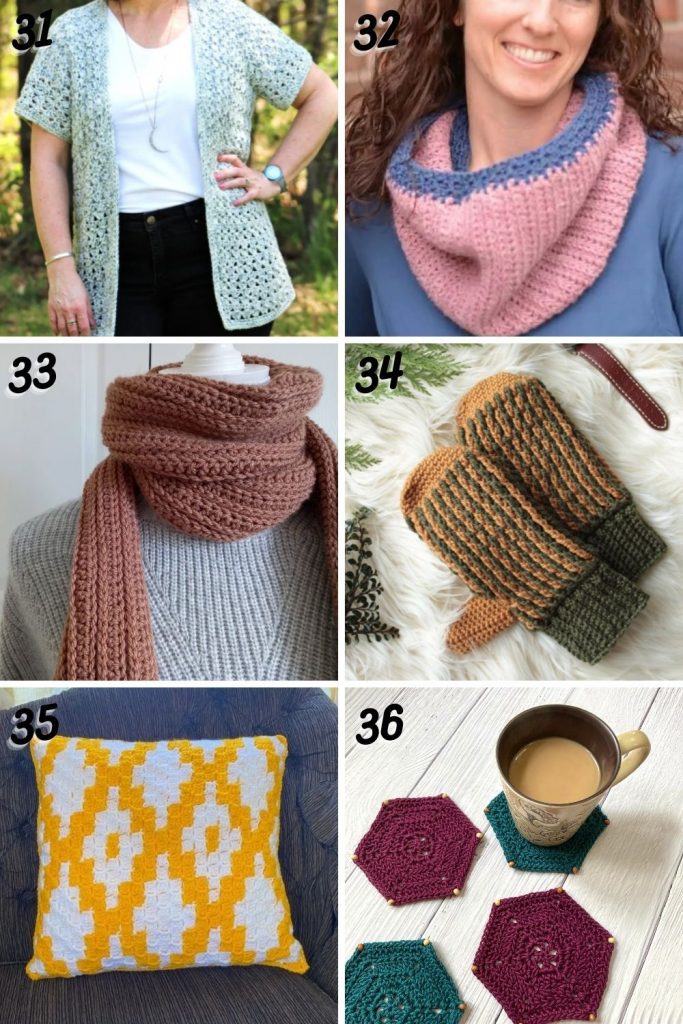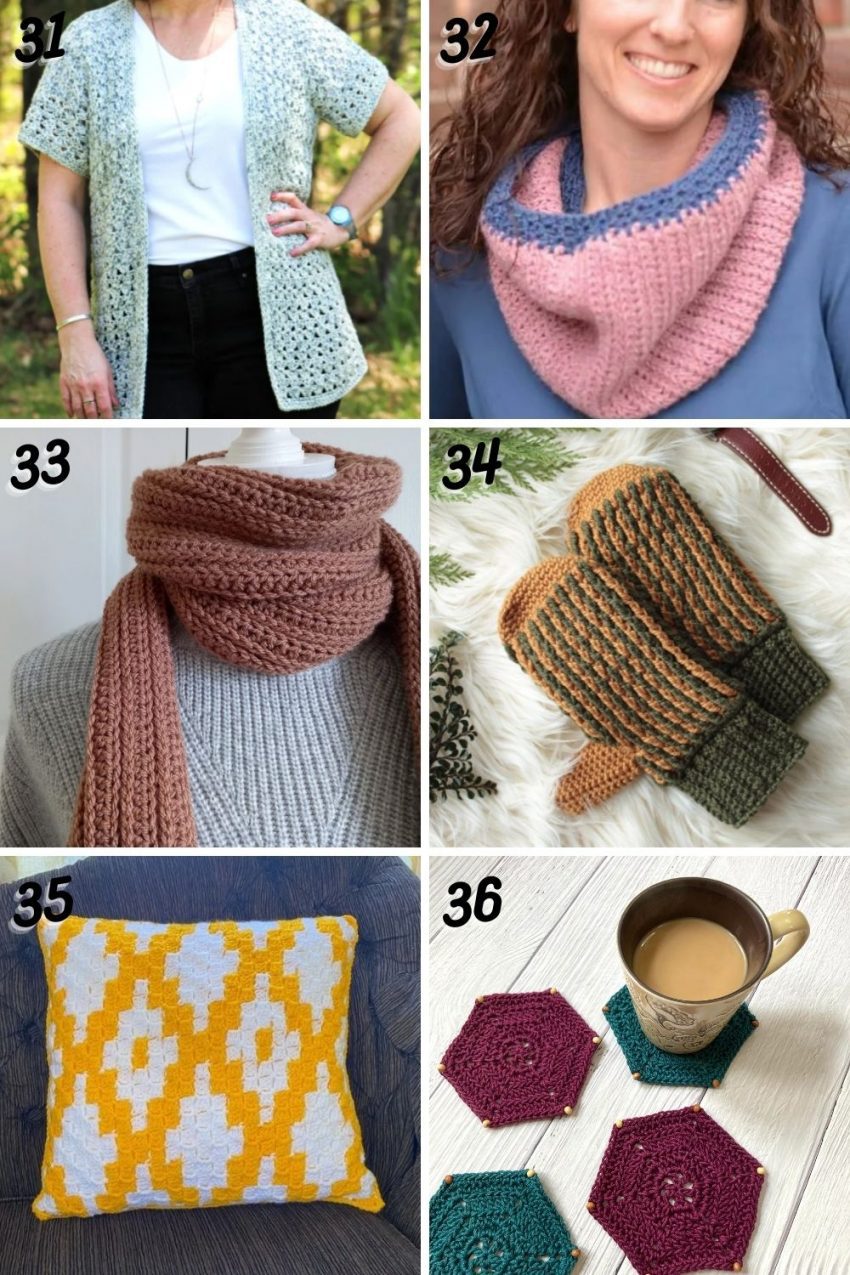 31. Nadia Crochet Cardigan – This lacy cardigan design is perfect for spring. A great layering piece.
32. The Loops Cowl – This cowl pattern is one where you can easily make it while watching tv. A great beginner crochet project. Lion Brand Wool Ease Yarn is used.
33. Easy Man Scarf – This crochet scarf has a nice knit look to it. A slightly masculine look to this crochet scarf makes it perfect for the men in your life.
34. Explorer's Men's Mitten's – This fun pattern uses an interlocking crochet technique to create a stretchy fabric.
35. Purcell Pillow – Try out your C2C skills with this crochet pillow pattern. Difficulty level is Intermediate for this project.
36. Crystal Dream Coasters – Crochet yourself or a friend a set of these beaded hexagon coasters. Use up your scrap yarn for this crochet project.
37. Twisted Chains Cowl – Drape this cozy cowl around your neck or shoulders.
38. Easy Toddler Sunhat – 90 yards of a cotton yarn are needed for this cute toddler hat.
39. Vintage Honey Cuffed Scarf – If you have Lion Brand Vanna's Choice in your stash then try out this cozy crochet scarf.
40. Two Tone Placemat – Add a nice handmade touch to your home with this crochet placemat pattern that uses 2 different colors of a worsted weight cotton yarn.
41. Easy Pocket Scarf – The open stitch pattern in this pocket scarf adds a lot of detail. Use your favorite worsted weight yarn on the crochet scarf.
42. Bonnie Tunic Sweater – A beautiful size inclusive top. Can be crocheted in sizes xs-5x. A fun combination of stitches should keep your interest in this project.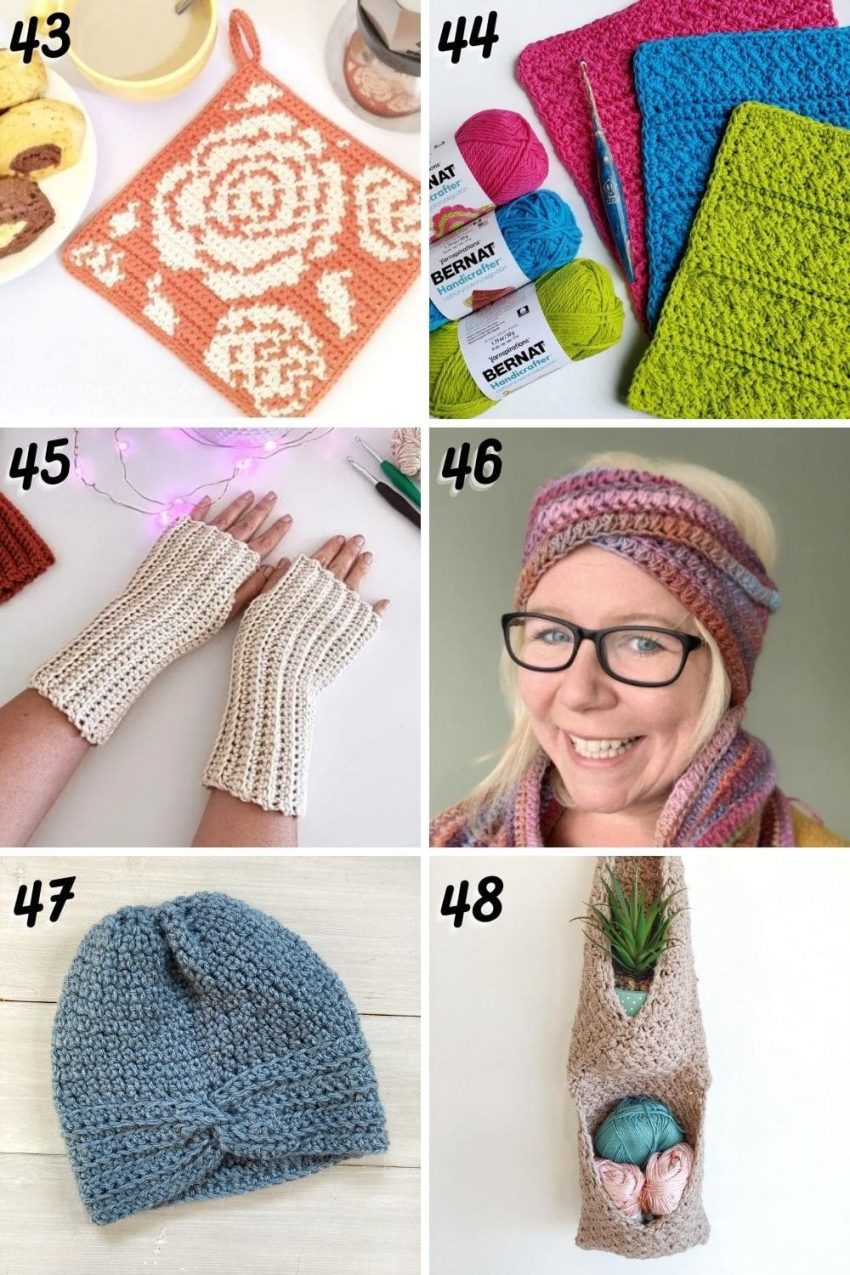 43. Roses Potholder – Want to try your hand at tapestry crochet? Then try this crochet potholder pattern.
44. Suzy Washcloth – Add another handmade touch to yours or a friends home with these hand crocheted washcloths. Make them bold and bright or keep them neutral.
45. Ridged Fingerless Gloves – This simple design for fingerless gloves is easy for beginners. We Crochet Comfy Worsted yarn is used for this pattern.
46. Mobius Twist Headband – Try your hand at this simple twist headband. It is worked all in 1 piece.
47. Downton Twist Beanie – This crochet beanie pattern only uses 1 stitch throughout. The twist feature adds a lot of interest to the crochet hat.
48. Double Hanging Plant Hanger – This is a nice crochet pattern to gift to someone. This pattern actually uses 2 strands of worsted weight yarn held together.
49. Crochet Winter Legs – Use a colorful self striping yarn for these leg warmers. Project level is considered easy.
50. Pampering Massage Soap Saver – This crochet soap Saver can make for a great and quick gift! 40 yards of worsted weight cotton yarn is needed for this.
51. Cloudy Day Cowl – A fun textured basketweave cowl. Adult sized but can be adjusted. Uses 150 yards of yarn.
52. Fairy Light Shawl – A fun twist on a crochet triangle shawl. We Crochet Swish Worsted is used wit this awesome crochet shawl.
53. Love of Texture Afghan – This crochet afghan pattern uses the puff stitch to create a fun texture. Find some fun color combinations for this blanket.
54. Knit Look Neckwarmer – Have you ever tried the yo-slst? It creates a nice knit look to crochet projects such as this easy neck warmer.