Disclosure: Some posts may contain affiliate links, meaning, at no cost to you, I will earn a commission if you click through and make a purchase.
How do you feel about crochet patterns that have instructions for more than 1 weight of yarn?
This very idea is becoming a little more popular in the fiber arts community.
This bandana scarf pattern has just that, instructions for you to make this pattern in more than just 1 weight of yarn.
You can make this bandana style cowl in 3 different weights of yarn. This scarf can be made in #1 fingering weight, #3 DK weight or #4 worsted weight yarn.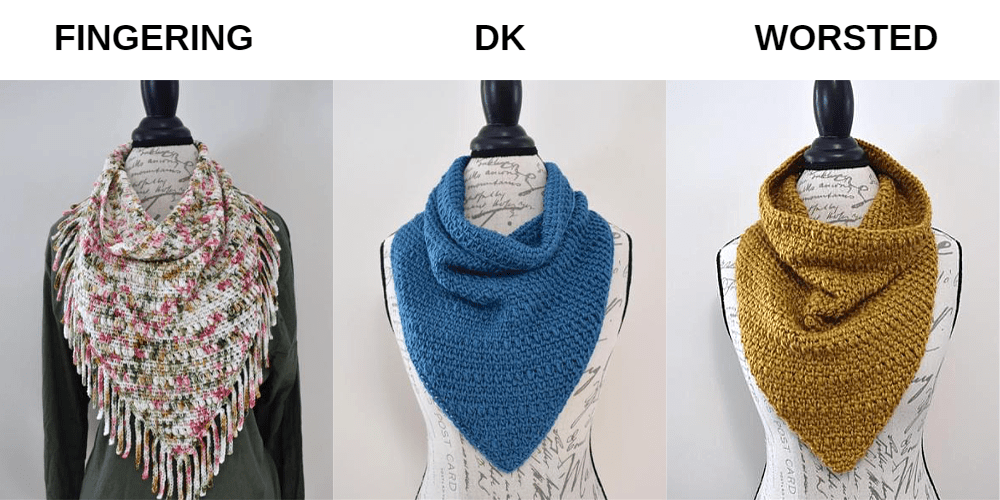 Patterns that can be made with more than 1 weight of yarn are great because that gives the crocheter the opportunity to find a yarn right in their stash.
Yardage
430 yards of Tippy sock which is a weight #1 fingering hand dyed yarn from Tippy Tree Yarns. The sample for DK used 285 yards (not including fringe) of The Hook Nook Small Stuff Yarn but a good substitute for DK weight #3 yarn could also be Lion Brand Superwash Merino. The sample for worsted weight #4 yarn used 235 yards of Lion Brand Heartland yarn.
Stitches
Do you go by moss stitch or linen stitch? I tend to say moss stitch for the main stitch that is used for this scarf pattern.
There is also a special stitch used called the mini bean stitch. This bandana scarf uses sections of the moss stitch separated by rows of mini bean stitch.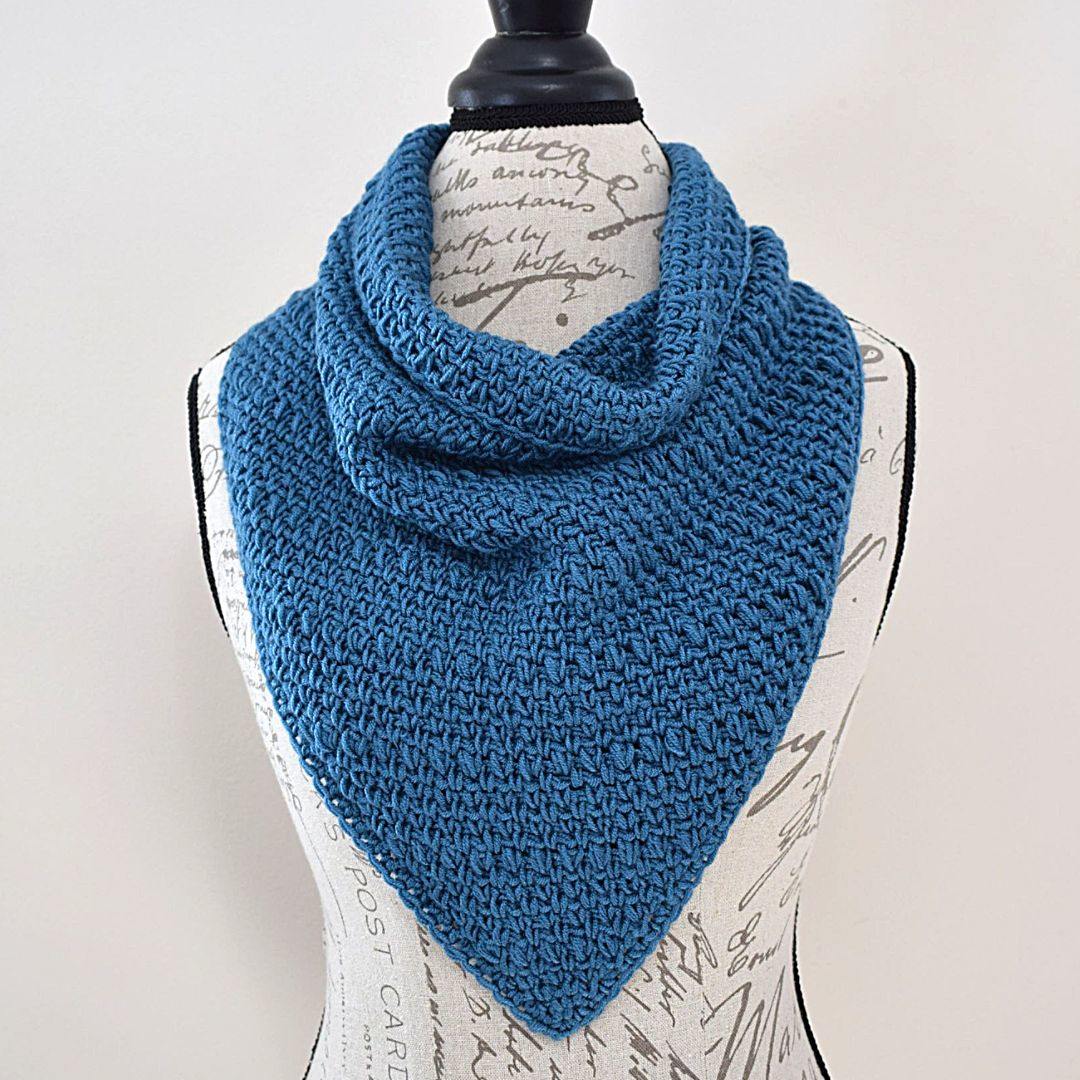 The fun fringe is worked last once the cowl has been sewn together.
The fringe is crocheted onto the actual bandana scarf using chain stitches and slip stitches.
My hope is that this type of fringe can be more washer friendly. But you can also skip the fringe part all together if fringe isn't your style.
↓ Pin this for later! ↓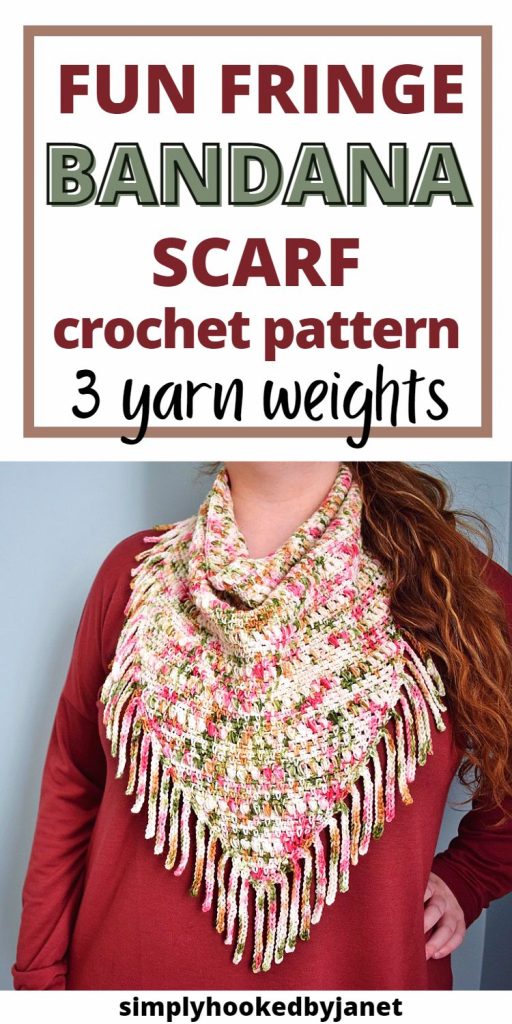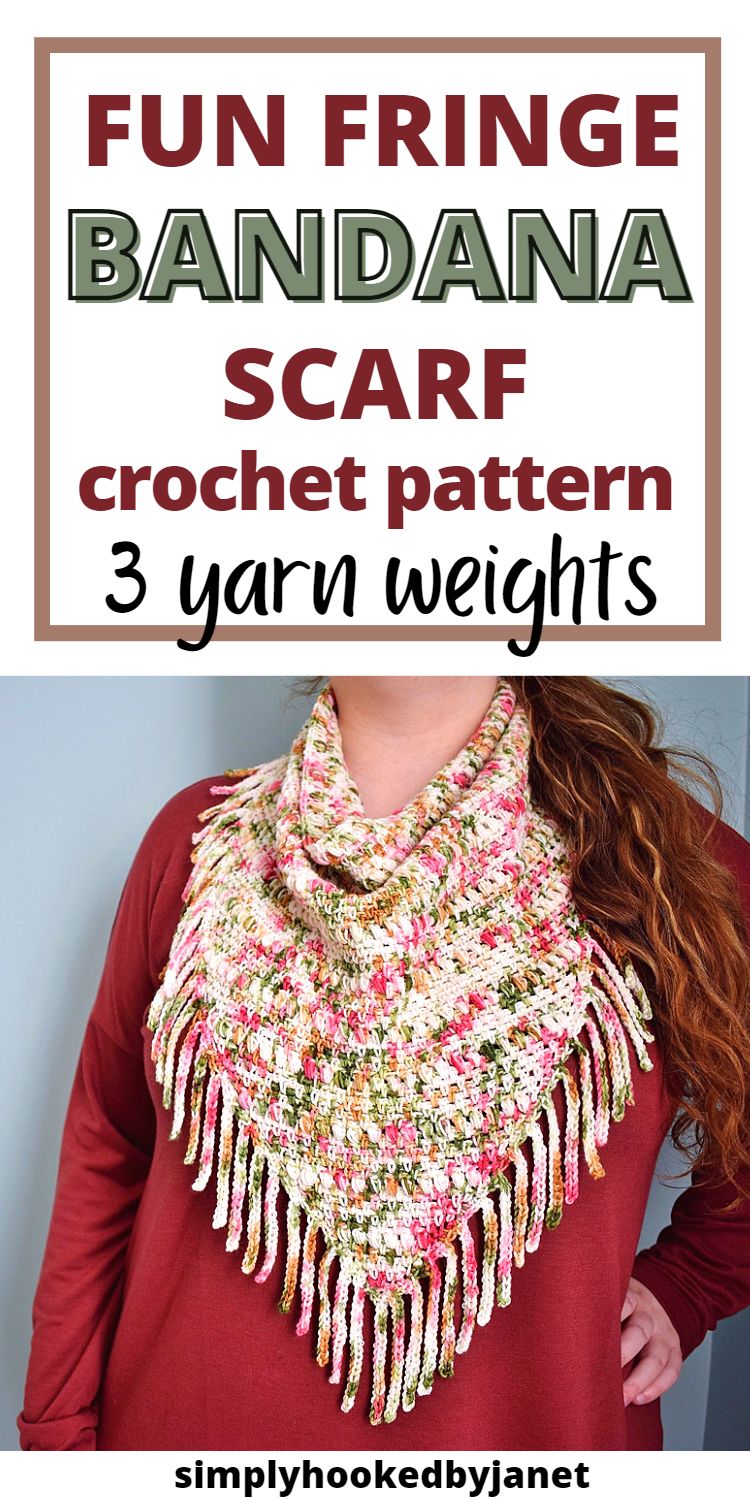 Construction
This bandana scarf pattern is worked from the bottom up.
It involves a section where it is increased on each side and then a small section where there are no more increases and the sides straighten out.
The two straight sides will end up being sewn together and then that is when the fun fringe will be worked around the scarf.
Spring Exclusives 2022
This bandana scarf pattern is part of the Spring Exclusives Event curated by Cosy Rosie UK.
This event brings you a brand new crochet pattern each day during the event. Each day a new pattern is featured and for 24 hours it is 50% off with a code that can be found on the main event page.
You can also purchase a bundle of the crochet patterns so that you have access to them at any point during the event without waiting for each days feature.
If you like this design then check out a couple of these free patterns on my blog.