Disclosure: Some posts may contain affiliate links, meaning, at no cost to you, I will earn a commission if you click through and make a purchase.
I am SOOO excited to share these crochet paw print earrings with you! If you liked my Paw Print Christmas Tree Ornament pattern then I am sure that you are going to love this pattern as well.
With just a very small change to the number of stitches and using a smaller hook and crochet thread I was able to create a set of amazing Crochet Paw Print Earrings from the idea of my Paw Print Christmas Tree Ornament.
This pattern would be great to use as a fundraiser for an animal charity/shelter in your area. Who wouldn't love a cute pair of earrings along with helping out animals!
Or you can always make a pair for yourself and any dog or cat loving friends you may have.
Pattern Details:
This pattern itself is an easy one to follow. What may make it a little difficult is the fact that you will be working with crochet thread and a very small hook. Also, if you have never made earrings before it can take a little patience when adding the ear wires.
You can use a crochet thread #10 or Cotton Embroidery Floss for these earrings. I personally like the Embroidery Floss the best with these earrings.
I hope you enjoy this pattern! Feel free to post your projects on Ravelry on the pattern page and I'd love for you to tag me on social media of any earrings you make!
---
You can get a print friendly, ad-free PDF copy of this pattern here:
---
Crochet Paw Print Earrings:
Materials:
Yarn: Weight #0 Lace – Crochet Thread #10 or DMC Cotton Embroidery Floss (all strands together how it comes packaged)
Hook: US Size 8/1.4mm steel crochet hook (or similar size you prefer)
Other Tools: Thread needle, scissors, fishhook earwire, 6mm round jump ring, needle nose pliers, stiffener (school glue or mod podge), small paint brush (optional), small bowl/dish for stiffening solution
Difficulty:
Stitches/Abbreviations: US Terms
ch – chain
sc – single crochet
sl st – slip stitch
sk – skip
sp – space
hdc – half double crochet
Dimensions:
1.5" x 1.5" (with 1.4mm hook & Embroidery Floss); 1.25" x 1.25" (with 1.4mm hook & size 10 thread)
Notes:
The circle is worked in the round and the toes are worked in rows.
You can stiffen your project using your preferred method or the method I wrote within the pattern.
Depending on the thread and hook size used, if you don't like the size of your paw prints you can always try a different hook size and see what you like best. Start with the recommended hook size of that yarn.
↓ Pin this pattern for later! ↓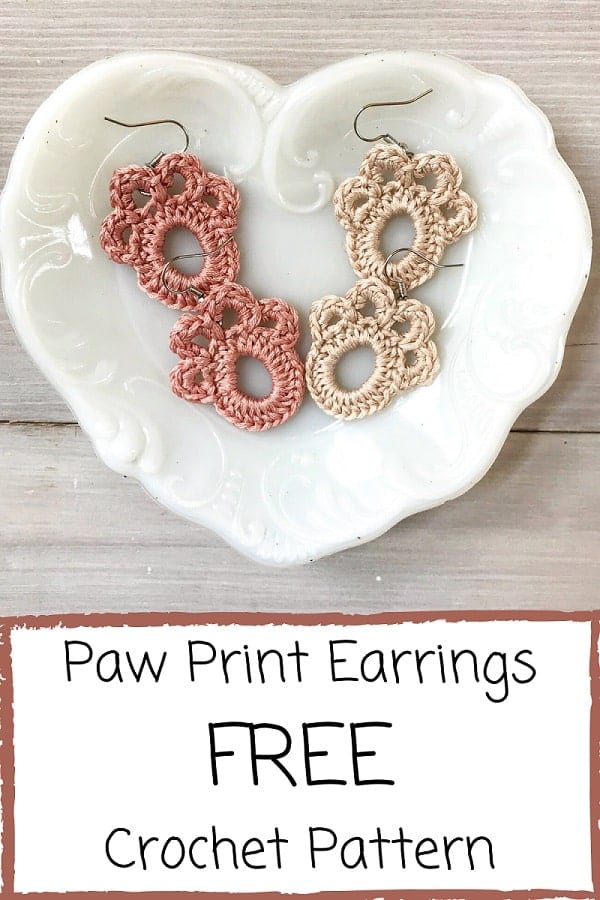 Instructions:
Ch 9, join with a sl st to first ch.
Row 1: Ch 1, 25 hdc around ch ring, join with a sl st to first st, turn. Pull the starting strand tight if you need to and move your stitches around the loop a little bit if you need them to be more evenly spread around the ch ring before continuing to Row 2.
Row 2: Ch 1, sl st in next st, ch 3, (sk a st, sl st in next st, ch 4) 2 times, sk a st, sl st in next st, ch 3, sk a st, sl st in next 2 sts, turn.
Row 3: Ch 1, 4 sc in ch-3 sp, sl st over the sl st of previous row into the st from Row 1, [(2 sc, 1 hdc, 2 sc) in ch-4 sp, sl st over the sl st of previous row into the st from Row 1] 2 times, 4 sc in ch-3 sp, sl st into first row to secure.
Fasten off. Weave in ends.
Finishing:
On a flat surface, lay down a towel or plastic wrap sheet to work on. If you are using crochet thread I suggest blocking in warm water first and then stiffening.
Stiffening: This is the method I used to stiffen my earrings.
In a small bowl, mix approximately 2 parts of warm water with 1-part Mod Podge or School Glue. If using crochet thread, place entire earring into mixture. Gently squeeze the mixture into the earring. Lay flat on towel and press out excess water. Leave to dry. If using embroidery thread, dip a small paint brush in the mixture and gently dab and push the solution into one side of the earring until it is damp. Leave to dry. Stiffening one side keeps the front side sheen intact.
Adding Earwire: Once the earrings are completely dry use your needle nose pliers to open a jump ring slightly. Place it between the 2 center toes. Be sure to add your earwire in the correct direction before closing the jump ring with the pliers. You can also just attach an earwire to the back without a jump ring but I liked the movement of the earring when a jump ring was added.
This picture shows 3 paw prints worked up with the same hook size of 1.4mm but different threads.
The first is all 6 strands of the DMC Embroidery Floss, the middle is Aunt Lydia's Size 10 crochet thread and the last is 3 strands of the DMC Embroidery Floss rather than the 6 strands together how it comes packaged.
I hope you enjoyed this pattern!
---
SHARE ON SOCIAL MEDIA! When sharing your shawl projects on social media be sure to use the hashtags #simplyhookedbyjanet & #pawprintearrings
---
Don't forget to add your project to Ravelry so I can see all of your amazing Earrings! And while there be sure to save this pattern in your Favorites!
*This pattern has been fully tested to ensure accuracy*
Copyright protected. You may not redistribute pattern after purchase or publish any part as your own including photos. If sharing online you must link back to this original post. You may sell finished products and if possible, reference back to this pattern and/or give credit to Simply Hooked by Janet as the original designer.