Disclosure: Some posts may contain affiliate links, meaning, at no cost to you, I will earn a commission if you click through and make a purchase.
I think it is so fun being able to crochet items for various holidays.
This pattern is a fun crochet hat for St. Patrick's Day. Wear this for photos or gatherings or while attending your local St. Patrick's Day parade during the month of March.
Pattern Details
The only difficult part about this hat would be the color changes. You will also need to follow a graph in order to complete the brim of this crochet beanie.
There will be instructions to guide you on how to follow the graph properly.
There are 3 different sizes that this hat can be made in – Toddler, Child, Adult.
The toddler version is written so that it is a square shape. The other 2 sizes are a slouchy style hat.
If you prefer just a beanie style then you can easily crochet less repeats than the pattern states.
This pattern uses a worsted weight yarn. If you love patterns that use worsted weight #4 yarn then check out this roundup of over 50 free crochet patterns using that weight of yarn!
Check out some other free crochet patterns on my blog such as the Eternal Dawn Beanie or the Cloudy Day Cowl.
I hope you enjoy making this fun St. Patty's Day hat for your whole family!
↓ Pin this pattern for later! ↓
Materials:
Yarn: #4 Worsted, We Crochet Mighty Stitch; 125 yards Macaw (A), 15 yards Black (B), 5 yards Canary (C) or suitable substitute (yardage indicated for largest size); Scrap yarn in a variety of colors for toddler hat
Tools: Crochet Hook US Size (H/8) 5.0mm, yarn needle, scissors, faux fur pom
Difficulty:
Intermediate – stitch pattern may be on the simple side but knowledge of colorwork and reading a colorwork graph is needed to complete this pattern
Size:
(fits head circumference): Toddler – 18-19" (46-48 cm); Child – 20" (51 cm); Adult Regular – 21-22" (53-56 cm)
Stitches/Abbreviations: US Terms
ch – chain
st(s) – stitch(es)
blo – back loop only
sl st – slip stitch
sc – single crochet
dc – double crochet
sc2tog – single crochet 2 stitches together
Notes:
Beginning chain of each round does not count as a stitch.
This is worked from the bottom up in the round.
The rounds worked after the brim are working in TURNED rounds.
When joining to complete a round, join with a sl st to the first stitch of that round.
Follow the graphs to complete the brim for each hat. Graph instructions are within the pattern.
If you want to adjust circumference, be sure to adjust the starting chain in a multiple of 2.
When sharing on social media use the hashtag: #simplyhookedbyjanet
---
You can get a print friendly, ad-free PDF copy of this pattern here:
Use the code GET1OFF at checkout for $1 off a pattern purchase.
---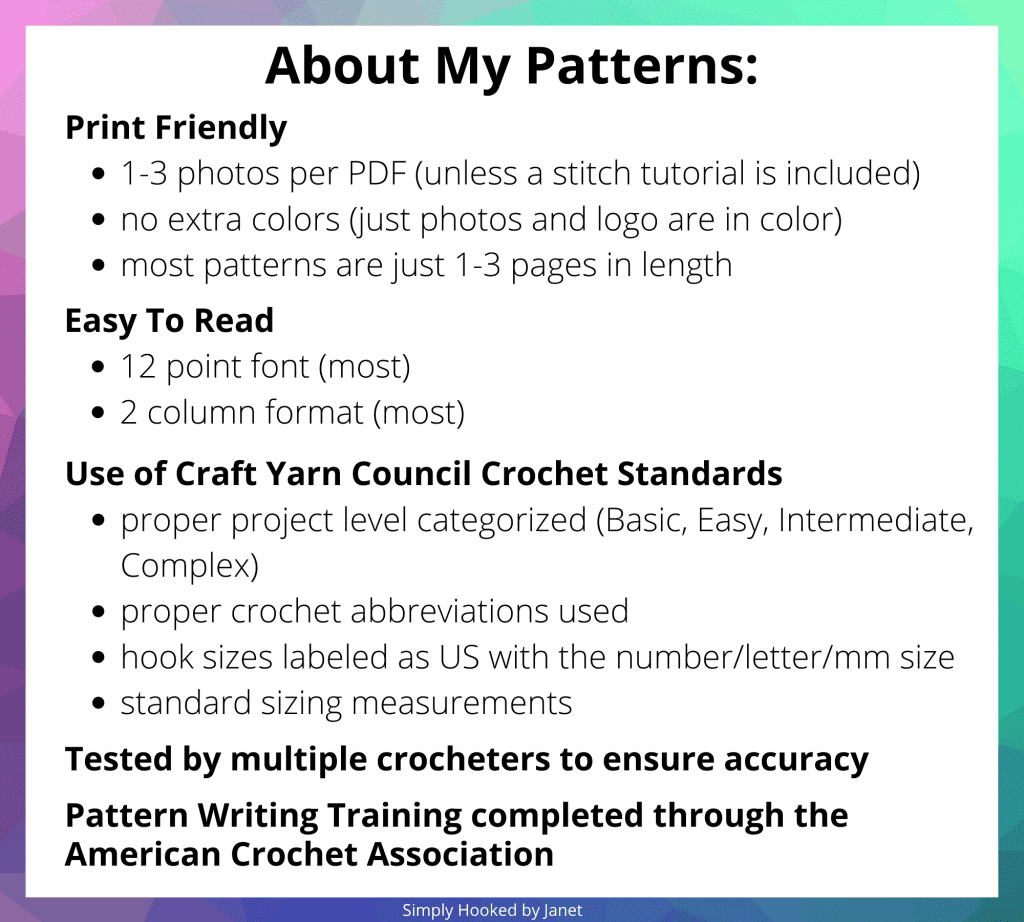 Instructions: Lucky Leprechaun Crochet Beanie
Toddler (Child, Adult)
BRIM
With A, ch 56 (62, 66), join to first ch.
Read the following instructions before following the brim graphs below for each size.
Each stitch of the brim is a sc st.
After round 1, each brim round will be worked in the blo (back loop only).
Carry A up the seam when joining each round.
To avoid carrying color C around the brim, create 2 small balls of yarn to use for the belt buckle.
The red arrows in the belt buckle indicate which stitches to use ball 1 for of color C and the blue arrows indicate which stitches to use ball 2 for.
Fasten off B & C after the last brim round.
The stitch counts are below each graph. There

will not

be a box represented for each stitch on the sides of the buckle so check your stitch counts. The stitch counts show the range count on each side of the buckle.
HAT
Round 8 (8, 9): With A, ch 1, in blo, sc in first, dc in next, *sc in next, dc in next; repeat from * around, join, TURN – 56 (62, 66) sts.
Round 9 (9, 10): Ch 1, sc in first (make sure you are not working into the sl st join) dc in next, *sc in next, dc in next; repeat from * around, join TURN – 56 (62, 66) sts.
Rounds 10 (10, 11) – 21 (23, 25): Repeat Round 9 (9, 10). Continue to appropriate size instructions.
TODDLER
Seaming the top of the hat shut: Ch 1, sl st across to a point where you want a corner to form when the hat is flat so the belt buckle will be in the center of the forehead or slightly off center, turn, ch 1 sc across the top of the hat by working in both layers of the last round to seam together.
Fasten off and weave in ends.
For each corner, cut 22 8-inch strands of a variety of colors. Fold the strands in half and pull through a corner using a crochet hook and attach like fringe. Leave long or cut shorter.
Or use a small pom pom maker and make a yarn pom for each corner.
CHILD (ADULT)
Round 24 (26): Ch 1, sc in first, sc in next, sc2tog, *sc in next 2, sc2tog; repeat from * around, sc in last 2 sts, join, TURN – 47 (50) sts.
Round 25 (27): Ch 1, sc in first, dc in next, *sc in next, dc in next; repeat from * around, sc in last for child, join TURN – 47 (50) sts.
Round 26 (28): Ch 1, sc in first, sc2tog, *sc in next, sc2tog; repeat from * around, sc in any remaining sts, join, TURN – 32 (34) sts.
Round 27 (29): Ch 1, sc2tog around, join – 16 (17) sts.
Round 28 (30): Ch 1, sc2tog around, sc in last for adult, join – 8 (9) sts.
Fasten off leaving a tail to seam the top of the hat. Use a yarn needle and weave the tail in and out of the top stitches. Pull tight and securely weave in ends. Add a pom pom to the top of the hat.
Copyright protected. You may not redistribute pattern after purchase or after viewing on my website. You may not publish any part as your own including photos. If sharing online you must link back to this original post. You may sell finished products and if possible, reference back to this pattern and/or give credit to Simply Hooked by Janet as the original designer.