Disclosure: Some posts may contain affiliate links, meaning, at no cost to you, I will earn a commission if you click through and make a purchase.
Make this fun tapestry crochet colorwork cowl: The Cold Snap Cowl
Add a beautiful and stylish detail to your wardrobe with this tapestry crochet cowl pattern! This pattern provides written instructions and a graph, so you can easily create an eye-catching cowl in any color combination of your choice.
Learn about this colorwork cowl pattern:
What is tapestry crochet?
Tapestry crochet is a technique in which 2 or more colors of yarn are used in a row or round of a crochet project.
There are multiple color changes worked in a row with a tapestry crochet pattern. A chart or graph will typically be available to follow for the color changes.
When a color is not being used it is typically carried along the back of the work or under the stitches being worked so that it can be picked back up again when needed next.
Tapestry crochet patterns are a fun way to create a one-of-a-kind accessory.
What Yarn is used for this Crochet Colorwork Cowl Pattern?
The pattern uses two contrasting colors of yarn in order to create an eye-catching colorwork design.
This pattern is written using a DK weight yarn. The multi color yarn featured is a hand dyed yarn. This cowl can be a perfect project to use a special hand dyed yarn you have been hanging onto.
Using both written instructions and a graph, you will be able to easily follow this simple pattern to make your own beautiful cowl. The ribbing detail has written instructions and the main colorwork pattern has a chart that will need to be followed.
Reading the Graph for the Tapestry Crochet Cowl Pattern
Reading the graph for this pattern is an easy with a few instructions.
Since this cowl pattern is worked in the round, the graph rows will always start from the right. Each square of the graph represents a stitch. Typically each square will represent a single crochet stitch but with this pattern some rounds are notated to work the round in a different stitch such as a half double crochet or a double crochet sitch.
When there are two colors of yarn used, each stitch in the pattern will have a different color represented on the graph. Be sure to follow carefully and have fun as your colorwork cowl grows!
↓ Pin this pattern for later! ↓
View this smaller tapestry crochet pattern:
The Mustache Cup Cozy is a simple small colorwork project that would be perfect to practice your colorwork skills if you are new to tapestry crochet.
---
Materials:
YARN:
TOOLS:

US Size (G/6) 4.0mm crochet hook
Difficulty:
Stitches/Abbreviations: US Terms
ch – chain
st(s) – stitch(es)
blo – back loop only
sl st – slip stitch
sc – single crochet
hdc – half double crochet
dc – double crochet
fpdc – front post double crochet
bpdc – back post double crochet
Size:
Adult – (flat) 11" tall and 11.5" wide
Notes:
The inactive yarn is carried under the active yarn stitches.
When a round uses just 1 color, carry the inactive yarn up the seam for the next round rather than carrying it around under the stitches.
When carrying the inactive yarn under the stitches do not pull it too tight.
When joining each round, join with a sl st to the first st in that round.
Follow the graph instructions carefully as not all rounds are in single crochet.
When sharing on social media use the hashtag: #simplyhookedbyjanet
---
Considering purchasing the pdf of this pattern?
Purchase the low cost, ad-free, print friendly PDF:


---
Instructions Crochet Colorwork Cowl Pattern:
Bottom Ribbing
With A, ch 108 or in a multiple of 6, join to first ch.
Round 1: Ch 1 hdc in each ch around, join – 108 hdc.
Rounds 2-3: Ch 1, fphdc in first, bphdc in next, *fphdc in next, bphdc in next; repeat from * around, join – 54 fphdc, bphdc.
Graph Instructions: Follow graph and graph instructions for colorwork Rounds 1-28.
Each square represents 1 st.
Each st is worked in the back loop only (blo).
When a round does not notate what st is used (located to the right of each round), it is worked as a blo sc around.
Each sc and hdc round will begin with a ch 1. Each dc round will begin with a ch 2.
The pattern repeat of the graph is just 6 squares/sts, so keep repeating the graph around for the entire cowl. The graph shows 2 sections of the 6 st repeat.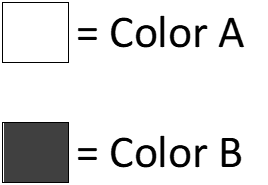 Top Ribbing
Fasten off B, continue with A.
Round 1: Ch 1, blo hdc in each around, join –108 hdc.
Rounds 2-3: Ch 1, fphdc in first, bphdc in next, *fphdc in next, bphdc in next; repeat from * around, join – 54 fphdc, bphdc.
Round 4: Ch 1, sc in each around, join – 108 sc.
Fasten off and weave in ends.
Copyright protected. You may not redistribute pattern after purchase or after viewing on my website. You may not publish any part as your own including photos. If sharing online you must link back to this original post. You may sell finished products and if possible, reference back to this pattern and/or give credit to Simply Hooked by Janet as the original designer.