Disclosure: Some posts may contain affiliate links, meaning, at no cost to you, I will earn a commission if you click through and make a purchase.
– DOWNTON TWIST BEANIE –
The main purpose behind creating this Turban Style Crochet Beanie was to create a hat pattern for the campaign Hat Not Hate.
I had the amazing opportunity from Lion brand Yarn Company to design several hat patterns for their 2021 HNH Pattern Collection. This was one of them. Lion Brand provided the yarn to create this design for this awesome cause.
Have you ever used your crochet skills to create items for a cause? If not, now you have a good excuse to crochet more. It is also a good excuse to buy some more yarn as well. 😉
Hat Not Hate is an anti-bullying campaign. Knitters and crocheters are asked to create blue hats to donate to this cause. In October which is National Bullying Prevention Month the hats are distributed 'to schools across the country for students to wear, empowering them to stand up to bullying.'
Pattern Details:
This hat design is a fairly easy pattern. 1 stitch is used throughout unless you decide to sub the first row of the brim for a foundation row.
This turban style crochet beanie is worked in 2 parts. The first part is worked in rows and then joined with a technique to create the twist effect. The body of the hat is then worked once the brim is joined and completed.
This pattern can also be worked in 3 different sizes: Toddler, Child and Adult. Notes will be included to help you along if you wish to create a more custom fit and adjust the stitch counts.
It is also important to note that gauge can be very important to achieve the best fit for a hat. The specific worsted weight yarn that was used for the original sample provided a lot of stretch to the finished hat. You will want to take that into account when making this hat and choosing your yarn.
After the pattern you will find that there are 3 ways that you can style this specific beanie. Look for the heading below that says 3 Ways to Style.
↓ Pin this pattern for later! ↓
Materials:
Difficulty:
Size:
Toddler (19") circumference
Child (20-21") circumference
Adult (22") circumference
Gauge:
11 esc sts x 9 rows = 4" (10 cm)
Stitches/Abbreviations: US Terms
ch – chain
st(s) – stitch(es)
yo – yarn over
RS – Right Side
WS – Wrong Side
flo – front loop only
blo – back loop only
sc2tog – single crochet 2 stitches together
Special Stitch:
Notes:
The brim is worked in rows and then sewn together. The hat is worked in a continuous round from bottom up.
Sizes are indicated in parenthesis as – Toddler (Child, Adult)
When sharing on social media use the hashtags: #simplyhookedbyjanet & #downtontwistbeanie
Sizing Notes:

Always check gauge first. Need help with gauge? Read about it HERE.

Another way to adjust size with this beanie is to work the brim in any number of stitches. When you reach the Hat section make sure you work the same number of stitches around as you started with for the brim.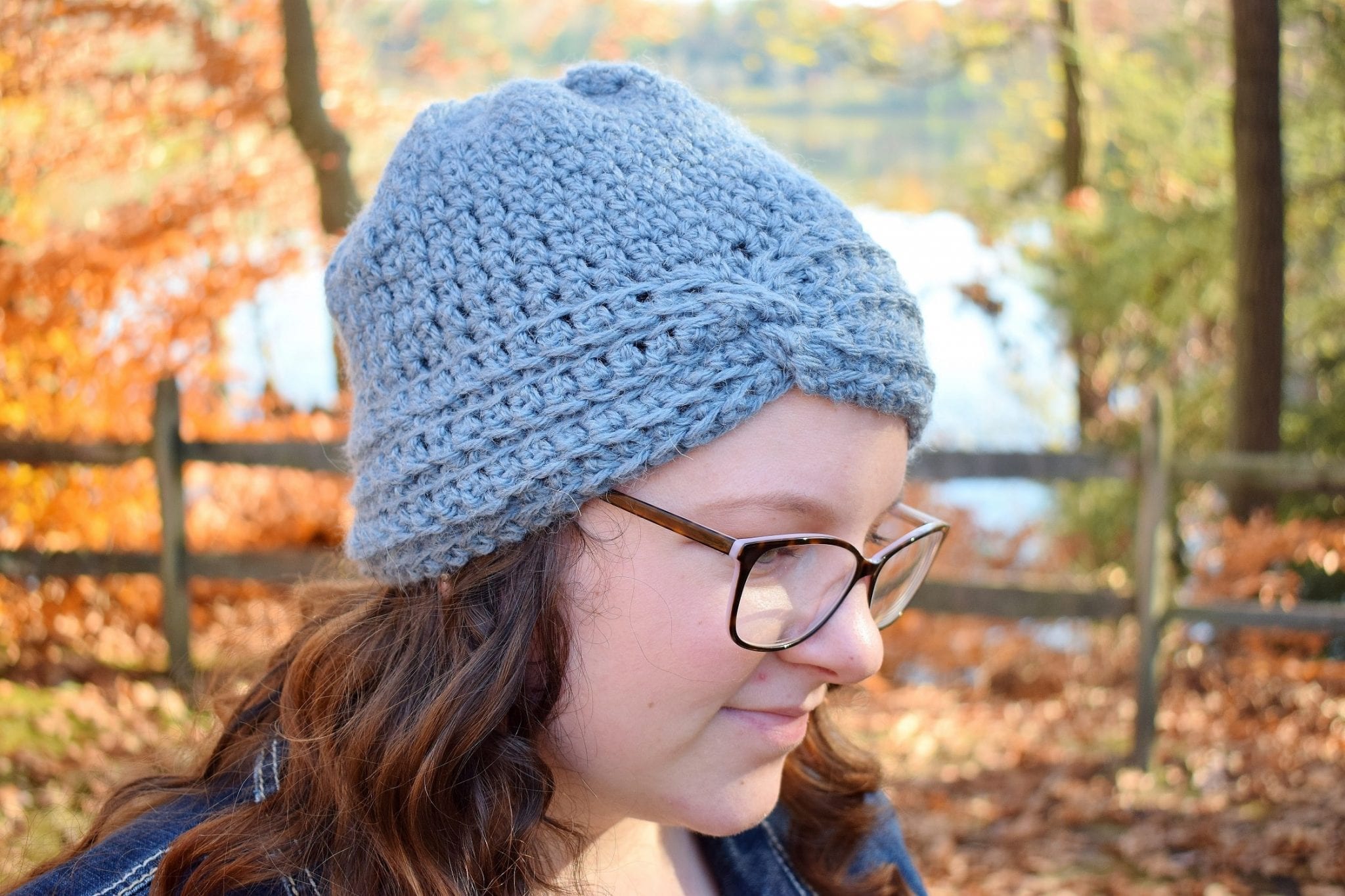 ---
You can get a low cost, print friendly, ad-free PDF copy of this pattern here:
---
Instructions:
Toddler (Child, Adult)
BRIM
Ch 41 (45, 53) or substitute a foundation hdc row for Row 1 – 40 (44, 52) sts.
Row 1: Esc in 2nd ch from hook and in each across – 40 (44, 52) sts.
Row 2: WS Ch 1, turn, flo esc in each across – 40 (44, 52) sts.
Row 3: RS Ch 1, turn, blo esc in each across – 40 (44, 52) sts.
Rows 4-5 (7, 7): Repeat Rows 2 & 3. Total length of band should measure about 2 inches but no more than 3 inches smaller than the stated circumference size.
Fasten off leaving a 6-inch tail.
Fold in half-length wise with WS out, interlace folded ends together (see photo below), use tail and yarn needle and sew the ends together. Fold RS out.
Attach yarn to back of brim.
HAT
Round 1: Ch 1, blo esc 40 (44, 52) evenly around, do not join – 40 (44, 52) sts.
Rounds 2-9 (9,11): Place a stitch marker in first stitch made of each round, esc in each around – 40 (44, 52) sts.
Adjust the height of this hat by working more repeat rounds before moving to the last 2 rounds.
Round 10 (10,12): Sc2tog around – 20 (22, 26) sts.
Round 11 (11, 13): Sc2tog around – 10 (11, 13) sts.
FINISHING
Cut a long tail. Using the tail and a yarn needle, weave in and out of the top stitches, pull tight, weave in all ends.
3 Ways To Style:
This crochet beanie is a fun one in that it can be styled in several ways. This first way to style is just plain as is. I love the simple look of styling this specific hat this way.
The second way of styling this crochet turban hat is with a brooch. It would certainly take the right brooch for this but still a very nice option.
The third way of styling this turban hat is with a crochet applique. This specific one is like a spiral. The pattern for this specific applique can be found on my website HERE. I hope you enjoy making this turban style crochet beanie.
Copyright protected. You may not redistribute pattern after purchase or publish any part as your own including photos. If sharing online you must link back to this original post. You may sell finished products and if possible, reference back to this pattern and/or give credit to Simply Hooked by Janet as the original designer.