Disclosure: Some posts may contain affiliate links, meaning, at no cost to you, I will earn a commission if you click through and make a purchase.
I absolutely love crocheting with wool yarn. The higher the percentage of wool in a yarn the more I love working with it but with that higher percentage can also come a higher price tag.
Lion Brand Wool Ease Yarn is a nice yarn option that contains wool. The fiber content of Wool Ease Yarn is 80% Acrylic and 20% Wool.
This yarn is one that can also be machine washed and machine dried. Temperature should not exceed 105F when machine washing.
More about Lion Brand Wool Ease Yarn
Wool Ease is a worsted weight #4 yarn and is a 4-ply yarn. The ply of a yarn just indicates how many smaller strands are twisted together to create the yarn.
Other words that are also used to describe this yarn weight category are Aran and Afghan. Worsted weight yarn will typically lean towards creating a thicker fabric when worked up.


This line of yarn also has some great color options, over 27 colors to choose from. The yardage ranges from 180-197 yards per skein.
One other yarn that is also 80% Acrylic, 20% Wool that you may like to try is We Crochet Mighty Stitch. This is also a great affordable yarn with wool in its fiber content. It does have a softer feel than LB Wool Ease.
What projects can be made using Wool Ease yarn?
So many crochet items can be made with this yarn. I definitely love using any wool yarn for wearable items such as hats, scarves, cowls and garments.
This yarn would also work well for some home decor items such as blankets, wall hangings and baskets.
↓ Pin this for future reference! ↓
---
Roundup of wool ease yarn crochet patterns:
In this collection of crochet patterns that use Lion Brand Wool Ease worsted weight yarn, you will find many different categories and types of patterns.
A lot of these crochet patterns are difficulty levels that range from Easy to Intermediate. Scroll through to find a few that you like and let me know in a comment below what ones are your favorite!.
1. Traveling Seasons Square – This square was part of a larger project where 1 new square is made each month. This is Square 5. Here is the main page for the entire project – https://www.whistleandwool.com/post/lb-traveling-seasons-afghan
2. The Loops Cowl – This is the perfect crochet cowl to make when you need a more mellow project. The half double crochet is used throughout.
3. Houndstooth Cardigan – Make this fun cardigan a staple item in your Fall wardrobe. This pattern uses the colors Fisherman and Flint.
4. Crown Ear Warmer – This mini crochet bag uses 75 yards of yarn so it works up quickly.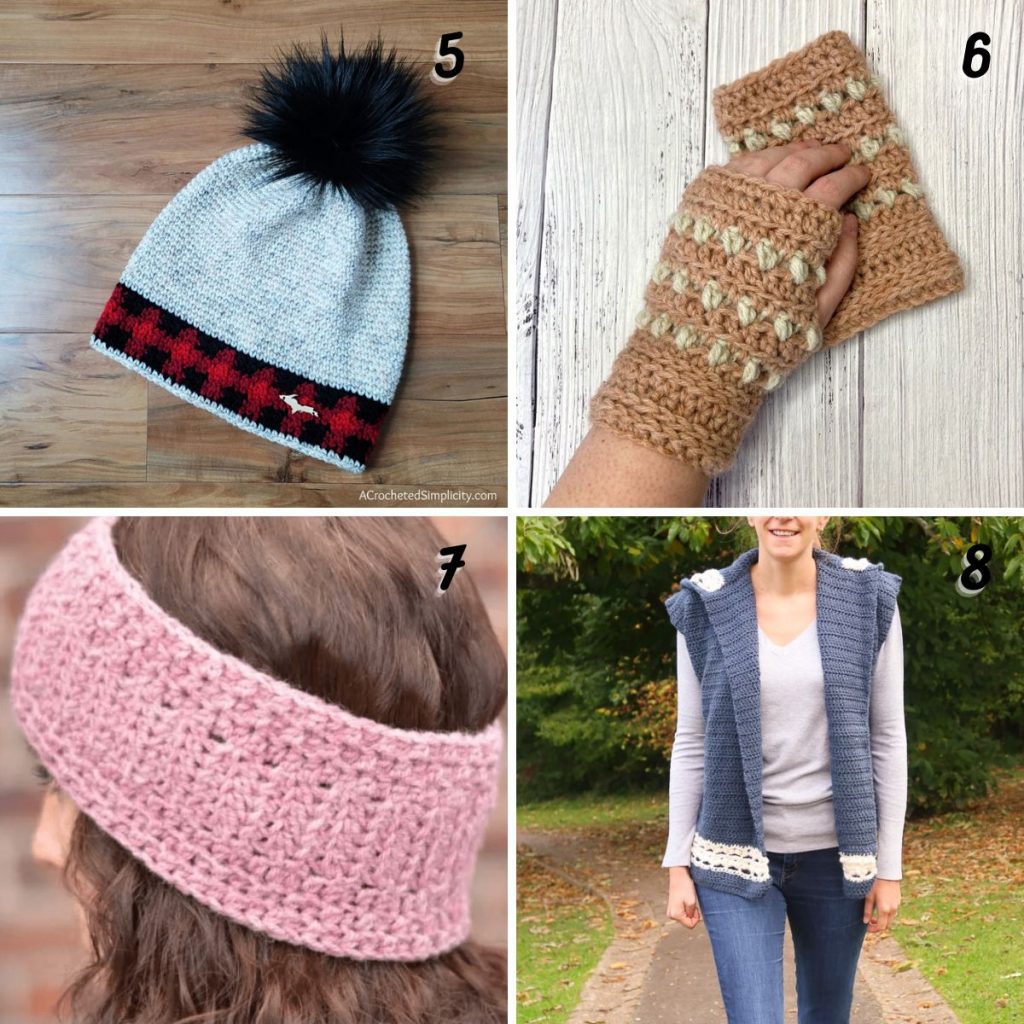 5. Plaid Beanie & Slouch – This crochet plaid beanie pattern uses 4 different colors. It can be made in sizes from Toddler to Adult Large so make one for the whole family!
6. Eternal Dawn Fingerless Gloves – This crochet pattern is for an adult size pair of fingerless gloves. Use 1 or 2 colors for this pattern.
7. Loops Ear Warmer – Try this simple ear warmer design that coordinates with the Loops Cowl. It can be made in 4 different sizes.
8. Dusk Hooded Vest – This crochet vest will pair nicely with any top. This can be made in sizes XS-5X.
9. Hooded Keyhole Scarf – This crochet scarf pattern feature a hood and a heyhole. It has a very slight texture that uses the half double crochet stitch throughout.
10. Eloise Baby Sweater – Thus cute crochet baby sweater uses 5 colors. This sweater can be made in 5 different sizes as well.
11. Tuesday Blanket – This crochet blanket pattern has nice classic stripes and a square shape. This throw blanket is worked in the round and uses 4 colors of Lion Brand Wool Ease.
12. Bear Hugs Baby Beanie – A fun crochet beanie with a little bit of colorwork. This can be made in 3 different sizes.
13. Haylee Sashay Scarf – This crochet scarf pattern includes 4 sizes that it can be made it. It uses the half double crochet stitch throughout.
14. Brentwood Kids Pullover Sweater – This pullover is worked from the bottom up with minimal seaming. The colors Riverside and Grey Heather were used in the sample images.
15. Argyle Beanie – This crochet hat pattern includes 2 band styles as well as 2 lengths – beanie and slouchy. It can be made in 4 different sizes. So perfect for the whole family.
16. A Very Good Hat – Try this crochet hat pattern in your own unique color scheme. This can be made in 6 different sizes.
17. Oversized Fur Collar Cardigan – This cozy cardigan has a unique construction. 2 main stitches are used for the body of the cardigan. Make this a wardrobe staple.
18. Chewy's Dog Sweater – A stylish design that is crocheted in 1 piece. This can be made in 4 sizes.
So, if you found a couple of patterns that you want to make, check out the yarn on the Lion Brand Website here.