Disclosure: Some posts may contain affiliate links, meaning, at no cost to you, I will earn a commission if you click through and make a purchase.
Do you like quick projects and projects that are great to give as a gift? Whats better than a sports themed coffee cozy. Since I am from Ohio I decided to create an Ohio State themed crochet project.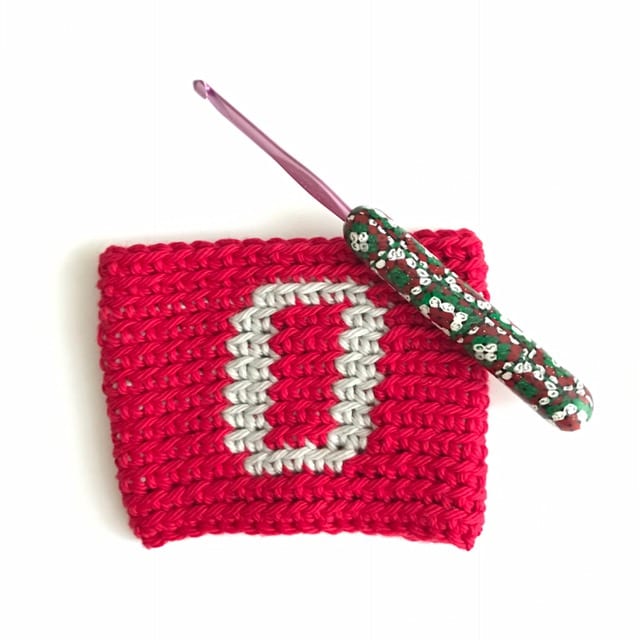 For this project you will need:
Red and grey #4 worsted weight cotton yarn (used in example: Hobby Lobby I Love This Cotton)
Size G 4.00 mm crochet hook
Scissors and yarn needle
Knowledge of tapestry crochet (helpful)
Other Notes:
The inactive yarn is carried throughout the cozy under the active yarn stitches
Do not pull the yarn too tight that is carried inside the stitches, your cozy will not stretch very well and therefore not fit on your cup if it is too tight
Ch 1 does not count as a stitch
The first single crochet in the round is always in the stitch you joined to
This pattern is worked in the back loop only
The number of stitches of each color will be in parenthesis and every stitch is a single crochet
Color A (A) is red
Color B (B) is grey
You can also follow the graph at he bottom of the pattern if you prefer. Each block in the graph represents a sc st.
Pattern Instructions:
With A ch 35, sl st to join.
Rnd 1: A (35), sl st to join.
Rnd 2: A (35), sl st to join.
Rnd 3: A (15), B (5), A (15), sl st to join.
Rnd 4: A (14), B (2), A (3), B (2), A (14), sl st to join.
Rnds 5-9: Repeat Round 4.
Rnd 10: A (15), B (5), A (15), sl st to join.
Rnd 11: A (35), sl st to join.
Rnd 12: A (35), sl st to join. Fasten off and weave in ends!
I hope you enjoy this Ohio State themed cup cozy!
Stay in the loop on any upcoming New Patterns and even Special Sales by subscribing to my email Newsletter. SUBSCRIBE HERE!