Disclosure: Some posts may contain affiliate links, meaning, at no cost to you, I will earn a commission if you click through and make a purchase.
Have you ever worked up a crochet bag and then couldn't decided on a good strap that would be sturdy and wouldn't stretch??
For the longest time I avoided crocheting anything that involved a strap. Crochet purses, bags, market totes. I always hated the fact that the strap could or would have the possibility to stretch too much.
In the past when I tried working i-cords and other crochet cords for straps I found that they were too confusing to follow even when a video was available.
I cords certainly looked nice but if it was too confusing to follow then there would be no more joy left in me to continue on and finish my project.
The one type of strap that I absolutely hated crocheting was a strap that was just worked back and forth in short rows. I would always need to figure out a correct length in order to account for any stretch that might occur.
So many variations on crochet straps worked in rows will still cause some stretch. A lot of stretch can occur when a bag is full.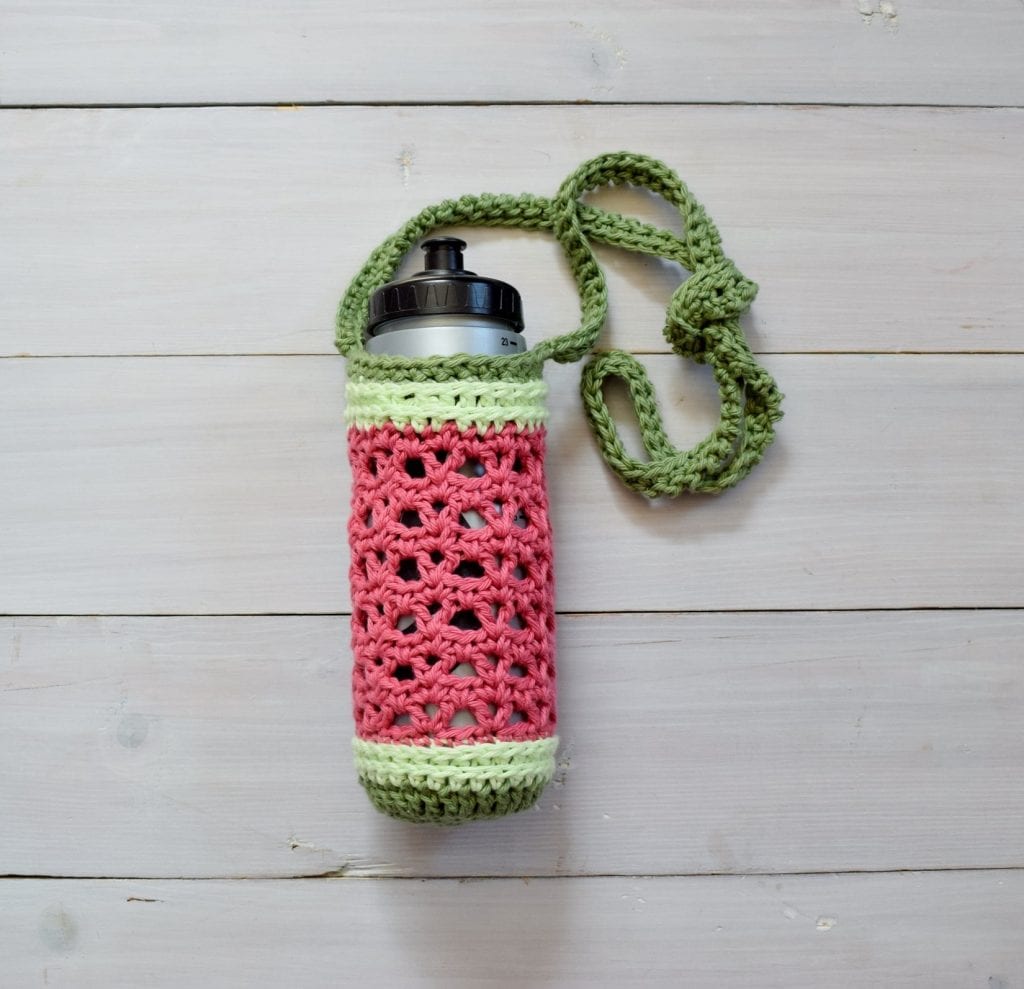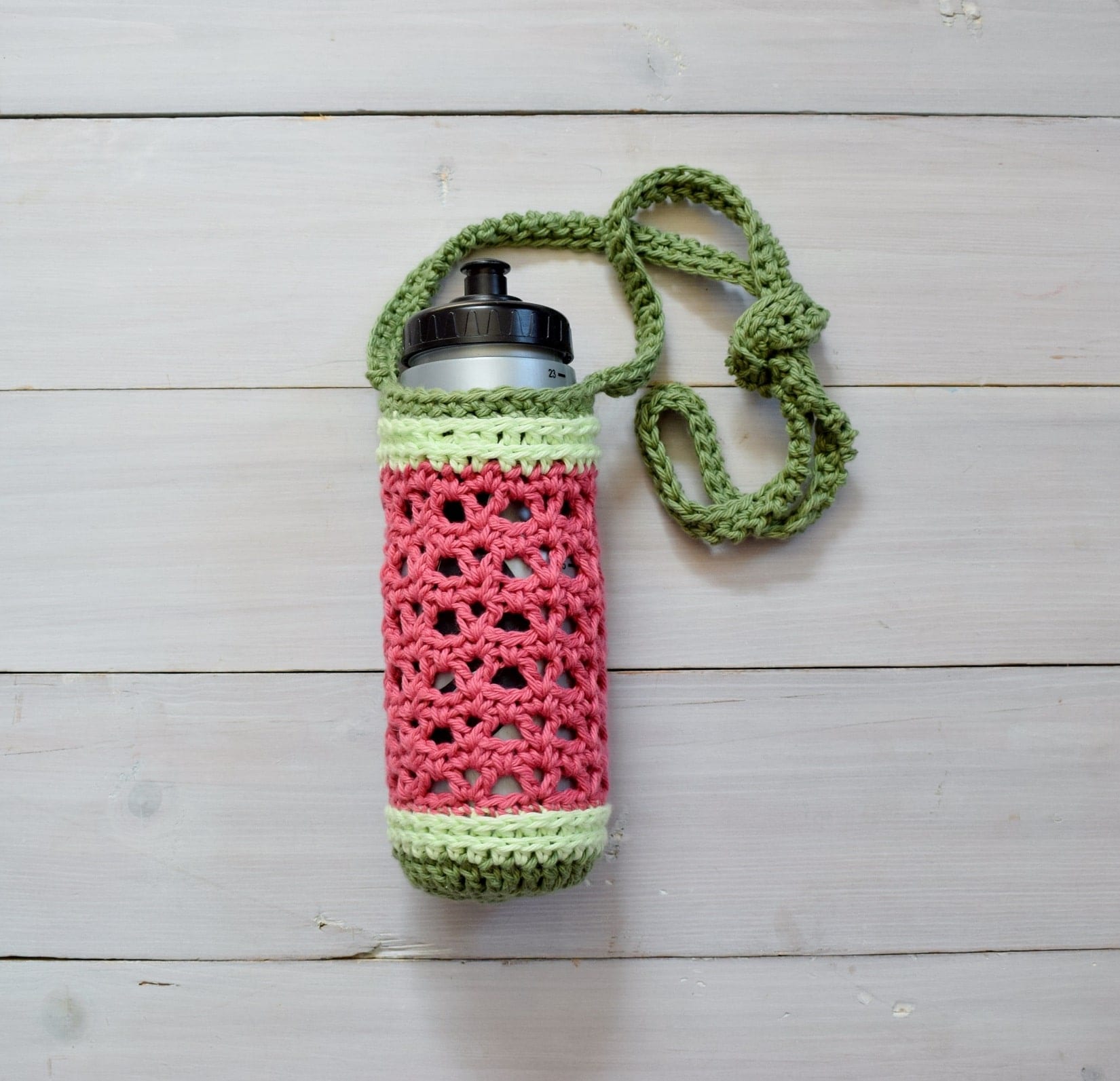 I also want to avoid creating a stretched crochet strap so the fibers of the yarn don't get too damaged and worn too soon. I would like my project to last and look nice as long as possible.
Because I hated most crochet straps for bags I decided to figure out a way to make my own that I would love. I finally came up with a technique for straps that I will forever use for any crochet pattern that requires straps or handles!
Follow along below the learn how to create this no-stretch strap.
↓ Pin this for future reference! ↓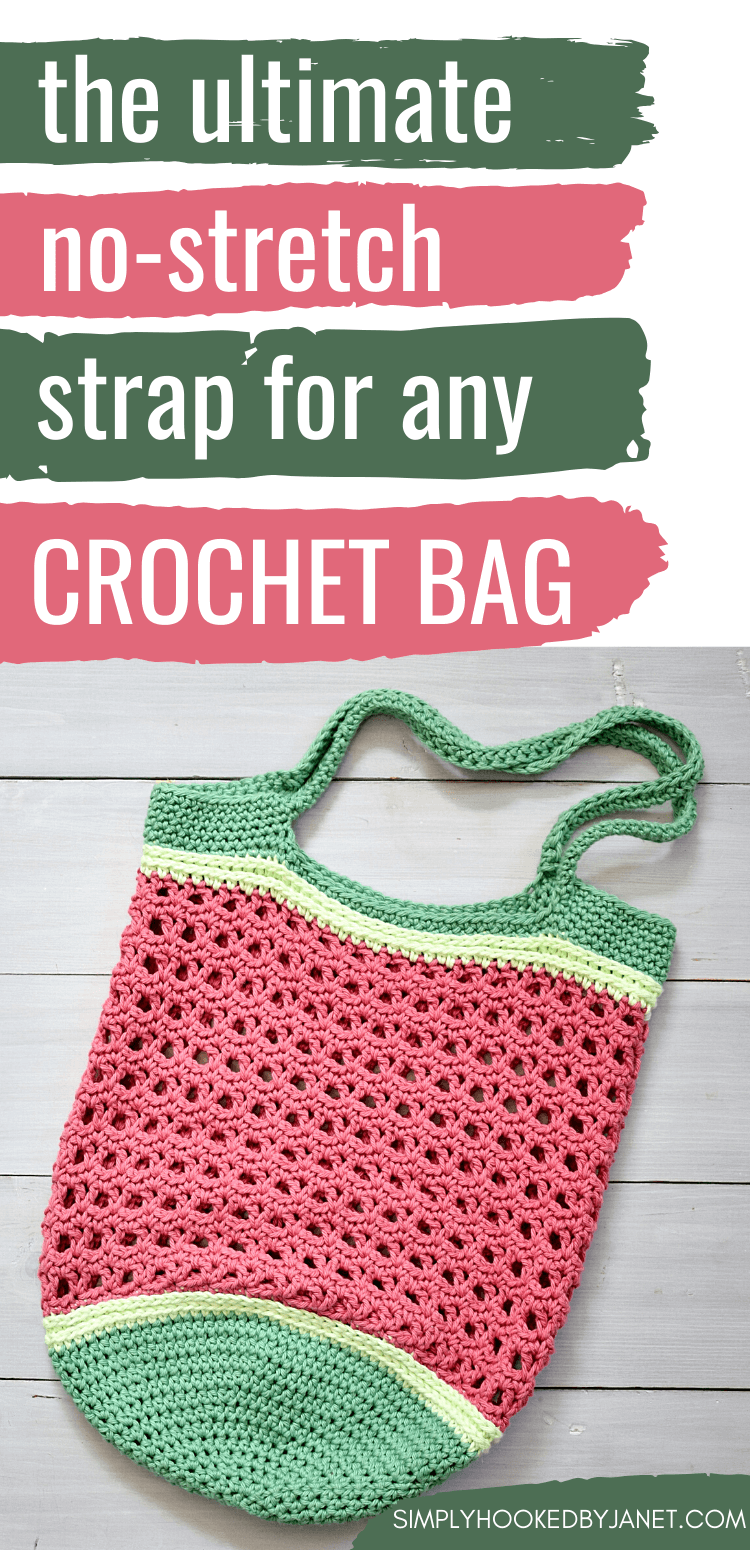 The Ultimate No-Stretch Crochet Strap:
I am calling this strap the Ultimate No-Stretch Crochet Strap!
This strap technique can be worked up in 3 easy steps. Follow along with the steps provided to learn how to work this sturdy no-stretch crochet strap.
You can create the straps independent of a bag and then sew them. Or, when it comes time to create the straps on a bag you are crocheting, you can follow these same steps as well.
My Watermelon Crochet Bag and Bottle Sling pattern uses this exact technique for the straps. Check out the pattern HERE and use code GET1OFF at checkout.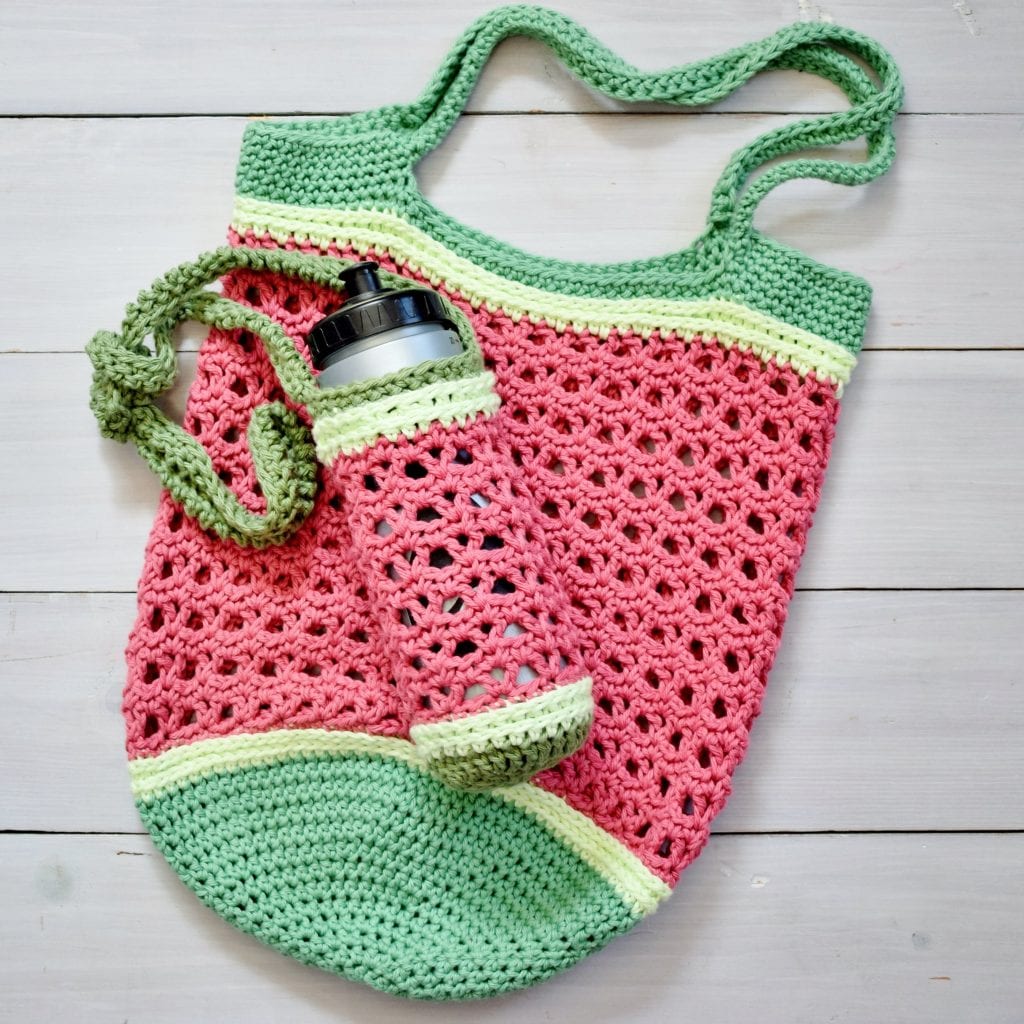 DESIGNERS – IF USING THIS TECHNIQUE IN A CROCHET DESIGN I WOULD LOVE IT IF YOU WOULD GIVE REFERENCE TO THIS ORIGINAL POST SOMEWHERE IN YOUR DESIGN.
TUTORIAL Instructions:
Step 1: Work a length of chains needed for a crochet strap or handles. (Picture shows the back bump/bar that you will work your stitches into in Step 2)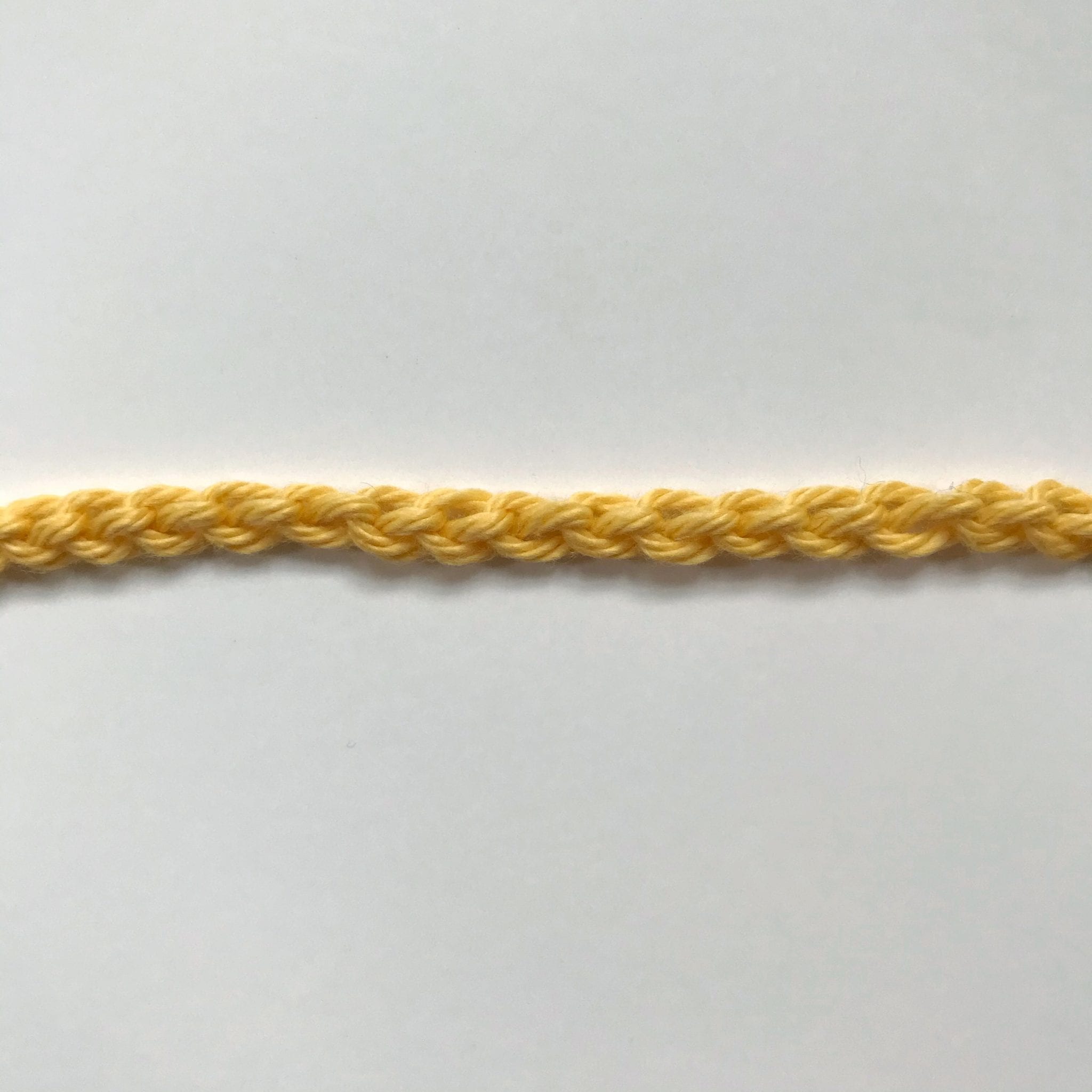 Step 2: In the back bump/bar of the chain stitches you will work a double crochet stitch (dc) in each chain space.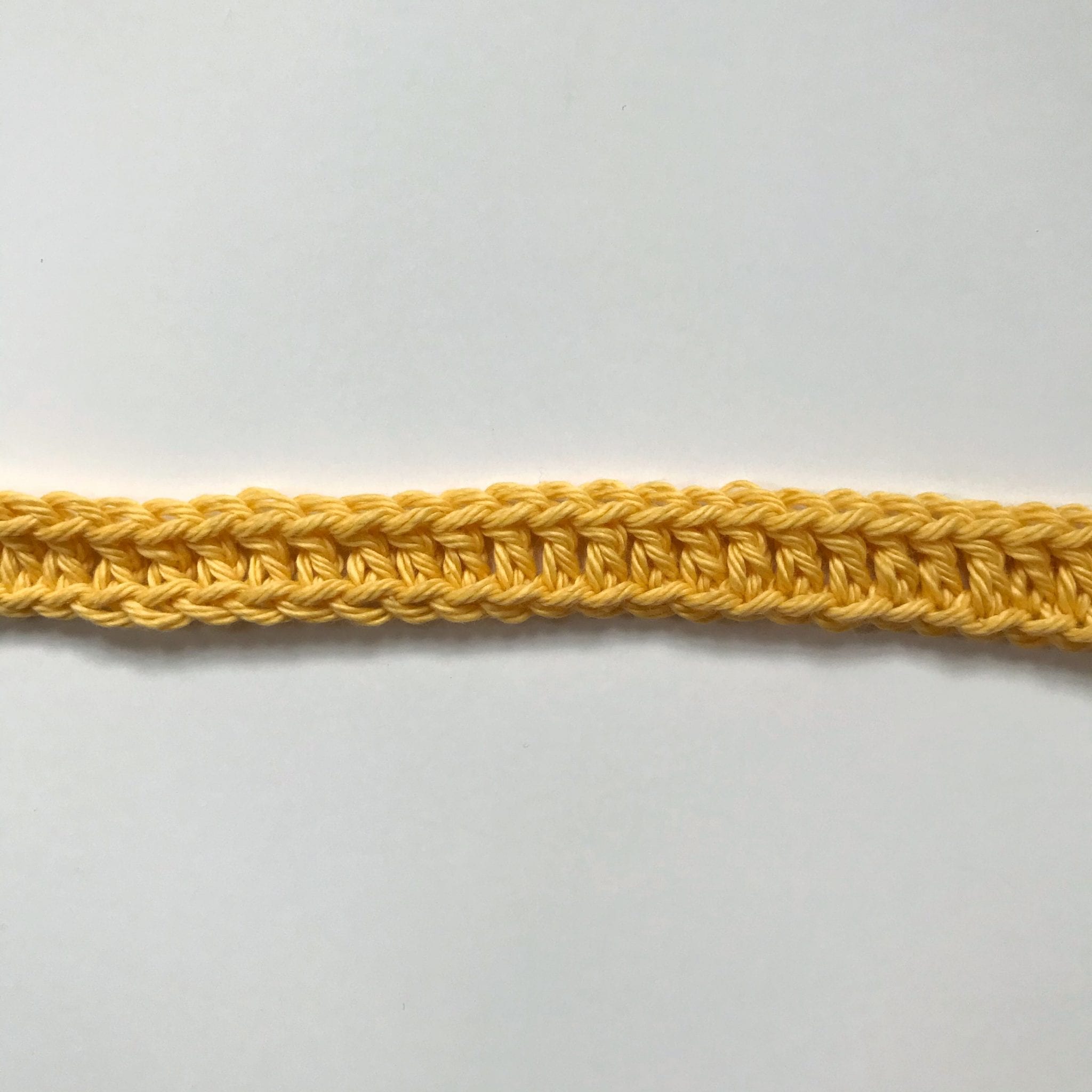 Step 3a: This is where the magic happens! You will fold the double crochet stitches of the strap in half. You can pin it in half using stitch markers or just fold as you go along when working Step 3b.
Step 3b: Now you will single crochet (sc) into each double crochet as follows, insert hook through both top loops and through both bottom chain loops and create your single crochet (sc).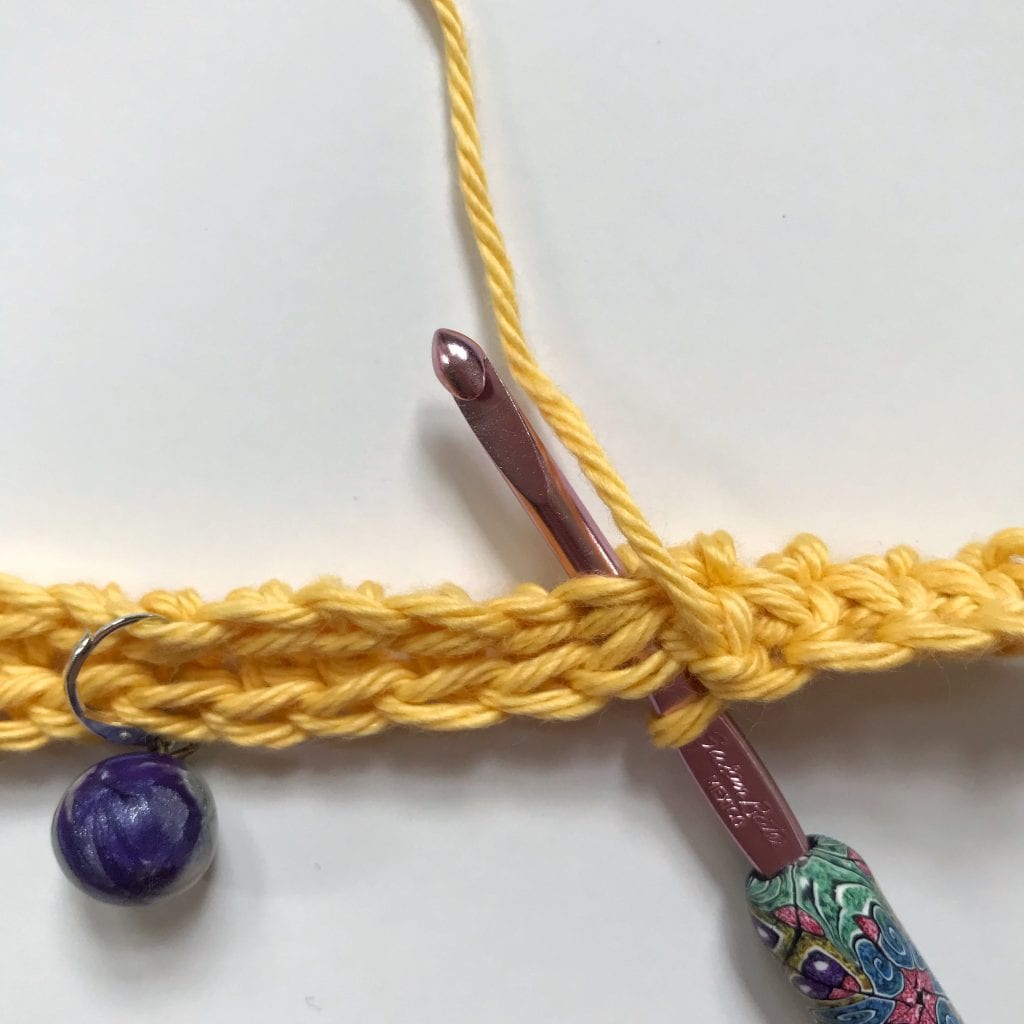 Here is a completed strap shown below. The single crochet stitches are on the top and the folded double crochet stitches shown on the bottom.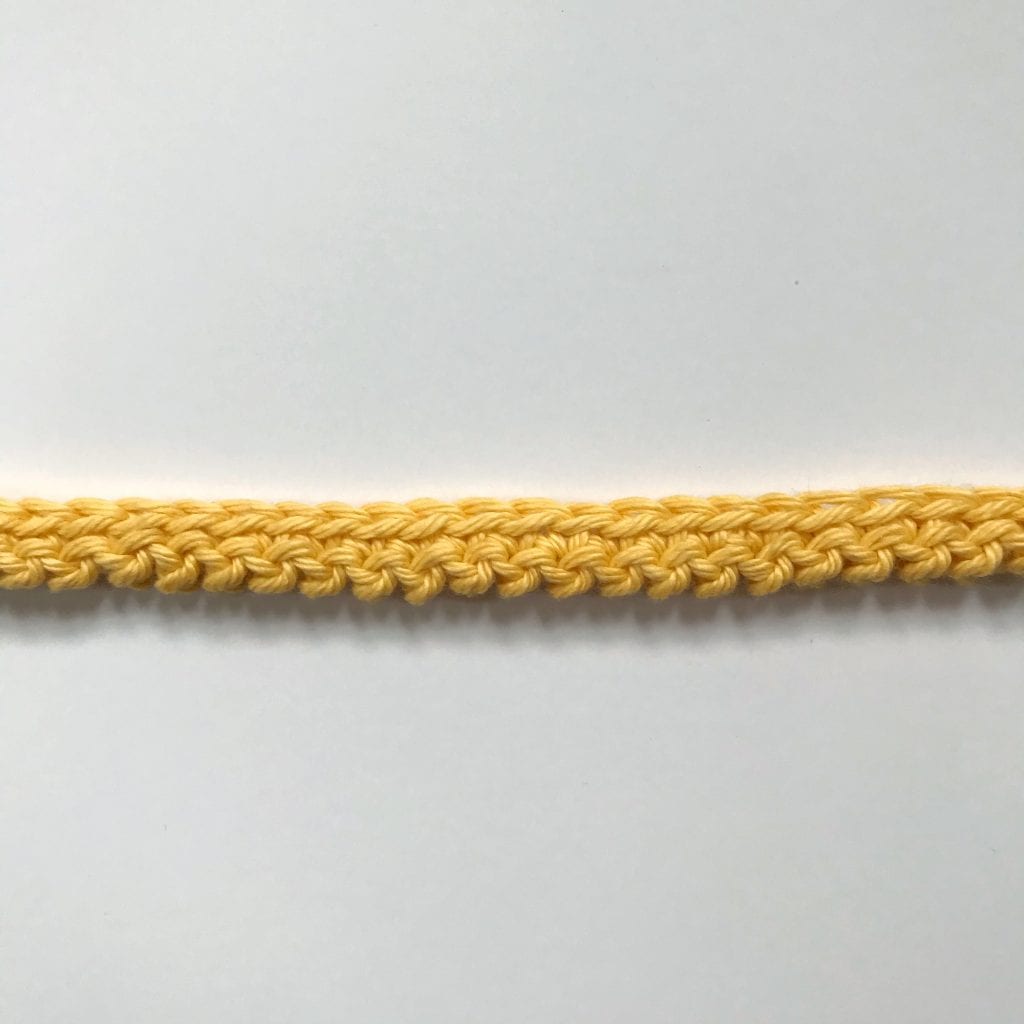 I hope this way of working handles and straps for crochet bags becomes your new favorite technique! It sure is my favorite go to strap now!
Don't forget to check out my Watermelon Market Bag and Water Bottle Sling pattern. This pattern uses this specific strap technique. Find the pattern HERE.
DESIGNERS – IF USING THIS TECHNIQUE IN A CROCHET DESIGN I WOULD LOVE IT IF YOU WOULD GIVE REFERENCE TO THIS ORIGINAL POST SOMEWHERE IN YOUR DESIGN.