Disclosure: Some posts may contain affiliate links, meaning, at no cost to you, I will earn a commission if you click through and make a purchase.
This is a beautifully textured crochet cowl pattern. The 2×2 basketweave stitch is what gives this cowl its amazing texture.
This isn't your typical crochet basketweave stitch pattern though. This basketweave cowl has a slightly looser stitch pattern to it. It is not as dense of a stitch. This looser basketweave stitch gets created by just adding a chain 1 space after each completion of 2 front or back post stitches.
This crochet basketweave cowl pattern also includes sections of just single crochet rounds that divide each basketweave section. That also give this cowl a very nice look to it.
Sometimes the basketweave stitch can be intimidating but I hope you love this one and give it a try!
Yarn:
The yarn used for this crochet neckwarmer was one I had never used before. We Crochet provided the yarn for this project.
The specific yarn used is Preciosa Tonal Worsted. This is a single ply, worsted weight, 100% merino wool yarn. I really enjoyed working with this yarn. The single ply makeup also provides great definition to projects.
The tonal color of this specific yarn also looks very nice in many stitches.
Other worsted weight #4 yarns can be substituted. Approximately 150 yards will be needed to complete the cowl as written. If making adjustments to circumference or height then yardage needed can vary.
If you want to try a cowl pattern that uses a DK weight yarn then check out the Appalachia Bandana Cowl pattern.
↓ Pin this pattern for later! ↓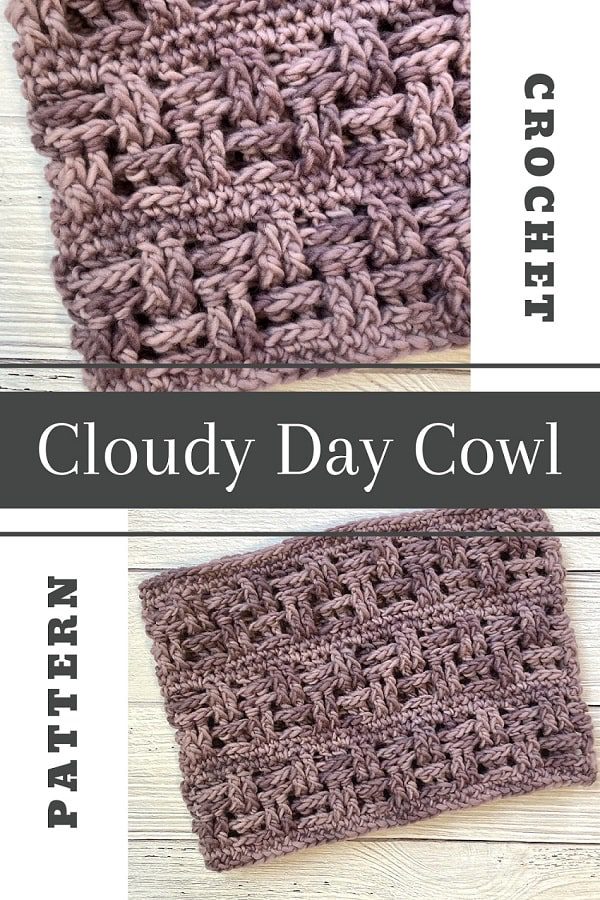 Materials:
Difficulty:
Size:
Stitches/Abbreviations: US Terms
ch – chain
sp

– space

sk – skip
st(s) – stitch(es)
sl st – slip stitch
sc – single crochet
fhdc – foundation half double crochet
fpdc – front post double crochet
bpdc – back post double crochet
Notes:
Beginning chains in each round do not count as a stitch.
When joining rounds, join with a sl st to the first st in that round.
Adjust the circumference of the cowl by working in a multiple of 6.
When sharing on social media use the hashtags: #simplyhookedbyjanet & #cloudydaycowl
---
You can get a print friendly, ad-free PDF copy of this pattern here:
---
This pattern is part of the Fall Into Autumn Blog Hop. This blog hop is hosted by Itchin' for some Stitchin', Ned and Mimi and We Crochet.
Instructions:
Round 1: Fhdc 78, join – 78 sts.
Or
Ch 78, join to first ch, ch 1, hdc in each around, join – 78 sts.
Round 2: Ch 2, *fpdc 2, ch 1, sk 1, bpdc 2, ch 1, sk 1; repeat from * around, join – 26 fpdc, 26 bpdc.
Round 3: Ch 2, *fpdc 2, ch 1, sk ch-1 sp, bpdc 2, ch 1, sk ch-1 sp; repeat from * around, join – 26 fpdc, 26 bpdc.
Rounds 4-5: Ch 2, *bpdc 2, ch 1, sk ch-1 sp, fpdc 2, ch 1, sk ch-1 sp; repeat from * around, join – 26 fpdc, 26 bpdc.
Round 6: Ch 1, sc in each st and ch sp around, join – 78 sts.
Round 7: Ch 1, sc in each around, join – 78 sts.
Rounds 8-19: Repeat Rounds 2-7 (2 times).
Fasten off and weave in ends.
I hope you loved this basketweave crochet cowl.
If you like this textured cowl pattern you may also like the Winding Ridges Cowl pattern. A free crochet pattern on my blog that uses a bulky #5 weight yarn.
Copyright protected. You may not redistribute pattern after purchase or publish any part as your own including photos. If sharing online you must link back to this original post. You may sell finished products and if possible, reference back to this pattern and/or give credit to Simply Hooked by Janet as the original designer.