Disclosure: Some posts may contain affiliate links, meaning, at no cost to you, I will earn a commission if you click through and make a purchase.
This beautiful bobble stitch cowl is such a nice handmade accessory. The bobble stitch is not used excessively which is why I like this pattern so much.
I was not a fan of bobble stitches for the longest time. I prefer bobble stitches in patterns that are used sparingly or when they create a picture or words.
The bobble stitch in this pattern is paired with the half double crochet stitch worked in the third loop.
Yarn:
The great thing about this pattern is that it can be made using 3 different weights of yarn! A DK light worsted, a worsted and a bulky weight.
So, you basically get 3 patterns in 1 with this bobble stitch cowl.
DK Weight Yarn:
The yarn used for the DK weight is from an indie yarn dyer – Rebel Yarn Co. The color of the yarn is called Rose Gold. It was on a single ply DK base which may no longer be available.
Yardage needed for the DK weight is about 230 yards. Hook size used is 5.5mm but always check gauge and use what ever hook size that meets gauge for that yarn weight.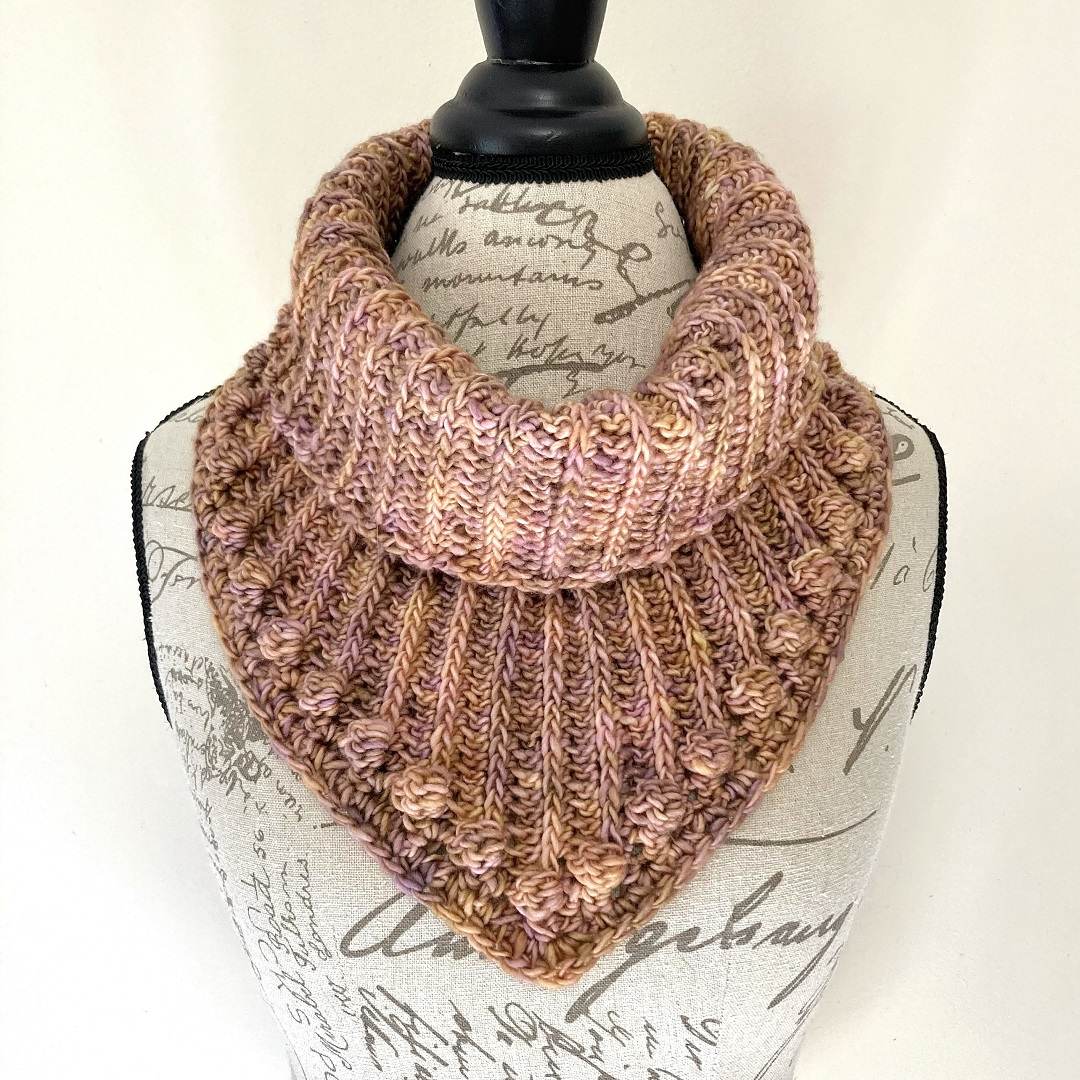 Worsted Weight Yarn:
The yarn used for the Worsted Weight is an all time favorite of mine. And that is Lion Brand Heartland Yarn. There are SOO many great color options to choose from. The color used in this pattern for the Worsted is Wolf Trap.
Yardage needed for worsted weight is about 220 yards. The hook size used is a 6mm but always check gauge.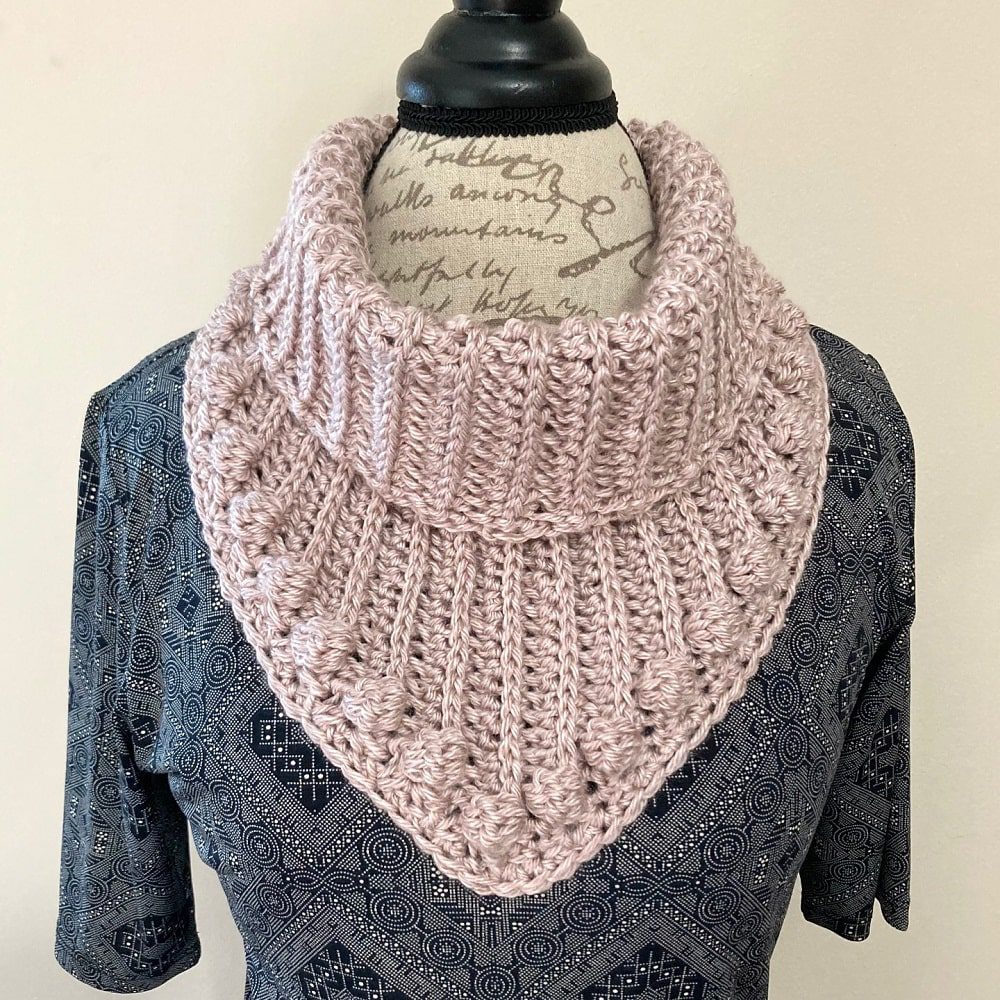 Bulky Weight Yarn:
The yarn used for the Bulky Weight cowl was actually 2 strands of a worsted weight held together. That was Lion Brand Basic Stitch.
Bulky yarns you can also try are Loops & Threads Charisma or Premier Serenity Chunky.
Yardage needed for bulky weight yarn is upwards of 180 yards. A size 8mm hook is used but always check gauge.
So, having this pattern available in 3 different weight yarns makes this easier for you to just choose a yarn that you may already have in your stash.
---
Reviews of the Victoria Cowl Pattern
Great pattern. It works up fast. I absolutely loved my results. I can't wait to make more of these. They're really cute.
Great pattern! Made a few using different sized yarns and the pattern was spot on for each. Made awesome squishy gifts!
Pattern is written very well. I love that is has instructions for multiple yarn weights. I used DK weight for my cowl and sized down a half size for my hook. A perfect one skein project that works up quick!
---
Purchase Below: Bobble Stitch Cowl Pattern (Victoria Cowl) individually or as part of a pattern bundle.
Cowl Lovers Crochet Pattern Bundle
The Victoria Cowl pattern is included in a Cowl Lovers Pattern Bundle available in Etsy or Ravelry. The bundle contains 6 different crochet cowl designs that are a mix of working in rows and rounds. Different style ribbing is used in some. A few neck warmers use special stitches such as a bobble stitch, a picot stitch or front post stitches.
Or just purchase the individual PDF.
This bobble stitch cowl pattern can be purchased in my Etsy and Ravelry shops. Click one of the buttons below to be taken to where you would like to purchase.


DISCOUNT: Use code GET1OFF at checkout to receive $1 off a pattern purchase.
---
If you would like to try out one of my free crochet patterns first before purchasing this one then check out the links listed below.
The Handwritten Cowl uses a bulky weight yarn and has a similar shape to this.
The Cloudy Day Cowl is a standard shape cowl but has a lot of texture to it.
The Snowbank Cowl is a fun striped double layer neck warmer.