Disclosure: Some posts may contain affiliate links, meaning, at no cost to you, I will earn a commission if you click through and make a purchase.
Follow along with this photo tutorial about how to crochet around a ring.
Have you ever encountered a crochet pattern that had you working your crochet stitches around some kind of ring?? Some of those patterns may not include the exact steps on how to do this. Especially how to first attach the yarn to the ring.
This post will show you step by step with a photo tutorial how to crochet stitches around a ring. This technique is pretty much the same as if a pattern called you to chain so many chains to form a ring and then work so many stitches around that circle of chain rings.
The only difference with that and working around a wood ring or hair elastic is the part where you would need to first figure out how to attach the the yarn to the ring to create the first stitch.
The photo tutorial below will show you how to attach yarn to a hair tie in order to start crocheting around it. This technique should work for any type of ring when attaching yarn to it.
You can use this technique to crochet around a metal, wood, plastic, yarn or fabric ring.
Before starting this tutorial you should have some knowledge of some basic crochet terms and techniques. Some of those include creating a slip knot, chaining stitches and yarning over.
↓ Pin this for future reference! ↓
---
Photo Tutorial:
Step 1: Create a slip knot, insert the slip knot in the center of the ring.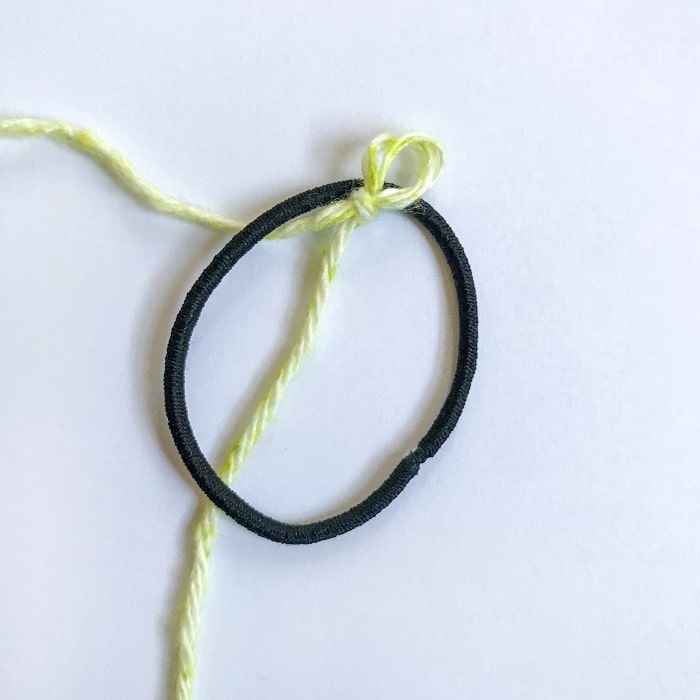 Step 2: Insert crochet hook in the slip knot.
Step 3: While holding the ring and the working yarn, grab the working yarn with your hook by yarning over. Then pull the working yarn through the slip knot. This attaches the yarn to the ring.
Step 4: Begin working crochet stitches around the ring.
Step 4a: To work stitches around the ring you will insert the hook through the center of the ring, yarn over with the working yarn and pull back through the center of the ring.
---
I hope this little tutorial was helpful. You can use this technique to create many things such as teething rings, ornaments and hair scrunchies. You can check out other crochet tutorials on my blog.
Use this technique with this crochet towel ring pattern and this crochet hair scrunchie.